Gymnastics Trials 2012: 5 Bold Predictions for Women's Competition
Ronald Martinez/Getty Images
Will the 2012 U.S. Olympic Gymnastics Trials in San Jose, CA, just be a repeat of Visa Championships? It's only been three weeks since the national championships, it's the same gymnasts competing and they haven't changed much of their skills. Sometimes people question how exciting this will really get.
However, I think trials is one of the most exciting times of the year, maybe even more exciting than the actual Olympics. All of these athletes are competing against each other for one of five coveted spots on the team, and in a few weeks, they will become a united force facing the other countries. If you want to talk about the ever-changing world of sports, that's a prime example.
As shown by Sam Mikulak's performance during the first night of men's trials, a gymnast who is not one of the front-runners can steal the show.
On the women's side, everybody is focused on Gabby Douglas and Jordyn Wieber. They are easily going to be front-runners in this year's show.
However, it must be remembered that there are 13 other gymnasts vying for a spot on Team USA, and all these gymnasts are going to give it everything they have this weekend.
Wieber Wins Again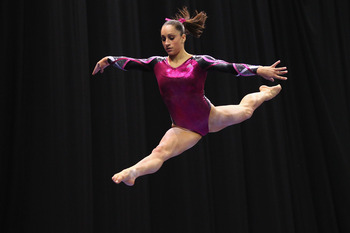 Dilip Vishwanat/Getty Images
The first prediction may not seem very bold but with all the hype going on about the Gabby Douglas-Jordyn Wieber rivalry, everybody is wondering if/when queen Wieber will get dethroned.
Don't worry, it will happen. But trials is not the time. Wieber is going to pull through once again and come out of trials the top-ranked U.S. women's gymnast.
Wieber has tons of high expectations surrounding her, and she deserves them. She's the 2011 World Champion and is a two-time defending national champion. The media has been making a huge deal about her too, as NBC is centering its coverage around her and she is currently featured on a Kellogg's cereal box.
Wieber is going to be the Shawn Johnson of the 2012 Olympics, and she is going to prove it with a stunning performance at Trials. Let the Wieber Fever frenzy begin.
Maroney Makes Magic Happen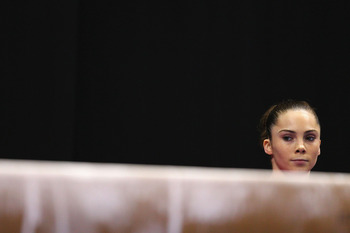 Dilip Vishwanat/Getty Images
After an injury during the Visa Championships warmups, which resulted in a concussion and slight nasal fracture, tons of rumors are surrounding vault specialist McKayla Maroney.
Maroney, the 2011 world vault champion, has been considered one of the few specialists who is a top contender for a spot on the Olympic team. Not many other gymnasts in the world can consistently hit an Amanar vault like Maroney can.
However, it is unclear how Maroney has recovered from her fall and whether the selection committee will not select her if she's not fully recovered. I think that she will have this worry herself and stun everyone at trials.
Team USA needs strong vaults to win a team gold medal, and Maroney is going to lead that charge, starting with her stellar performance at Trials.
It was Kerri Strug's heroic vault after injuring herself in 1996 that gave U.S.A. the push to the win. Maroney is going to be the new Strug—we're just hoping her injuries are over after the concussion.
Liukin Lets Loose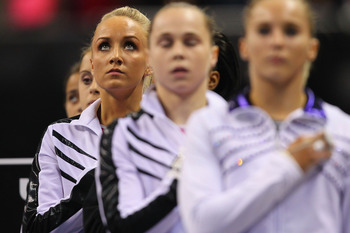 Dilip Vishwanat/Getty Images
Nastia Liukin had a lackluster performance at Visa's, and now she is going to be looking for redemption. However, she is an Olympian and she is going to prove it at trials.
Liukin has mentioned that she had a plan to peak at Visa's, which obviously did not work out for her. I believe her peak is going to happen at trials. She is going to rock beam and bars and earn back the respect that she deserves.
However, I still think she won't be named to the Olympic team. The world is going to be shocked and disappointed, but she will at least retire with a strong legacy.
Tumbles on the Beam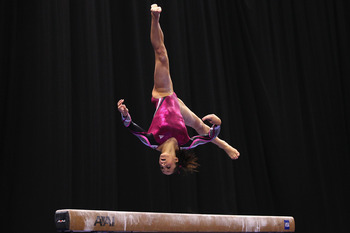 Dilip Vishwanat/Getty Images
Beam has always been known to be an inconsistent event in gymnastics, and that is going to show at trials. I am talking one after another fall, fall, fall.
It's always a shame to predict falls because it seems insensitive, but hey sometimes they happen. It will be good for the gymnasts to get the spills out of their systems now.
They are going to watch the performer before them tumble off the beam and then become unnerved and uneasy in their own performance.
Rebecca Bross has struggled with her Patterson dismount on the beam, and it is going to happen again at trials. Kyla Ross, who has been one of the most consistent U.S. beam performers, is going to lose it. Gabby Douglas, who has fallen at Classics and Visa's, is going to build the performance up too much in her head and fall again.
Jordyn Wieber, who earned a bronze on the beam at worlds, has put together a new beam routine with different connections. She has been struggling a bit on those connections and is going to slide off the apparatus during one of them.
One after another falls are going to happen, except for Nastia Liukin, because she is going to have the performance of her life. But I repeat, it's better now than at the Games.
Only One Alternate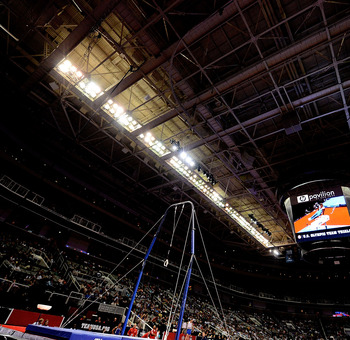 Ronald Martinez/Getty Images
The rules are pretty complicated for how the five gymnasts are selected to the Olympic Team. There's a 43-page document that outlines the procedures for men and women.
One rule that stands out to me as the most interesting is that up to three alternates can be selected. That means there could be one, two or three gymnasts given the alternate slot.
Most people assume that the selection committee will decide on three because alternates can come in handy. Injuries happen all the time in gymnastics. Tasha Schwikert, Raj Bhavsar and Alexander Artemev all became Olympians when they were called in as alternates.
With such a small segment of time between Trials and Olympics, the committee is going to want to narrow their pool. They are going to select one sole alternate to represent Team USA, and knock on wood, that alternate will not be used.
Keep Reading