Germany vs. Italy: Balotelli Blasts Italy into Final as Germans Fall Short Again
June 28, 2012

Joern Pollex/Getty Images
So much for the advantages of extra rest, the inevitable German resurgence, and the long-gone days of "Why Always Me" as a legitimate means of mockery.
The drought drags on, the hex wrecks another German dream, and Italy—controlled, tactical, disciplined and engulfed in yet another national scandal—get one more crack at mighty Spain and unlikely glory.
And it's courtesy, lest we forget, of the artist formerly known as LOL-otelli.
Mario Balotelli scored twice and stripped down once in Italy's searing first-half performance that left Germany reeling in the semis, Europe gasping and Italians blessing their beloved 21-year-old saint. After the expected German onslaught, the defense had held firm, the Azzurri had won 2-1 and Balotelli had etched his name into a nation's sporting lore.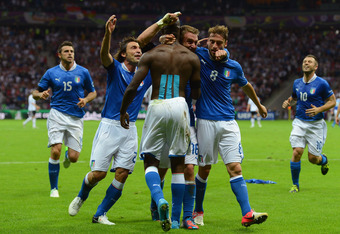 Shaun Botterill/Getty Images
Both goals drew deserved praise, but where the first stunned, the second astounded.
Sixteen minutes after giving Italy a surprise lead with a powerful near-post header, Balotelli sent Italy into raptures with a thundering outside-of-the-boot finish from the edge of the box after Riccardo Montolivo's defense-splitting pass.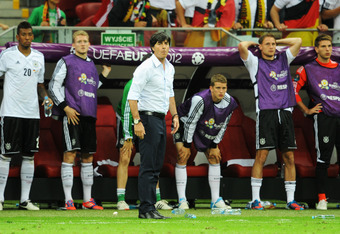 Christopher Lee/Getty Images
The turn of events felt hardly worthy of belief, but even more astonishing than the demise of German swagger was the fact that Italy's richly deserved lead had come with the influential genius of midfield playmaker Andrea Pirlo hardly in sight.
In this tournament, though, that's par for Italy's course.
As Euro 2012 dawned only three weeks ago, Balotelli was a wild card and Cesare Prandelli's Italy long shots, more likely to encounter police attention than fan adoration. Now, though, with a Group C rematch against Spain looming and Germany slain in stunning fashion, all involved stand on the doorstep of immortality.
What, then, can be said for Germany?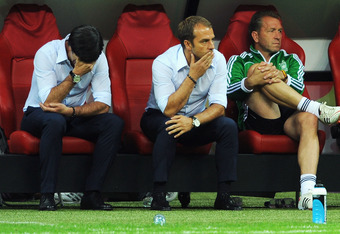 Christopher Lee/Getty Images
World Cup semifinal exits in 2006—to Italy, mind—and 2010 had felt almost predetermined, as if the other half of the story was destined to be written at Euro 2012 and World Cup 2014. Even defeat at the hands of Spain in the Euro 2008 final felt reassuringly reasonable, since Germany hadn't expected even a shot at the title.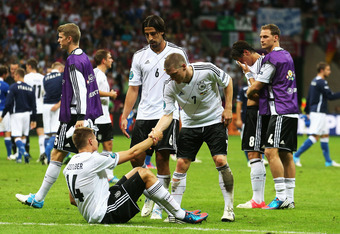 Joern Pollex/Getty Images
This, though, was something else. Joachim Löw's team expected to win, and when they didn't, the disappointment—or was it despair?—steamed off their faces the way it used to fall from their finely formed offensive machine.
Where there had been goals, Thursday brought only frustration.
An early first-half barrage petered out fruitlessly, and after Super Mario's videogame-like exhibition, the second-half charge generated only a handful of poorly taken half-chances and a Marco Reus free kick that, for all its beauty, was never going to beat Gianluigi Buffon.
Mesut Ozil, appropriately enough, scored Germany's only goal, a penalty kick in second-half stoppage time. But while that was just reward for Ozil's lively display, it was more than his wasteful, under-performing teammates deserved.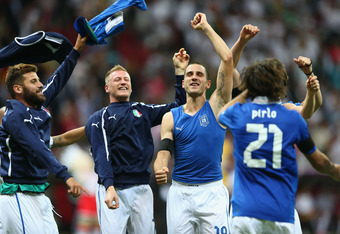 Michael Steele/Getty Images
Bastian Schweinsteiger shrank from the occasion. Holger Badstuber was just plain bad. Mats Hummels, so stout defensively throughout the tournament, showed his inexperience on the international stage.
As a group, the Germans panicked and played scared, perhaps mindful of their country's long history of failure against Italy. The streak now sits at eight matches in major tournaments, and if the Germans—and Italians—keep playing like this when the two old foes meet, it will stretch 18 more.
So what happened? Where was Germany's stylish, flowing football when it was needed most?
Maybe Reus should have started, maybe Löw should have stopped tinkering, or maybe the two extra days of rest actually hurt. Regardless, there will be plenty of time to dissect one of the most painful losses in German history, a tale that until 1996 had been so full of glorious victory.
But 16 years after their last title, the Germans are in danger of becoming international football's Almost Team.
For Italy, however, it's more like almost there.