Italy vs. Germany: Mario Balotteli Shines as Italy Sinks Germany
June 28, 2012

Joern Pollex/Getty Images
Having disposed of heavyweights Holland and Portugal before annihilating Greece, Germany looked to trailblaze past Italy to join Spain in the finals of the Euro 2012. Alas, fate decreed it not to be. The engine that drove Die Mannschaft through seemed to run out of gas at an inopportune time.
The creative spark required to unlock Italian resilience seemed to go missing in the final third, and for all their wonderful football, the Germans simply could not break down Italy. 
Germany looked to assert their dominance in the wee-stages of the game. Andrea Pirlo cleared the ball of the line from a Sami Khedira attempt. Khedira was involved again in the12th minute as he showed his technical displays to navigate around a tight space through three defenders and lay a great pass to Jerome Boateng. Boateng in turn crossed the ball into the danger zone where Gianluigi Buffon made a hash of it. However, nobody got to the loose ball.
It looked as if it was not going to be Germany's night.
And indeed, the Italians took the lead through mercurial Mario Balotelli. The German full-backs were caught off guard, and Balotelli latched onto a header to make it 1-0 for the Italians. Manuel Neuer stood no chance.
The stadium, filled by mostly German fans, stood dumbfounded.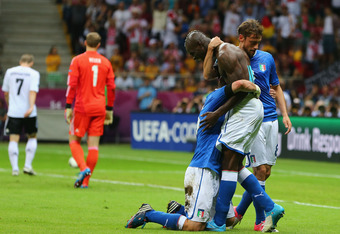 Alex Grimm/Getty Images
The Germans pressed forward, committing men in numbers, yet could not find a way through. They were caught off guard yet again while trying to weasel a goal through. Mario Balotelli found himself onside, and he buried a sublime goal past Neuer in the top right corner.
Germany's run seemed destined to come to an end.
Even Khedira, after asserting his dominance in the first 30 odd minutes, seemed to run out of steam and joined Bastian Schweinsteiger in the worn-out department.
Both Toni Kroos and Lukas Podolski were awfully wasteful, and both looked like mere shadows of themselves.
Mario Gomez was nowhere to be found.
Come halftime, Miroslav Klose replaced the Bayern Munich front man, while Podolski made way for Marco Reus.
Reus injected a lot of positive energy into the team, and despite coming achingly close, failed to unlock Italy. If only his superbly taken free kick in the 60th minute had not been saved by Buffon.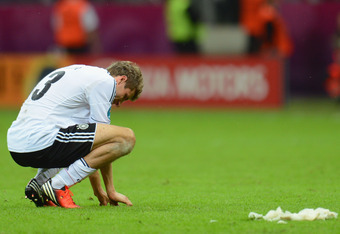 Shaun Botterill/Getty Images
As time wore on, Germany committed even more men forward, as Löw took out Boateng and inserted Thomas Müller. Yet, nothing came of it.
Italy looked even more dangerous on the swift counters and nearly made Germany pay on a number of occasions. Claudio Marchisio had an opportunity to take the game away completely from the Germans in the 74th minute. Antonio Di Natale was equally wasteful in the 82nd minute.
However, as time seemed to tick away, these wasted chances seemed to matter little. Lady luck simply did not want to side with Germany.
In the 90th minute, Mats Hummels could have narrowed the gap, but he could not make up for his defensive frailties of the night with a goal.
When Germany finally got an opportunity to put one past Italy, it came from Mesut Özil's penalty kick. Nevertheless, it was too little, too late as Italy retained their lead and booked their place in the finals.
They will now face Spain in the final, whom they held to a lone-goal draw in the opening match of Group C.