Euro 2012 Schedule: Start Times, Live Stream and TV Info for Finals Action
June 28, 2012

Shaun Botterill/Getty Images
The Euro 2012 final will be a rematch. 
After knocking off Germany by a score of 2-1, Italy have advanced to the finals to take on Spain. The Spaniards, on the other hand, beat Portugal via penalty kicks on Wednesday night to advance. 
The finals will be a rematch of the Group C opening match, when Italy and Spain drew by a score of 1-1. Spain eventually won the group, but Italy advanced over Croatia, and now both squads have gotten through their side of the bracket after beating their Group B counterparts.
So much for the Group of Death. 
Let's take a closer look at the much-anticipated rematch, which will decide the best football team in all of Europe. 
Date: Sunday, July 1, 2012
Start Time: 2:45 p.m. ET
TV Coverage: ESPN
Live Stream: ESPN3.com
Spain Player to Watch: Whoever Plays up Top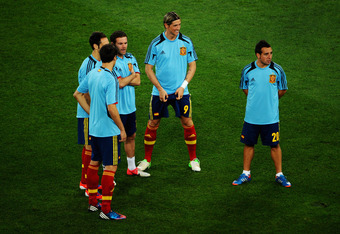 Lars Baron/Getty Images
No one is going to deny how beautiful it is to watch Spain's midfield kick the ball around and keep possession. No matter what team you support, it's hard to deny how near perfect they are in that aspect.
But in Euro 2012, and without David Villa, the Spaniards have struggled to put the ball in the back of the net. 
The Alvaro Negredo experiment failed against Portugal, Fernando Torres has been up and down, and Fernando Llorente doesn't appear to be an option.
No matter how well Spain control the ball, someone needs to finish, especially against Gianluigi Buffon and Italy's terrific defense.
Italy Player to Watch: Andrea Pirlo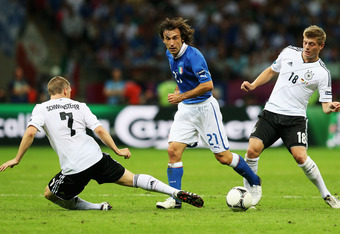 Joern Pollex/Getty Images
There's no question Pirlo has been the engine that makes Italy's attack go. He's been the Man of the Match three times, his passing has been exquisite, and he's proven to be a major danger on free kicks. 
While Spain's entire midfield is the definition of beautiful, Pirlo has taken care of that all by himself. He will be a huge factor once again in the finals.
Prediction
With Pirlo running things in the middle and Mario Balotelli keeping his head on straight, Italy have the attack to go with their terrific defense. 
The win over Germany proved that.
Spain, on the other hand, have problems both in the back and up front.
Italy 1-0 Spain