Euro 2012 Final: Most Important Players in Epic Spain vs. Italy Rematch
June 28, 2012

Joern Pollex/Getty Images
It takes a complete team effort to win Euro 2012, but the individual performances of a few a players will sway the outcome of Sunday's final between Italy and Spain.
The two sides played to a 1-1 draw in the group stage, with Antonio Di Natale and Cesc Fabregas finding the net. This time around, though, the stakes are higher and the pressure is greater.
As the eyes of the world descend upon Kiev Olympic Stadium, the following players will need to step up. If they deliver, their team will likely lift the trophy. If they don't, they will have a long, quiet plane ride home while contemplating what could have been.
Mario Balotelli—Striker, Italy
If he is focused and levelheaded, Balotelli is an unstoppable force of football fury. His speed, strength, movement, skills in the air and rocket launcher of a right foot make him one of the most menacing strikers in the world.
Unfortunately, he often hurts his own team as much as his opponents. With his quick temper and generally unpredictable demeanor, you never know which Balotelli will show up.
We've already seen the best and worst of him in this tournament, from his baffling hesitation against Spain in the opening match to his brilliant two-goal performance that powered Italy past Germany in the semifinals.
If he plays with the confidence and maturity he displayed against the Germans, Italy will dethrone the champs. If he doesn't, the Italians will go down in flames.
Antonio Cassano—Forward, Italy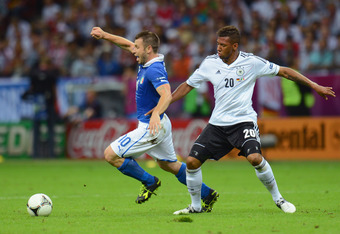 Shaun Botterill/Getty Images
Although Balotelli will get the headlines (and deservedly so), it was Cassano's play that enabled Mario to spring free.
His constant and clever movement opened up the German defense, allowing Balotelli to find space and put the ball into the back of the net. Cassano even assisted on Balotelli's first goal, delivering a beautiful cross after spinning through two German defenders.
Look for the stingy Spanish defense to key in on Cassano, as he often holds the key to Italy's attack.
Jordi Alba—Midfielder, Spain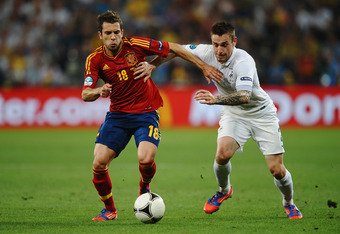 Laurence Griffiths/Getty Images
The Spaniards are known for their clinical passing, but Jordi Alba's streaking runs have been their best offensive weapon in the tournament.
The 23-year-old's constant energy has devastated opposing defenses thus far. It was his furious run through the French back line that allowed for Xabi Alonso's header in the quarterfinals, and he nearly led Spain to victory in extra time by delivering a gorgeous cross to Andres Iniesta against Portugal.
If Alba can get behind the Italian defenders on Sunday, he will put his team in perfect position to claim their third consecutive major trophy.
Sergio Ramos—Defender, Spain
Ramos was excellent against Portugal, frustrating Cristiano Ronaldo throughout and delivering that cheeky penalty above.
He will need another strong performance Sunday, when he will have his hands full with the likes of Balotelli, Cassano and Andrea Pirlo. He nearly crippled Spain in their first match against Italy, as it was his mistake that allowed Balotelli to break free. He went unpunished in that game, but I wouldn't count on another lucky break in the final. 
Spain will need Ramos in top form on Sunday if they want to continue their dominance in major tournaments.