Germany vs. Italy Euro 2012: Germany Has Brightest Future Despite Semifinal Loss
June 28, 2012
Alex Grimm/Getty Images
Germany suffered an unexpected, heartbreaking 2-1 loss to Italy in the semifinal of the 2012 European Championship, but there is no reason for Die Mannschaft to hang their collective heads.
This was supposed to be one of the best compilations of German football players that we had ever seen in a major tournament, and the fans were not disappointed until Thursday's match.
The Germans powered through the competition, scoring nine goals in four games, but when it came to crunch time, they could not get the job done. 
Joachim Low's side was beaten at their own game by Cesare Prandelli's Italians.
They were dominated in the midfield by Andrea Prilo, Daniele De Rossi, Claudio Marchisio and Riccardo Montolivo. The four midfielders outplayed the highly-touted German middle third of Bastian Schweinsteiger, Sami Khedira and Mesut Ozil, who played up near the goal for plenty of the match.
Germany's first-half effort bordered on the cusp of deplorable. It found itself in a 2-0 hole thanks to the head and right foot of Mario Balotelli before it could muster any attack of its own. This was certainly not the outcome that the German faithful, players or coaches were hoping for.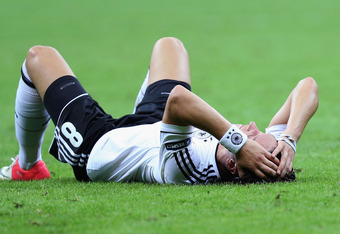 Joern Pollex/Getty Images
All is not lost, though. The future is bright for Germany. One of the brightest in all of Europe, in fact.
The youngest squad in the 2012 European Championship, Germany's players carried an average age of 24.52 years old, even younger than the roster they brought to the 2010 World Cup.
No team in Europe is younger than Germany. Not France with Yann M'Vila. Not Spain with Jordi Alba. Not Italy with Balotelli. Not even England with Alex Oxlade-Chamberlain, the youngest footballer in the competition.
The people of Berlin are dejected, as is the German locker room. They shouldn't be, as the young stars of Germany will lead this team to a major tournament victory before their era has come to an end.
Thomas Muller is 22 years old. Mats Hummels, Holger Badstuder, Jerome Boateng, Lars Bender, Marco Reus and Ozil all sit at the ripe age of 23. Manuel Neuer, who had no chance on either goal today, is just 26. As is Mario Gomez.
Surely those eight players have at least one or two major competitions left in them, maybe even three.
The older players on the roster, Lukas Podolski, Philipp Lahm and Schweinsteiger, have a couple go-arounds left in the tank, as well.
This team that Low brought to Euro 2012 is a finely-tuned attacking machine. Typically mistake-free, it appeared as though nothing would stand in the Germans' way en route to their first major tournament title since the 1996 European Championship in England.
Unfortunately, that wasn't the case.
Germany will rebound from this crushing defeat. It will bounce back at the 2014 World Cup with more cohesiveness and chemistry than we have ever witnessed.
Die Mannschaft's semifinal loss to Italy was filled with lessons learned. The youthful Germans will take those lessons into consideration and redeem themselves in Brazil.