Germany vs. Italy: Azurri Will Not Repeat Success in Final Against Spain
June 28, 2012
Michael Steele/Getty Images
Italy pulled out a memorable result in a 2-1 upset against Germany, but the team will not be able to continue its success in the final match against Spain.
Mario Balotelli scored a pair of spectacular first-half goals to give the Italians a 2-0 lead at the break.
The first came in 20th minute when Antonio Cassano spun past Mats Hummels and crossed the ball to Balotelli. The unpredictable striker showed his remarkable athleticism and exploded toward the ball and headed it home, while a hapless Holger Badstuber could do nothing to stop him. 
In the 36th minute, Balotelli got behind the German defense and showed no hesitation as he sent a screamer past Manuel Neuer to give his team a daunting advantage. 
The Italians spent the remainder of the game protecting the lead and only allowed a late penalty kick, which Mesut Ozil converted in the 90th minute.
The key to Italy's victory was obviously the early lead. The Germans looked to be the aggressors prior to Balotelli's goal, and if he had not put his team ahead early, the game would have been starkly different.
But the striker will not break through so easily against Spain. The defending champions have not allowed a goal in their last nine elimination matches at a major tournament.
La Roja has dominated possession at Euro 2012, retaining the ball an astounding 66.8 percent of the time in its five matches. They advanced to the finals after defeating Portugal on penalty kicks.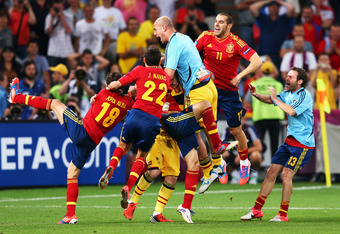 Alex Livesey/Getty Images
They do not come out trying to win the match in the opening minutes. Instead, they calmly poke and prod at the opposing defense while knocking the ball around with astonishing pace and skill.
The Spanish will control the game early, and the Italians will not be able to switch the momentum with an early goal. La Roja is too disciplined, too organized and too confident to be taken advantage of things in the same fashion as the Germans.
Without an early strike, the Italians will have to keep pace with Spain, and they're not capable of doing so for 90 minutes. 
Spain will stick with the strategy that has brought the team so much success in the last four years. They will knock the ball around and patiently wait for the other team to make a defensive mistake. 
This will result in Spain dominating possession and winning the match 1-0. While Italy put on a fantastic performance against Germany, the team will not be able to keep Spain from winning its second consecutive European Championship.