Mailbag: Talking Florida State Football, Defense in the Pac-12 and More
June 28, 2012
Al Messerschmidt/Getty Images
Every Thursday, I will be answering questions that you, the readers, asked about the Big 12, Pac-12, Big East and ACC. No topics are off limits, unless I feel like I only want to talk about something specifically. This week? We're talking Florida State's preseason hype, defense in the Pac-12 and KU's coaching longevity.
@helloerinmarie @BR_CFB Will Florida State finally live up to their pre-season hype and potential?

— gary (@gkize) June 28, 2012
The more I read about and watch Florida State, the more I like its odds in the ACC this season. While I know Clemson and Virginia Tech will also both have a good shot at the ACC championship title, I just can't help but lean towards the Seminoles. Athlon Sports believes they'll finish within the top five to 10 teams by December, and I agree. They may not be winning the national championship game this year, but I wouldn't consider that a failure by any means. They're on their way "back," if that's how we want to put it.
@helloerinmarie Asking for KU fans since they're already thinking about BB: Does Weis stay at KU longer than he did w/ the Chiefs & Gators?

— Jimmy Sevcik (@jimmysev) June 28, 2012
Charlie Weis is 55 and he has been coaching for 32 years. The alarming part is that Kansas is his fourth job in four years. That has to be concerning for Kansas football fans (how many of you are there anyway?), but I think Weis will stick around for awhile. He may not be in Lawrence 10 years from now, but I'd say he gives the program a good six to seven years before retiring or moving on. That should be plenty of time to recruit some fantastic players to Kansas and get the program on the up and up.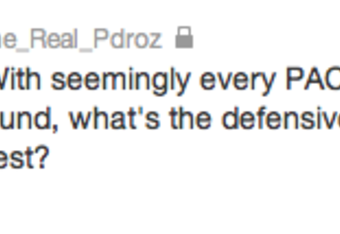 The Pac-12 is definitely a league that knows, and succeeds, on the offensive side of the ball. The defensive side though? Not so much. With the additions of Mike Leach, Rich Rodriguez and Todd Graham, the gap between offensive and defensive knowledge just got even wider. If you're a person who believe a defense wins championships and you also happen to be a Pac-12 fan, this league has to be extremely frustrating to you.
If I had to pick the best Pac-12 defense, I'd go with USC. The Trojans have an OK defensive line, but their cornerbacks, Nickell Robey and Isiah Wiley, are a pesky duo. Safety T.J. McDonald was also an All-American last year, so I'd expect to see that from him again. As long as the veterans can be strong leaders to the young men up front, this defense should be just fine. Plus, they're on a title hunt and that drive always seems to help both sides of the ball.
As for the conference, I believe they won't be terribly this season. They'll step it up a bit. Per ESPN.com, five could even potentially be in the defensive Top 25 nationally: Oregon, Stanford, USC, California and Utah. Not bad when only two—Utah and California—were ranked in 2011.
@helloerinmarie Don't you think the Pac-12, Big 12, ACC and Big East would be better if they were Italian?

— Tom Fornelli (@TomFornelli) June 28, 2012
Yes. Yes, I do.
Do you have a question for next week's Q&A? Tweet @helloerinmarie with your questions about the Big 12, Pac 12, Big East and ACC.