Debating the Toughest Game on the Miami Dolphins' 2012 Schedule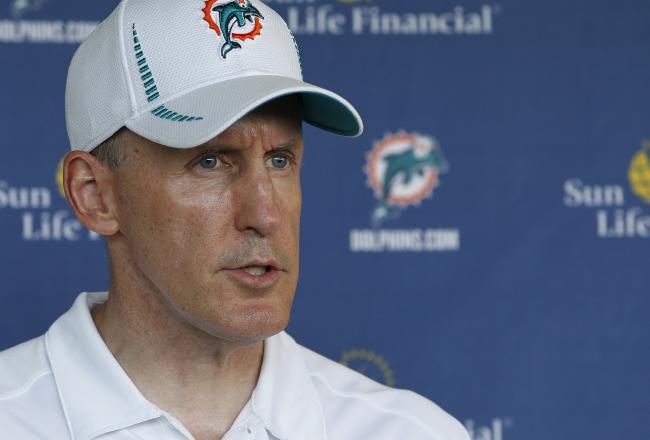 Joel Auerbach/Getty Images
The Miami Dolphins storylines this summer will revolve largely around the team's action on HBO's Hard Knocks. But the real (important) action starts September 9, 2012 at 1:00pm ET.
There will be plenty of tough games for a Dolphins team that is in transition on both offense and defense coming off a 6-10 finish in 2011.
But which game will prove to be the Dolphins' toughest? To debate and discuss, we welcome back Bleacher Report Dolphins featured columnist Alessandro Miglio, an editor at Pro Football Focus who can also be found on Twitter here.
As usual, the guest will lead us off. Take it away, Alex!
Alex
You mean besides the Patriots twice?

I am going to go with the December 9th matchup against San Francisco on the road. That defense is going to be fearsome again—it could be Miami's toughest test for the offense. By then we'll know if this team is another year away from being competitive or not.
The 49ers were a couple of fumbles away from a Super Bowl berth in Jim Harbaugh's first year. I expect them to get better. He's always got his guys prepared, and playing at home is always nice, though the Dolphins have actually fared well on the road in recent years.
Erik
Good choice, Alex. The 49ers look to be Super Bowl contenders once again in 2012 and should be a tough matchup for most anyone they face, including a team in as much transition as the Dolphins.
The high-tempo offense could be just the right combatant for such a stifling defense, but the 49ers shut down some of the league's best offenses last year, including a Lions offense that was nearly unstoppable up to that point.
There are so many to choose from; it doesn't start off pretty, with a Week 1 contest on the road against a Houston Texans team that should be a tough challenge for all opponents. That vicious pass rush could be too much for even a quick-passing system like the West Coast that offense the Dolphins will run.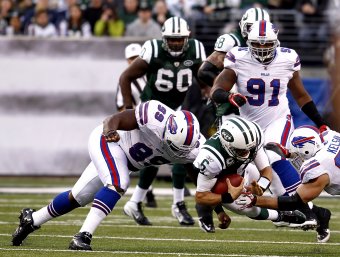 Jeff Zelevansky/Getty Images
While I don't consider the Buffalo Bills a tougher opponent than the Patriots or 49ers, Week 11 at Ralph Wilson Stadium will pack a lot of intrigue and could present a big challenge for the Dolphins. It could be pretty cold with some inclement weather in mid-November, but beyond the climate, that will be Miami's third road contest in four weeks.
The Dolphins will also be coming off a short week, with the game featured in prime time on Thursday Night Football.
If Buffalo's pass rush is as fearsome as predicted, it could really mess with the rhythm and timing of Miami's precision offense, which will be a work in progress over the course of the season.
The Dolphins have the built-in confidence boost of consecutive road wins over Buffalo in 2010 and 2011. But this is a new year, and it's surely a brand-new Bills team.
Which game poses the biggest challenge for the Dolphins?
Alex
The Bills are definitely a dark horse here. They would be my pick to go from worst to first this year were it not for the Patriots in that division. But they should contend for a playoff spot. That revamped defensive line looks like it will be stellar, which will improve the defense as a whole. I love what the Bills have done this offseason.
While the offense is not Packers-like, it's not bad either. Plus, playing in Buffalo in November might be a bit chilly.
Speaking of chilly, I mentioned the Patriots games earlier, and I think the matchup in Gillette on December 30th could be brutal for the Dolphins. It all depends on whether New England is jockeying for playoff seeding or not. Iif they have already locked up the top seed, then the game becomes considerably easier for Miami. If not, though, it will be a frigid slog for the Dolphins.
Erik
Also true, Alex. I look at the Patriots and 49ers as the toughest opponents on paper, but circumstances such as the ones you mentioned could lead to other games being tougher. Yes, the 49ers may lock up a playoff spot as early as December 9 if they are able to win the weak NFC West, and at that point, they'd just be playing for seeding.
There aren't a lot of tough games on the schedule, but one question that came to mind is this: Which team does Miami have the best chance at pulling off an upset against?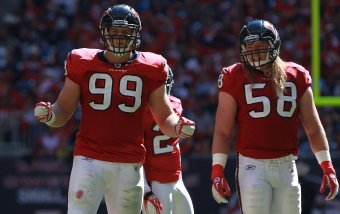 Ronald Martinez/Getty Images
Alex
It is a candidate for one of the toughest games of the season, but I'm going to go out on a limb and say Week 1 at Houston. The Texans are going to be tough, but the Dolphins were able to hold Arian Foster relatively in check last year, and Houston's defense is in a bit of flux after losing Mario Williams and DeMeco Ryans.
Maybe that is wishful thinking—their defense is going to be good regardless—but it could be one of those "catch you by surprise" games by the Dolphins.
Which team do the Dolphins have the best chance of pulling off an upset against?
Erik
That would be a bit of an upset, but it wouldn't be the first time a successful team from the year before has come out flat in Week 1.
The Cincinnati Bengals are another team that could be upset by the Dolphins. They were a highly successful team in 2011, with Andy Dalton and A.J. Green catching the entire league by surprise. Can they sustain that success when they're no longer catching people by surprise?
Thanks for joining me in this fun debate, Alex, and we'll surely catch up on another one soon.
Who got it right? Vote in the polls, and leave your thoughts in the comments below.
Erik Frenz is the AFC East lead blogger for Bleacher Report. Be sure to follow Erik on Twitter and "like" the AFC East blog on Facebook to keep up with all the updates.

This article is
What is the duplicate article?
Why is this article offensive?
Where is this article plagiarized from?
Why is this article poorly edited?

Miami Dolphins: Like this team?