Is Michael Phelps—Ryan Lochte Rivalry Bad for Swimming?
June 28, 2012

Jamie Squire/Getty Images
After the initial excitement over Michael Phelps' dramatic victory in the men's 200-meter freestyle final at U.S. Olympic Swim Trials on Wednesday died down, a popular subplot emerged—What was up with those times?
Phelps and rival Ryan Lochte finished one-two as expected, but neither with the type of world-class pace we've come to expect from these two titans.
Bob Bowman, Phelps' coach, offered an explanation to the assembled media.
They are so focused on racing each other that they do stuff like tonight and not take it out fast...They do the cat-and -mouse, and in the process of that, they forget to swim fast.
Lead correspondents for Sports Illustrated and ESPN picked up on Bowman's theory, prompting some variation of the following question to ricochet across the Olympic landscape: Are Michael Phelps and Ryan Lochte making each other worse?
And from there, with more ominous tones: Might they sabotage one another in London?
In a word, no
Looking back at prior installments of the Phelps-Lochte rivalry, it's hard to find grist for this admittedly intriguing and logically plausible story line.
Start with last year. Lochte didn't just beat Phelps twice at the 2011 FINA World Championships, he posted eye-popping times in the process.
In the 200-meter freestyle final, Lochte swam a personal best to beat Phelps by half a second. He then did himself one better in the 200 IM, setting a new world record while Phelps finished 0.16 seconds behind.
No cat-and-mouse there, just pure swimming prowess.
To find previous instances of Phelps facing Lochte in a major international competition you have to track back to the 2008 Beijing Games, and I think we can recall how Phelps preformed there.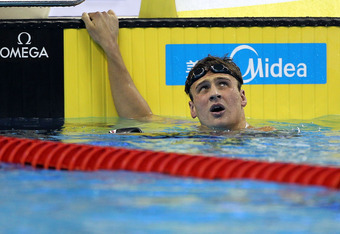 Ezra Shaw/Getty Images
In case you don't remember, Phelps won eight gold medals, and he set world records in each of his two races against Lochte.
So unless something has changed in the last few months, it's hard to see how this rivalry is somehow depressing overall performance. If anything, it seems to bring out the best in its protagonists.
Now, we could entertain a sub-theory that Lochte and Phelps play off each other in events like the U.S. Trials, where the distinction between first and second is largely irrelevant.
And it makes sense. Neither wants to reveal too much or exert too much effort when second place earns equal spoils.
Of course, that sub-theory, if it is indeed correct, is a pretty meaningless sub-theory.
Yes, when Phelps and Lochte meet at lower-grade meets against lower-grade competition, they tend to dial it down.
So what?
When they meet at big meets with big implications, they deliver some of the best swimming we've ever seen.
Lucky for us, that means the good stuff is still to come.