2012 NBA Draft Order: Latest Look at the Entire Two Rounds
June 28, 2012
Jim Rogash/Getty Images
In only a matter of hours, Kentucky's Anthony Davis will be a member of the New Orleans Hornets when the 2012 NBA draft kicks off. 
After that, though, there's nothing but guesses as to what will happen next.
This draft features a ton of storylines, and there's a lot of potential shake-ups that can happen between now and when the Charlotte Bobcats are on the clock with the No. 2 pick.
Here's a look at everything you need to know about the 2012 NBA draft.
Potential Top 10 Picks (based off of my latest mock draft)

1. New Orleans Hornets: Anthony Davis, Kentucky
2. Charlotte Bobcats: Thomas Robinson, Kansas 
3. Washington Wizards: Bradley Beal, Florida
4. Cleveland Cavaliers: Michael Kidd-Gilchrist, Kentucky
5. Sacramento Kings: Andre Drummond, Connecticut
6. Portland Trail Blazers (via New Jersey Nets): Damian Lillard, Weber State
7. Golden State Warriors: Harrison Barnes, North Carolina
8. Toronto Raptors: Dion Waiters, Syracuse
9. Detroit Pistons: John Henson, North Carolina
10. New Orleans Hornets (via Minnesota Timberwolves): Austin Rivers, Duke
What will the Bobcats do at No. 2?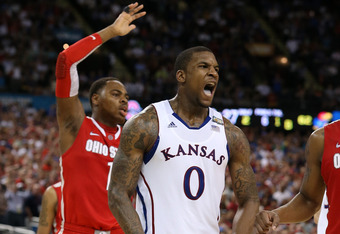 Jeff Gross/Getty Images
Charlotte could go with Harrison Barnes, Bradley Beal, Thomas Robinson or trade the pick.
ESPN reported that the Bobcats have as many as five trade offers for the picks, and whatever Michael Jordan and company ultimately decide will have a huge impact on the rest of the lottery.
Will the Houston Rockets Continue to Deal?
So far Houston has made two trades in as many days to attempt to obtain enough trade assets to make a run at Dwight Howard.
If they can't get Howard or another big man, will they still try and move up and grab a pair of Top 10 picks, or will they settle for their three picks between No. 12 and 18?
What they do will shake up the draft in a big way.
Veterans on the Trade Block
Speaking of Howard, his name could be in play tonight.  The likes of Pau Gasol, Josh Smith, Andre Iguodala and others are speculated big names that could be dealt to move up in the draft.
What will Cleveland do?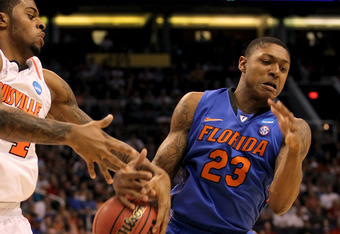 Jamie Squire/Getty Images
The Cavs could have an opportunity to move up to No. 2 where they would select Beal. If they don't, it could come down to a tough decision between Barnes and Michael Kidd-Gilchrist.
There's a ton of drama involving picks two through five right now.
How far will Jared Sullinger fall?
A year ago, Sullinger may have been the No. 1 overall pick in the draft. Now because of medical concerns and athleticism issues, Sullinger could fall outside of the top 20 (I currently have him at No. 22 to Boston).
How far Sullinger drops will just be one of a number of major storylines for draft fans to keep their eyes on, as this draft could get very interesting before it is all said and done.
Complete Draft Order
Here is the order of the first round of the 2012 NBA Draft
First round
1. New Orleans
2. Charlotte
3. Washington
4. Cleveland
5. Sacramento
6. Portland (from Brooklyn)
7. Golden State
8. Toronto
9. Detroit
10. New Orleans (from Minnesota via LA Clippers)
11. Portland
12. Houston (via Milwaukee)
13. Phoenix
14. Milwaukee (via Houston)
15. Philadelphia
16. Houston (from New York)
17. Dallas
18. Houston (from Minnesota via Utah)
19. Orlando
20. Denver
21. Boston
22. Boston (from LA Clippers via Oklahoma City)
23. Atlanta
24. Cleveland (from LA Lakers)
25. Memphis
26. Indiana
27. Miami
28. Oklahoma City
29. Chicago
30. Golden State (from San Antonio)
Second round
31. Charlotte
32. Washington
33. Cleveland
34. Cleveland (from New Orleans via Miami)
35. Golden State (from Brooklyn)
36. Sacramento
37. Toronto
38. Denver (from Golden State via New York)
39. Detroit
40. Portland (from Minnesota via Houston)
41. Portland
42. Milwaukee
43. Atlanta (from Phoenix)
44. Detroit (from Houston)
45. Philadelphia
46. New Orleans
(from Washington via Dallas)
47. Utah
48. New York
49. Orlando
50. Denver
51. Boston
52. Golden State
(from Atlanta)
53. LA Clippers
54. Philadelphia
(from Memphis)
55. Dallas (from LA Lakers)
56. Toronto (from Indiana)
57. Brooklyn (from Miami)
58. Minnesota (from Oklahoma City)
59. San Antonio
60. LA Lakers (from Chicago via Milwaukee and Brooklyn)