Tim Tebow "Back to the Future" as Gators Try for Three out of Four
June 28, 2012

Kevin C. Cox/Getty Images
Tim Tebow was in his senior year as the quarterback for the Florida Gators in 2009. For fun, let's go back to those glory days for the Gators, back to 2009.
If we were using college football's newly approved format for deciding a national champion back then, things may have ended differently that year. Tim Tebow's senior season with the Gators could have made NCAA football history.
It's rumored Tebow already walks on water. Probably just a trick he does with Marty McFly's hover board. If we could move the calendar back to 2009, perhaps lightening could strike for the third time for Tebow and Florida, even after that SEC Championship Game loss to Alabama.
The 2009 Florida Gators entered the SEC title game ranked No.1 in the country—a ranking they had held since the preseason in all four of the major services (AP, USA Today-Coaches, Harris and BCS).
Alabama, sporting a No.2 ranking, was a perfect 12-0 coming into that game. The Tide beat Tebow and his Gators 32-13, winning the SEC Championship. But did that SEC loss have to be the end of Florida's dreams of a third national title in four years?
TCU and Cincinnati, without a conference championship game, had finished their seasons undefeated at 12-0 in '09. Texas and Alabama were 13-0 and Florida was 12-1 with conference championship games. This created some questions concerning which teams should play for the national championship.
Strength of schedule and all the other ingredients of the BCS determined that Texas was the No. 2 ranked team, and they were selected to play Alabama for the national title. Alabama beat the Longhorns 37-21 and won their first national title since 1992.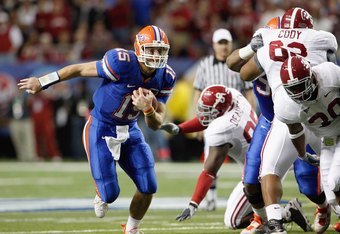 Kevin C. Cox/Getty Images
TCU then lost to Boise 17-10 in the Fiesta Bowl, and Cincinnati lost to Florida in the Sugar Bowl 51-24. This left all three of those teams with a 12-1 record for the year.
Inject the new format into 2009, and here's where it gets interesting. Both Alabama (No. 1) and Texas (No. 2) would be in the four-team playoff. The current BCS system ranking TCU and Cincinnati just ahead of Florida would be chunked. The new system would involve a selection committee who would make the final determinations.
Florida obviously played a much tougher schedule than either of the other teams. Thus, they likely would be in at No.3. The last qualifier would have been TCU at No. 4. That would leave Cincinnati at No. 5—not eligible for the national title but in a BCS bowl game with a big payout.
Just between us SEC guys, Alabama would have smacked TCU around like a rented mule. The Tim Tebow-led Florida team, wanting to make amends for the SEC title game showing, would likely have beaten Texas. This would have set up the original all-SEC national championship final.
Consider Tim Tebow and his No. 2 ranked Gators in a revenge match with No. 1 ranked Alabama for the national title. Recalling this year's LSU-Tide rematch, it's like "Back to The Future" staring Timmy T. instead of Michael J.
This new playoff system is going to be lots of fun!