MLB All-Star Game: Jake Peavy and More Potential Starting Pitchers for AL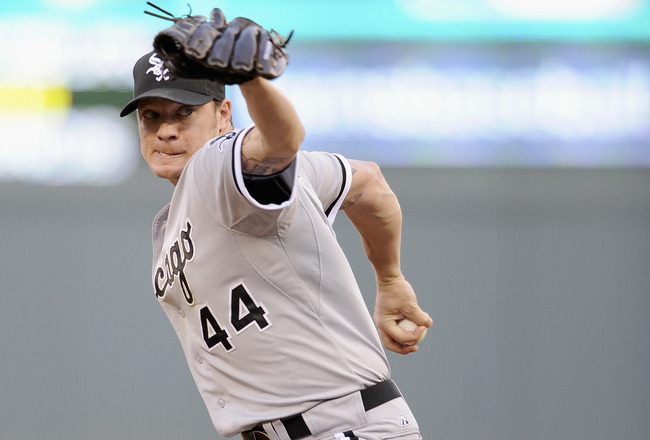 Hannah Foslien/Getty Images
On Sunday, the starting lineups for the American and National League All-Star squads will be announced. A few days after that, Ron Washington and Tony La Russa will hand-select their starting pitchers.
La Russa's choice seems obvious. New York Mets knuckleballer R.A. Dickey is the sympathetic favorite, and he most definitely has numbers worthy of being chosen as the NL's starting pitcher. Conveniently, his schedule works out.
Washington's choice will be slightly harder. He has many options to choose from, and things are made even more complicated by the fact that some of the AL's best starters don't have schedules that will allow them to pitch in the All-Star Game.
Washington's options are good ones, though. Chicago White Sox resurgent righty Jake Peavy is a candidate to start the Midsummer Classic for the AL, or Washington could also choose reigning Cy Young winner and MVP Justin Verlander.
Here's an updated look at the top five candidates to start the All-Star Game for the American League.
Note: All stats come from Baseball-Reference.com unless otherwise noted.
Honorable Mentions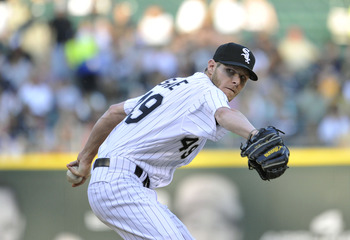 Chris Sale
Brian Kersey/Getty Images
Yu Darvish, Texas Rangers
I'd love to see Yu Darvish's nasty stuff showcased at the Midsummer Classic, and he's got solid numbers across the board. His strikeout numbers (9.97 K/9) are particularly impressive.
The problem is he's slated to start on July 7, just a couple days before the All-Star Game. Asking him to cut loose in the first inning of the All-Star Game just a few days later is asking a lot.
It could be done, but Washington has safer options. Better ones, too.
Chris Sale, Chicago White Sox
Chris Sale is having an excellent season for the White Sox. He's currently sitting on a 9-2 record and a 2.27 ERA, not to mention a K/9 of 8.87.
The problem is Chicago's schedule currently calls for Sale to pitch on July 8, the final day of the first half. He's not going to start the All-Star Game and probably won't pitch at all.
Jered Weaver, Los Angeles Angels
Jered Weaver is second in the AL to Sale with an ERA of 2.31, and he also has an impressive 8-1 record. The Angels' schedule calls for him to pitch on July 7, the second-to-last day of the first half.
He's coming off a back injury, so caution should and probably will be exercised where Weaver is concerned.
5. Matt Harrison, Texas Rangers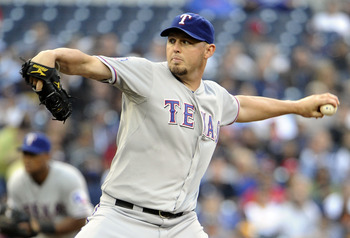 Denis Poroy/Getty Images
He's doing it somewhat under the radar, but Matt Harrison is having a fine season for the Rangers so far. He's tied for the American League lead with 10 wins, and he has his ERA down to 3.24.
Harrison has been pitching especially well lately, as he's allowed just one earned run over 27.1 innings in his last four starts. In those, he's struck out 14 and walked six.
Harrison is scheduled to make his next start on Friday, and Texas' rotation will call for him to start again on July 5. His next turn to pitch after that will fall on July 10, the day of the All-Star Game.
Harrison's cause is helped by the fact that he's one of Ron Washington's guys. We tend to frown on managers making homer picks for anything that has something to do with the All-Star Game, but, hey, it is what it is.
The problem with starting Harrison is that right-handed hitters are hitting him at a .297 clip this season, and the latest All-Star voting totals suggest that the National League's starting lineup is going to feature some pretty dangerous righty hitters (David Wright, Ryan Braun, Dan Uggla, et al).
On the bright side, lefties are hitting under .200 against Harrison this season, so he'd be a good go-to guy if Washington is worried about limiting Joey Votto.
And indeed, Washington should be worried about Votto. The dude isn't human.
4. David Price, Tampa Bay Rays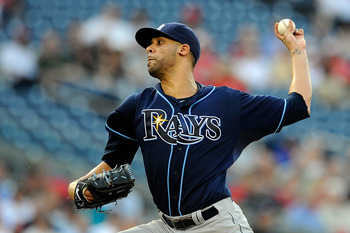 Patrick McDermott/Getty Images
If Washington wants to go with a guy who's been there and done that at the All-Star Game before, he should give David Price a look.
Price started the All-Star Game for the American League back in 2010, pitching two shutout innings in which he struck out one batter and allowed one hit. He threw 16 of his 23 pitches for strikes.
Price is actually going to need some work when the All-Star Game comes around on July 10. He's slated to make his final start of the first half on the Fourth of July, six days before the Midsummer Classic.
Tampa Bay's hard-throwing lefty has the numbers to back up his case. Like Harrison, he is also tied for the American League lead with 10 wins, and he boasts a 2.95 ERA that ranks seventh in the AL.
Price has struggled against right-handed hitters this season, but not as badly as Harrison has. He's holding righties to a .249 batting average and a .347 slugging percentage. Of his 90 strikeouts this season, 65 have come against righties.
Price's velocity is another thing that helps his cause. Per FanGraphs, he's the hardest thrower in the American League this season, as his average fastball checks in at nearly 96 miles per hour.
He could come in blow hitters away right out of the gate, which would be very fun to watch.
3. C.J. Wilson, Los Angeles Angels
Greg Fiume/Getty Images
C.J. Wilson has been the better of the Angels' two big free-agent acquisitions this past offseason. He's already up to nine wins on the season, and his 2.36 ERA ranks third in the American League behind Sale and Weaver.
Wilson is scheduled to make his final first-half start on July 6, so he'll be good to go on July 10. All Washington has to do is say the word.
What makes Wilson a risky choice is his tendency to walk hitters. He currently has a BB/9 of 3.71, which is a bit too high by traditional ace standards.
The tradeoff is that Wilson doesn't give in to hitters. He's holding opponents to a .204 batting average this season, and even righties have had a hard time against him. They're hitting Wilson at a .216 clip and slugging him at a .284 clip.
So he may walk guys, but he limits the damage by keeping the ball away from the sweet spot. It's just plain hard to put crooked numbers on the board against Wilson.
If it comes down to a choice between Harrison, Price and Wilson, Washington should pick Wilson.
2. Jake Peavy, Chicago White Sox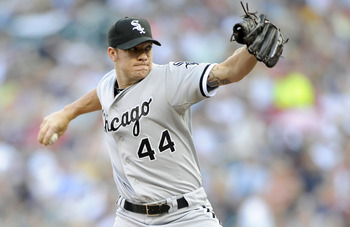 Hannah Foslien/Getty Images
Jake Peavy has dropped each of his last three starts, but don't let that fool you.
In all, Peavy has lost four games this season, and the final scores of those games were (in order) 1-0, 1-0, 2-1, and 4-1. Even when he loses, Peavy pitches well.
He's been pitching well all season, of course. Peavy's record of 6-4 is nothing special, but you have to dig his 2.84 ERA and 0.99 WHIP. And if you like WAR, FanGraphs has Peavy's WAR calculated at 2.8, third-best among American League starters.
Peavy is slated to start on July 6, four days before the All-Star Game. That's somewhat of a close call given Peavy's injury history, but it's not the kind of close call that should scare Washington away from starting Peavy.
Peavy has plenty of experience against the hitters he would probably be facing in the All-Star Game. Ryan Braun has one hit against him in five at-bats, David Wright is 2-for-14 against him, Dan Uggla is 2-for-11 against him and Rafael Furcal is 14-for-52 against him.
If the NL's starting lineup does end up being heavy on right-handed hitters, Peavy would not be overmatched. Righties are hitting .173 against him this season with a .268 slugging percentage.
Plus, Peavy starting the All-Star Game would be a feel-good story. After all he's been through, you have to root for the guy.
1. Justin Verlander, Detroit Tigers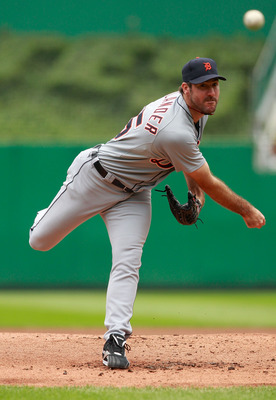 Jared Wickerham/Getty Images
The perception is that Justin Verlander is not having as good a season this year as he did last year.
This perception is utter nonsense. Verlander was 9-3 with a 2.54 ERA through 16 starts last season, and he's 8-4 with a 2.52 ERA through 16 starts this season. To boot, he leads the American League in innings pitched, strikeouts and complete games.
Verlander is slated to make his final start of the first half on the Fourth of July, making him an ideal candidate to start the All-Star Game for the American League.
And what a start it would be. Verlander can light up the radar gun better than any starting pitcher in baseball. Hitting 100 miles per hour with his fastball is nothing out of the ordinary for him, and we've seen him hit 102 miles per hour this year.
In the All-Star Game, we could see 103, 104 or maybe even 105.
If Verlander starts the All-Star Game, it will go down in history.
Mark it down, dude.
If you want to talk baseball, hit me up on Twitter.
Keep Reading