Will Immaturity Hurt the L.A. Clippers' Chances of Contending Next Season?
June 28, 2012
Harry How/Getty Images
The 2012 NBA season was a massive step in the right direction for the Los Angeles Clippers, a franchise familiar with being the laughingstock of the league.
In the minds of most NBA fans, the Clippers are categorized as young upstarts, but that's only half right.
With only one season of success under their belts, the Clips can certainly be thought of as upstarts. But contrary to popular belief, they're not so young.
A lot of that has to do with the moves the organization made last season. They started by trading away two of their promising youngsters in Eric Gordon and Al-Farouq Aminu in order to get back an established superstar in Chris Paul.
To fill out the roster, the Clips signed veteran free agents such as Caron Butler, Kenyon Martin and Reggie Evans. They also nabbed Chauncey Billups—who was amnestied by the Knicks—off of waivers. All four of those players are at least 32 years old.
With such an experienced cast on hand, the Clippers were able to avoid the pitfalls of immaturity that plague most teams making their first foray into the postseason.
The team's collective steadiness allowed them to overcome the more experienced Memphis Grizzlies in the first round of the playoffs, erasing a 24-point fourth quarter deficit and winning a Game 7 on the road along the way.
Even though several of L.A.'s veterans are free agents this offseason and may not return, immaturity is something that the Clippers need not worry about as long as Chris Paul is on the roster.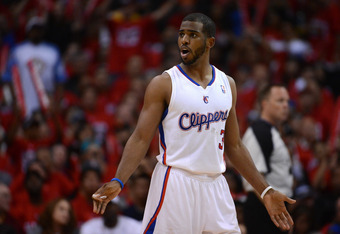 Harry How/Getty Images
With the NBA's premier lead guard at the helm, it allows the rest of the squad to fall in line and take their cue from Paul's steady hand.
Besides, after a year in which the Clippers played under the weight of expectations for the first time ever and actually advanced a round in the playoffs, the young guys on the team got some extra seasoning.
Now Blake Griffin, DeAndre Jordan and Eric Bledsoe know what it takes to perform under pressure in the bright lights of the postseason.
If the organization is able to continue their recent trend of making savvy roster moves, the Clippers will have what it takes to contend in 2013.