2012 NBA Mock Draft: How Entire First Round Will Shake out
June 28, 2012
Ronald Martinez/Getty Images
Time is running out for teams to make blockbuster trades before the beginning of the 2012 NBA draft. Rumors are flying around, but the order is basically set for the most exciting night of the offseason.
Teams love to make projections in the draft, and everyone is looking for players with the most potential and upside. However, it is important not to forget the safe prospects. These men might not be superstars, but they are unlikely to be busts and will solid contributors for the duration of their careers.
Here is a final mock draft that highlights the players who will be counted on for years.
1. New Orleans Hornets: Anthony Davis, PF (Kentucky)
Anthony Davis has the rare mix of sure thing and upside. From the first day of the season he will be one of the best defenders in the NBA with his ability to control the paint.
He also has the potential to be an offensive force with his athleticism and ball-handling ability. 
2. Charlotte Bobcats: Thomas Robinson, PF (Kansas)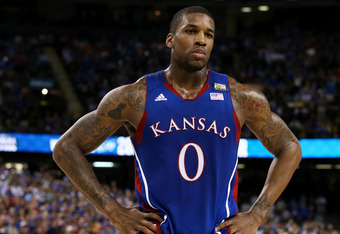 Jeff Gross/Getty Images
Although Thomas Robinson is a little undersized for a power forward, he more than makes up for it with his motor.
The former Kansas star had a breakout junior season in which he led his team to the National Championship Game. After being a bench player for most of his career, Robinson was the heart and soul of a talented team that achieved a great amount of success.
He has great strength and solid athleticism, and he uses it to go hard on every play. His offensive game might be a question mark, but he will fight for rebounds and should be a starter for more than a decade.
3. Washington Wizards: Bradley Beal, SG (Florida)
Beal has been compared to Ray Allen, which is odd considering he only shot 34 percent from three in college.
However, Beal has the potential to be a great scorer in the NBA. 
4. Cleveland Cavaliers: Michael Kidd-Gilchrist, SF (Kentucky)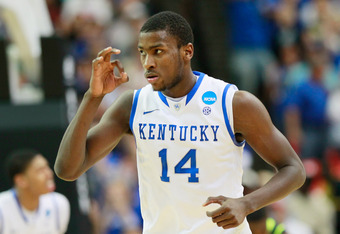 Kevin C. Cox/Getty Images
Like Thomas Robinson, the key to Michael Kidd-Gilchrist's success is his unstoppable motor. He always goes after the ball and, more importantly, will continue to work to get better.
Kidd-Gilchrist is already a solid defender who should be able to guard any position besides center in the NBA. For a team like Cleveland, which had a terrible defense last season, it needs someone who can lock down an opponent.
He still needs to work on his shot after shooting 25.5 percent from three last season, but even without the ability to step outside, MKG will be a contributor in the NBA.
5. Sacramento Kings: Andre Drummond, C (Connecticut)
Andre Drummond might be the riskiest pick in the draft, but his size and athleticism could make him the next Dwight Howard. 
6. Portland Trail Blazers: Damian Lillard, PG (Weber State)
The Trail Blazers are attempting to rebuild and need a little bit of everything. Lillard is a scoring point guard who should also become a solid facilitator when talent is added around him. 
7. Golden State Warriors: Harrison Barnes, SF (North Carolina)
Harrison Barnes is missing the killer instinct to be an elite scorer in the NBA, but he still has tremendous talent. Between his athleticism and shooting ability, he has the chance to be a very good player. 
8. Toronto Raptors: Jeremy Lamb, SG (Connecticut)
Although the numbers do not necessarily indicate it, Lamb is a very good shooter who could be an effective scorer at the next level.
Still, he needs to prove both physically and mentally that he has what it takes to be a solid defender.
9. Detroit Pistons: Tyler Zeller, C (North Carolina)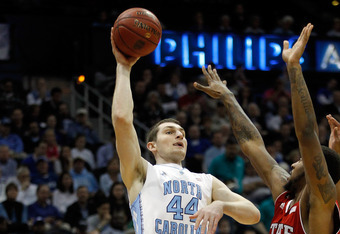 Streeter Lecka/Getty Images
Tyler Zeller does not fit the normal description of a Pistons center, but he would be a solid fit for a team that needs another forward to pair with Greg Monroe.
The senior from North Carolina is a solid defender who can use his height to stay with the better big men in the league. He also runs the floor as well as anyone in the league and can score plenty of points in transition.
10. New Orleans Hornets: Terrence Ross, SF (Washington)
Terrence Ross has been a late riser on draft boards, and for good reason. He has the athleticism and shooting ability every scout dreams about, but he was a part of an underachieving team in Washington. 
Ross still needs to prove it was not his fault.
11. Portland Trail Blazers: Meyers Leonard, C (Illinois)
There are a shortage of seven-foot prospects who can move well and rebound. Leonard can be an effective player if he is not rushed to action early in his career. 
12. Houston Rockets: Austin Rivers, SG (Duke)
The first of Houston's three first-round picks (although they might be traded) should feature someone who can change the face of the organization. Rivers has the confidence to succeed in the league, but that also might cost him if he starts disagreeing with coaches.
13. Phoenix Suns: Dion Waiters, SG (Syracuse)
The Syracuse star came off the bench for a very good team, but he was the one who would take the big shots at the end of the game.
Waiters has proven he can be trusted in the clutch and is excellent at going to the basket.
14. Milwaukee Bucks: John Henson, PF (North Carolina)
John Henson has the ability to be an elite shot-blocker in the NBA, but he needs to put on some strength in order to even see the floor.
Other players of his stature have turned out to be busts for the same reason. 
15. Philadelphia 76ers: Arnett Moultrie, PF (Mississippi State)
On an already deep team, the 76ers can draft for the best player to help the current squad. Moultrie can immediately step into the rotation as a solid rebounder who has some athleticism.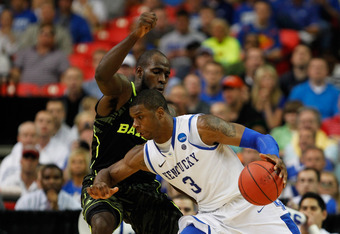 Streeter Lecka/Getty Images
16. Houston Rockets: Terrence Jones, PF (Kentucky)
With the current team, the Rockets need someone of size to patrol the middle of the paint.
Terrence Jones had to share the spotlight with Anthony Davis, but he is a solid power forward who could average double-digit rebounds in the NBA. 
17. Dallas Mavericks: Kendall Marshall, PG (North Carolina)
Questions about his athleticism have likely dropped Marshall out of the lottery, but he is the best passer to come out of college in years. 
Ideally, he would back up point guard Deron Williams, but Marshall would be more than capable of handling the starting role on a winning team.
18. Houston Rockets: Moe Harkless, SF (St. John's)
As the Rockets continue to rebuild their roster, they would be fine with another perimeter threat in Moe Harkless. On a thin team, he could possibly jump into the starting lineup to provide a scoring presence and solid rebounding from the wing.
19. Orlando Magic:  Perry Jones, PF (Baylor)
Whether or not Dwight Howard is traded before the draft, it is likely that he is on his way out of Orlando.
Perry Jones is not a replacement, but he has the potential to be an All-Star down the road. However, that is up to him and whether he can work on improving his game. 
20. Denver Nuggets: Marquis Teague, PG (Kentucky)
Another Kentucky star, Teague is a prototypical pass-first point guard every team needs. While he might never be a starter, he would be a quality reserve who can give Ty Lawson rest when needed.
21. Boston Celtics: John Jenkins, SG (Vanderbilt)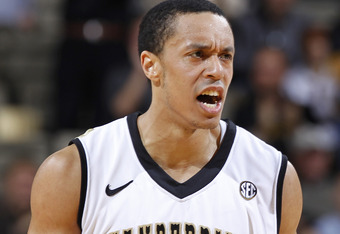 Joe Robbins/Getty Images
Although John Jenkins may never be a great all-around player, there is no doubt he will be in the league for a long time based solely on his ability to shoot the ball from deep.
The Vanderbilt star hit more than 40 percent of his shots from three in each of his three years in college, finishing at almost 44 percent in his final year. He knows how to use a screen and has the quickest release of anyone in the class—something that shooters need at the next level.
This will be a great fit for Boston to replace Ray Allen if he is indeed departing.
22. Boston Celtics: Jared Sullinger, PF (Ohio State)
Sullinger has seen his stock drop more than anyone since the end of the season, but the Celtics should recognize talent when they see it.
Even if his back causes a shortened career, Boston should be grabbing pieces to win now.
23. Atlanta Hawks: Royce White, SF (Iowa State)
There are few players in the draft as versatile as Royce White. He led Iowa State in points, rebounds, assists, steals and blocks, and he should be able to help a contender get over the top.
24. Cleveland Cavaliers: Fab Melo, C (Syracuse)
While this pick would not necessarily help Kyrie Irving on the offensive end, Melo is a defensive force who can help a team that struggled to stop anyone last year. 
25. Memphis Grizzlies: Tony Wroten, G (Washington)
Usually, it is a good idea to stay away from point guards who averaged more turnovers than assists in a collegiate season.
However, Wroten could be a solid backup at either guard position for a team attempting to become a contender.
26. Indiana Pacers: Jeffery Taylor, SF (Vanderbilt)
On a team of role players, Taylor could be the defensive specialist similar to Thabo Sefolosha in Oklahoma City. The Vanderbilt star is older than most prospects, but his added experience is invaluable. 
27. Miami Heat: Andrew Nicholson, PF (St. Bonaventure)
The Miami Heat do not need much instant help after winning the NBA championship, but they can always use guys who can rebound.
Nicholson has good size and will be able to get after the ball and give it up to the stars.
28. Oklahoma City: Draymond Green, PF (Michigan State)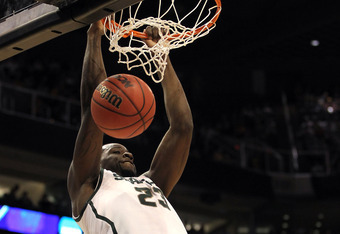 Jamie Squire/Getty Images
There are few players in this draft who are sure to help a team more than Draymond Green. He does not have elite athleticism, but he has great instincts on the court and knows how to help a team win. 
The Michigan State star showed his passing ability when he had a triple-double in the first round of the NCAA tournament. He really knows how to fill up a stat sheet and would be a great addition to any contender looking for a missing piece to put them over the edge. 
29. Chicago Bulls: Will Barton, SG (Memphis)
One of the more underrated prospects in the draft, Barton knows how to get to the basket and finish in the lane. He can rebound well for his size, but he does need to work on finding his teammates to be a more complete player.
30. Golden State Warriors: Doron Lamb, SG (Kentucky)
Golden State needs backcourt scorers after trading Monta Ellis. Doron Lamb can certainly put points on the board, but he needs an effective point guard to get him the open shot.