2012 NBA Draft Can Prove the Current NBA Age Limit Is Working
June 28, 2012

Kevin C. Cox/Getty Images
Looking at the players projected to go at the top of the 2012 NBA draft, it is clear that the NBA age limit is doing its job.
In 2006, the league instituted a rule that to be eligible for the draft a prospect must turn 19 within the calendar year and be one year removed from high school. As David Aldridge of NBA.com points out, keeping kids in school was never the primary motivator, but rather to protect the product that the league puts on the court.
When guys who would have declared for the draft out of high school are forced to play a year of college ball, NBA scouts can get a considerably better read on them. A prospect's production is much easier to gauge when he faces NCAA competition as his skills are put in a better context, and his flaws are more pronounced.
In David Stern's eyes, the NBA is a better league when his players are a year older and wiser, and when the scouts have a year's worth of information they wouldn't have had in the past.
The underclassmen still outnumber the upperclassmen in 2012, but no one expected guys to go for an essentially compulsory year of college and decide to stay for their diploma. There were always going to be one-and-dones with this age limit, and that's not necessarily a bad thing.
This year's draft class shows the merit of David Stern's vision. You can argue that the age limit hurts the college game, but it is certainly helping the NBA.
In 2012 in particular, the players atop the draft board showed scouts who they really were only upon getting to college. We must remember that the perspective with which we view these guys as freshmen and sophomores is surprisingly different than how we viewed them as high-profile high school recruits.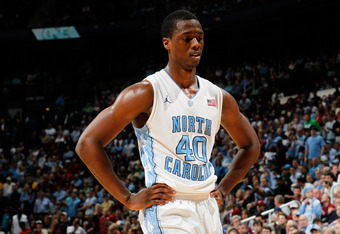 Kevin C. Cox/Getty Images
The natural starting place for this discussion is Harrison Barnes. Coming out of high school, Barnes was the top high school prospect in the nation according to Scout.com and the ESPNU 100, and he trailed only Josh Selby in the Rivals150.
After the 2010 draft, Barnes sat atop Aran Smith's nbadraft.net big board for 2011. That November, he became the first freshman to be named an AP preseason All-American.
Yet the player who was so highly touted coming to UNC showed his true colors when he put on his Tar Heels jersey. Barnes had a nice jump shot and solid driving ability, but his storied offensive game was just good, not great. As a freshman, Barnes struggled with his consistency on offense, averaging 15.7 points per game, but shooting .423 from the field and .344 from the three-point line to do it.
In his sophomore year, Barnes did just what Stern hoped guys would do in college, improve. He was a year older and a year better, improving his field goal percentage to .450 and his three-point percentage to .382. Although his scoring average only jumped to 17.3 points per game, this is a sign that Barnes wasn't hitting more shots, but his selection had improved.
In the end, however, Barnes enters the 2012 draft as an incomplete package. He could still play more consistently, and his motor to go hard on every play is questionable.
Had he jumped straight from high school in 2010, the Washington Wizards would have picked him first overall, and they would have had to try to fix these issues on the fly. Now, Smith has Barnes going seventh to Golden State in his mock draft, and the Warriors know just what they will have to work on with Barnes this summer.
At the other end of the spectrum is Michael Kidd-Gilchrist. This is not to say that the Kentucky freshman was not a highly-regarded recruit in his own right. Rather, he was ranked in the top-five in the country on all three major lists.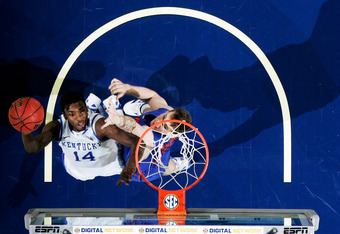 Chris Graythen/Getty Images
However, his Scout.com profile indicates that Kidd-Gilchrist had a faulty jumper even in high school. Nothing changed about that at Kentucky. He may have gotten his 11.9 points per game with a .491 shooting percentage, but the potent Wildcats transition offense aided that greatly.
As DraftExpress points out, his 0.712 points per shot on jumpers is worst among all wings in the 2012 draft.
The reason Kidd-Gilchrist is still considered a top-tier prospect, and why he is going four spots ahead of Barnes in Smith's mock draft, is that his relentless style of play was so impressive at the college level.
Kidd-Gilchrist's motor was running high for every minute he played at Kentucky. He used his athleticism any way he could, swarming on defense, crashing the boards and driving to the hoop to stay involved even when his shot wasn't falling.
Scout.com noted his competitiveness at the high school level. But had he declared for the 2011 draft out of high school, he would have been a 17-year-old with the body and mindset for the game, but not the ability to produce at the next level.
In that scenario, Kidd-Gilchrist would not have gone in the lottery, and maybe not in the first round depending on how his workouts would have gone.
These are just two examples within the 2012 draft. Replace Barnes with Andre Drummond, another guy with great hype and so-so production, and the story remains the same. Ditto with Kidd-Gilchrist and Bradley Beal, who stands out from the Jeremy Lambs and Dion Waiters of the world mostly by virtue of his willingness to do whatever was asked of him at Florida.
It is possible that all of these guys could have come straight out of high school to play in the pros. Yet, in a limitless world, Barnes could be considered a bust now after being picked over John Wall, and Kidd-Gilchrist could be an underpaid steal late in the first round.
Because of the age limit, teams have a better gauge on a player's true value. We, the fans, should consider ourselves lucky for this.