Drawing Up a Backup Plan for Philadelphia Eagles Defense
June 28, 2012

Jim McIsaac/Getty Images
If what happened during the final four weeks of the 2011 regular season is any indication, the Philadelphia Eagles won't have to worry about their defense very often in 2012. 
But what if it isn't an indication? What if that late-season tidal wave of success was an illusion? Maybe the Eagles were merely picking it up when the pressure was off and they had already fallen short of expectations. And if that's the case, there's no guarantee they won't revert back to bad habits early and often in 2012.
If that does happen, here are some in-season steps the team might want to consider taking in order to cure what ails the D before it's too late.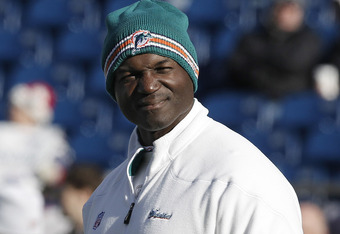 Winslow Townson/Getty Images
If tackling and a general lack of production is the problem: Fire Juan Castillo and replace him with Todd Bowles
Castillo likely would've been canned if not for that final month of 2011, so there's no reason to give him a long leash this year. If anything, Jim Washburn's wide-nine saved the rest of Castillo's defense last year—it would've been a whole lot worse if not for that pass-rush, which tied for the league lead with 50 regular season sacks.
Bowles is one of the most respected position coaches in the league, yet he's never been given an opportunity to work as a defensive coordinator. I'd like to see what he can do in such a role. 
Last year, the Eagles didn't have someone in place who was qualified to relieve Castillo of his duties. Bowles, who served as an interim head coach in Miami late last year, wouldn't try to over-complicate things and has the experience to succeed in such a role. I think he'd immediate simplify things, which, behind such an aggressive pass-rush, might be the key.
And most importantly, the players seem to like Bowles early on. Here's Nnamdi Asomugha, via Philly.com's Sheil Kapadia:
"Oh man, that guy's smart. He's smart. I don't know how much else to say," Asomugha said. "He understands the game, not only from a secondary's point of view and not only from a defense's point of view, but he understands it as a whole. He sees it very well. There are things that myself, that I see or that last year a couple other guys would see that... it helps to have a guy also that can help Juan [Castillo] out with that because he's seeing the same things that we see, whether it's how teams want to attack us, or ways to get better at our positions, how to cut off the things that don't work for the defense and how to upgrade on the things that do. So he's been very helpful so far, and obviously we'll continue to see how helpful he'll be, but it's been a great addition."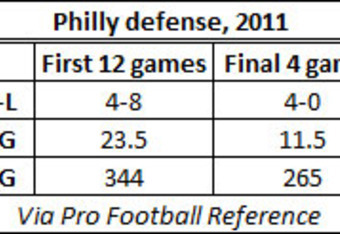 If the secondary is the problem: Play more man, replace Dominique Rodgers-Cromartie with Curtis Marsh and bench the safeties
Yeah, both of them. Take a flier on Jim Leonhard, who should be healthy by the time the season starts. Yeah, he and Oshiomogho Atogwe are both, like, 70 years old, but they've proven to be reliable veterans who can adapt to whatever's necessary.
Leonard's at his best while accounting for a fierce pass-rush, and he was having a solid year before tearing his patellar tendon last December. Atogwe is a playmaker who has never been part of a defense with this much skill. 
If Nate Allen and/or Kurt Coleman struggle early, Philly can't shy away from signing a veteran like Leonhard and using a veteran like Atogwe.
It also shouldn't hesitate to give Marsh a shot. If DRC once again disappoints, the 2011 third-round pick out of Utah State might be a sleeper candidate to excel coming off his first proper offseason. 
Schematically, the Eagles might also have to keep simplifying what they're doing, especially on the back end. Asomugha and DRC are excited about the prospect of playing more press-man, but I still get the feeling Castillo is going to try to get fancy more often than he should.
Let Washburn's front confuse offenses and just make sure that the coverage is quasi-competent.
If the pass-rush is truly shining regardless of who's on the field: Consider making a trade
Quality pass-rushers are the most valued defensive players on the market. Lots of teams have steady tacklers, but many are in dire need of defensive linemen who can get to the quarterback. If indeed we find out that this is a defense that can get to the quarterback regardless of the personnel, they'd be smart to use veterans such as Cullen Jenkins, Darryl Tapp and even Jason Babin as trade bait.
This all depends on how well guys like Brandon Graham, Fletcher Cox, Antonio Dixon and Vinny Curry perform early. If players like that can emerge/re-emerge and if the linebacking corps or secondary need help, Philadelphia would be crazy not to consider making a move.
I realize this won't be a popular step, but what good is a stellar pass-rush if the units behind it are failing time and again?