Euro 2012 Semifinal Recap/Analysis: How Italy Beat Germany
June 28, 2012

Joern Pollex/Getty Images
Fueled by a rampant Mario Balotelli, Italy ousted Germany 2-1 and will play Spain in the final of Euro 2012. The Italians thoroughly deserved their victory as they created numerous chances, dominated the midfield at times, and defended admirably.
Here's how it went down in Warsaw: 
First Half
The match started at a high pace, with Germany controlling most of the play. Their midfield played their usual high-paced and dominating game. 
Italy's defense looked shaky. In the 12th minute, a loose ball in the box ricocheted off an Italian defender back towards goal. The ball went inches past Gianluigi Buffon's post.
Despite Germany's dominance, the Italians set up a dangerous scoring chance in the 17th minute. Antonio Cassano cut in from the right, dribbling past two German players before the ball bounced to Riccardo Montolivo just outside the box. He took a quick touch right, before unleashing a powerful, low drive back across goal. German goalkeeper Manuel Neuer smothered the drive with a good save.
Italy again went close in the next minute through an increasingly dangerous-looking Cassano. This time, he cut in from the left, a mirror-image of the run he made a minute before. He shot powerfully to the far post, which forced a great save from Neuer. 
The chances gave Italy a new sense of confidence. They looked increasingly dangerous, and were rewarded for their efforts in the 19th minute. Playing down the left wing, Cassano received the ball, shielded, and spun with the ball through two defenders. His chipped cross was perfect for Mario Balotelli, who headed past Neuer from 3 yards out.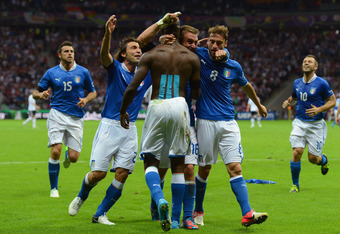 Shaun Botterill/Getty Images
Italy, touted as heavy underdogs, were leading, and not by chance.
In the 26th minute, Mesut Özil had a good look, but Buffon collected the ball after an initial block.
Germany controlled the game for large spells, but could only muster shots from outside the box. Italy's defense, with Giorgio Chiellini back, looked much better than in the opening stages of the match.
Just when the Germans started to look dangerous, twice testing Buffon, Italy struck again.
Montolivo won the ball on the left side of Italy's own half and sent a long ball up field. Balotelli ran onto it and smashed a vicious shot into the upper-right corner. No goalkeeper on the planet would have come close to stopping Super Mario's goal. 
Italy did what they do best. With a two-goal lead, they did took a more cautious, possession-based approach.
The half came to a close not a moment too soon for Germany. They looked shell-shocked.
Second Half
Germany made two substitutions at halftime, introducing Marco Reus for Lukas Podolski and Miroslav Klose for an ineffectual Mario Gomez.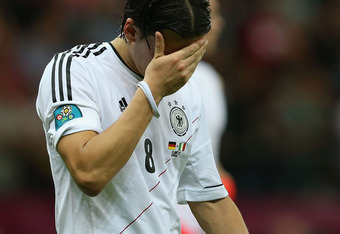 Joern Pollex/Getty Images
Reus immediately made an impact. He cut through a couple of Italian defenders from the right and shot, but it was no problem for Buffon.
Germany again came close in the 50th minute with some nice work from Toni Kroos. Schweinsteiger passed to Kroos who laid the ball in the path of an onrushing Phillip Lahm. He was open in the middle of the box, but his shot from 15 yards went sky-high.
Italy's first substitution happened in the 58th minute. Cassano came off for Alessandro Diamanti. 
Germany had a great opportunity in the 62nd minute. With a free kick 24 yards out, the ever-dangerous Reus produced a spectacular save from Buffon. 
Italy made their second substitution on 64 minutes by replacing Riccardo Montolivo with Thiago Motta, clearly indicative of a more defensive approach. 
Mario Balotelli was taken off in the 70th minute after going down injured. He was replaced by Antonio Di Natale. 
Germany responded with their final substitution, bringing on a striker in Thomas Müller for defender Jerome Boateng. Both teams unusually had used up all three of their subs with 20 minutes left to play. 
Claudio Marchisio came close to making it 3-0 for Italy in the 75th minute from a ball over the top, but his low shot went just past the far post.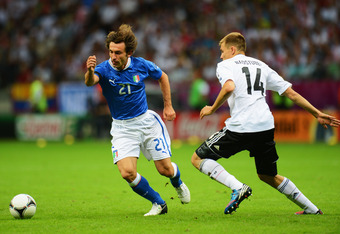 Shaun Botterill/Getty Images
Time was running out for Germany. They still didn't look like scoring, despite the positive impact of the substitutions. Especially Marco Reus. We're left to wonder why he didn't start.
Italy looked dangerous on the counterattack. Di Natale should have scored in the 82nd minute when he was through on goal, but couldn't finish. 
It wasn't over yet—Germany were given a golden opportunity for a comeback in the 91st minute as the ref awarded a penalty following a handball from Federico Balzaretti. Özil buried the shot and Germany were within one. 
However, it was not to be as the Italians held on. The final whistle blew and Italy were through to the final.
Conclusion
Italy are back. They have clearly shaken off the mediocrity that has plagued the team over the last few years. Against a heavily favored Germany, Italy defended superbly, never allowing the Germans a chance. They also created opportunities by the truckload—they could and perhaps should have scored at least three more times.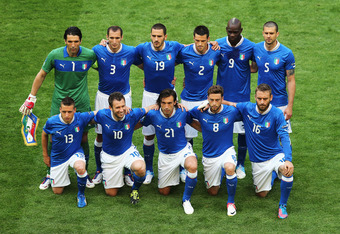 Alex Grimm/Getty Images
Coach Cesare Prandelli has patiently rebuilt this Italy team by introducing a younger generation of players, but keeping a few key players, especially Andrea Pirlo and Gianluigi Buffon. With a foundation as strong as these two, it was only a matter of time before the talents of Cassano and Balotelli, combined with the defensive prowess of Chiellini and co. would all jell. 
We're seeing it happen at Euro 2012—Italy is back as a European force. They've already played Spain once this tournament, where they performed respectably and earned a 1-1 draw. Italy is firing on all cylinders at the moment. Their defense, midfield, and finally, forward lines are all clicking.
Many said Germany would demolish Italy. How wrong they were. The 2-1 scoreline doesn't tell the story of the match. Italy are deserved finalists.
It'd be foolish to assume that Italy are anything but underdogs at this point, Spain are always a force to be reckoned with.
But hey, with results like this, what's wrong with being underdog?