Tim Lincecum, Matt Cain and Madison Bumgarner Are the New Big Three of This Era
June 28, 2012

Thearon W. Henderson/Getty Images
From 1991-2005, the Atlanta Braves dominated their division and made the postseason every year except for the strike-shortened 1994 season. They allowed the fewest runs in baseball during that span on the backs of their big three aces—Greg Maddux, Tom Glavine and John Smoltz. 
Since Matt Cain and Tim Lincecum joined forces in 2007, with Madison Bumgarner coming aboard at the end of 2009, no team has allowed fewer runs than the San Francisco Giants. 
This is the third full season that the Giants have had their big three in the rotation together. They won the World Series in 2010, but were forced to watch the postseason from home last year due to an anemic offense that was dead last in runs scored in the National League. If the season ended today, the Giants' three aces would be back in the postseason again to make another run at a championship.
Using earned run average (ERA), adjusted ERA+, strikeouts per nine innings (K/9), walks per nine innings (W/9) and strikeout-to-walk ratio (K/BB), we can compare the Giant and Brave versions of the big three. 
Adjusted ERA+ is a great stat for this exercise because it adjusts for park factors and the competition of the respective eras. Lincecum, Cain and Bumgarner have higher strikeout rates than Glavine and Maddux, but the Giants pitchers are throwing in an era where batters strikeout at a much higher rate than they did back in the '90s. 
Here are the aces by the numbers as starters for the Braves and Giants courtesy of Baseball-Reference.com: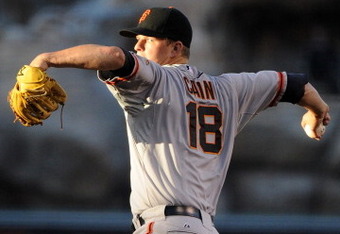 Lisa Blumenfeld/Getty Images
Braves Big Three
Greg Maddux 1993-2003: 2.63 ERA, 163 ERA+, 6.5 K/9, 1.4 W/9, 4.77 K/BB, 3 Cy Young Awards
Tom Glavine 1987-2002: 3.41 ERA, 121 ERA+, 5.5 K/9, 3.1 W/9, 1.78 K/BB, 1 Cy Young Award
John Smoltz, 1988-1999: 3.35 ERA, 121 ERA+, 7.8 K/9, 2.9 W/9, 2.71 K/BB, 1 Cy Young Award (Smoltz missed the 2000 season, then relieved from 2001-2004 before becoming a starter again)
Giants Big Three
Tim Lincecum 2007-2012: 3.19 ERA, 127 ERA+, 9.9 K/9, 3.4 W/9, 2.88 K/BB, 2 Cy Young Awards
Matt Cain 2005-2012: 3.27 ERA, 126 ERA+, 7.5 K/9, 3.1 W/9, 2.41 K/BB
M. Bumgarner 2010-2012: 3.13 ERA, 116 ERA+, 7.8 K/9, 2.0 W/9, 3.92 K/BB
While the Giants big three does not have the longevity of Maddux, Glavine and Smoltz yet, they do have comparable numbers at the beginning of their reign of terror on the National League. Comparing the two sets of aces, Maddux stands out as head and shoulders better than everyone else, but Lincecum, Cain and Bumgarner compare favorably to Glavine and Smoltz.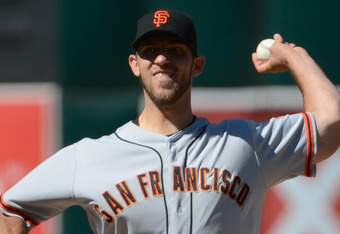 Thearon W. Henderson/Getty Images
Lincecum's overall numbers have been dragged down by his poor start to the 2012 season. However, he has shown signs of returning to form over his last two outings. 
If Lincecum needs a historical figure to emulate, he couldn't do worse than Maddux. Maddux had similar walk rates to Lincecum when he first entered the big leagues, but he became an extreme command-and-control pitcher as his stuff began to decline. 
The Giants big three may not match the Braves for longevity because it could be broken up by free agency, injuries or a decline in performance. Cain and Bumgarner will be together in San Francisco through at least 2017, but Lincecum will be a free agent after next season. However, youth remains on the Giants' side, as Bumgarner is just 22, Cain is 27 and Lincecum is 28. 
If the Giants big three never matches the Braves in terms of longevity, they will at least be even in the number of championships they won together. Atlanta made the postseason 14 straight seasons, but they only won the World Series once, in 1995. 
The Giants big three may not last forever, but the 2010 World Series certainly will. Here's hoping for one more in 2012; just in case this is their last, best hope at a title together.