15 NBA Players Who Need New Teams to Fulfill Untapped Potential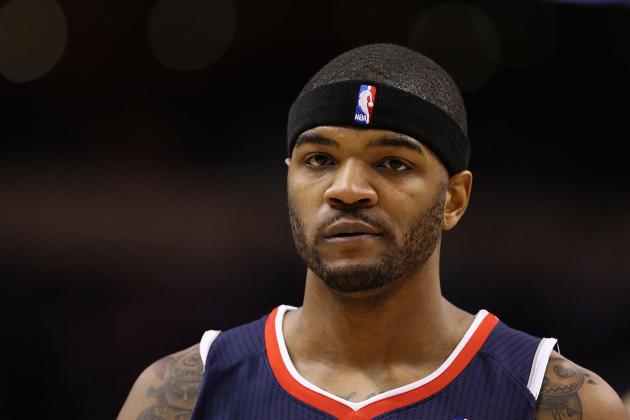 Christian Petersen/Getty Images

For various reasons, many players across the NBA are in need of a change of scenery in order for them to reach their potential.
The reasons why some players need new teams vary, with some of the more common ones being how they fit into their teams' systems, or if they have found themselves in awkward positions with their franchises.
In some cases, even the most talented of players have worn out their welcome. Fans are counting down the days until some players suit up for another team and become that team's problem.
The offseason is now in full swing, and every GM is looking to refine his roster in an attempt to put a talented, cost-efficient squad on the floor.
While many of the players on this list are almost sure things to return to their current teams, that doesn't mean that they wouldn't benefit if they were to have a change of scenery.
Begin Slideshow

»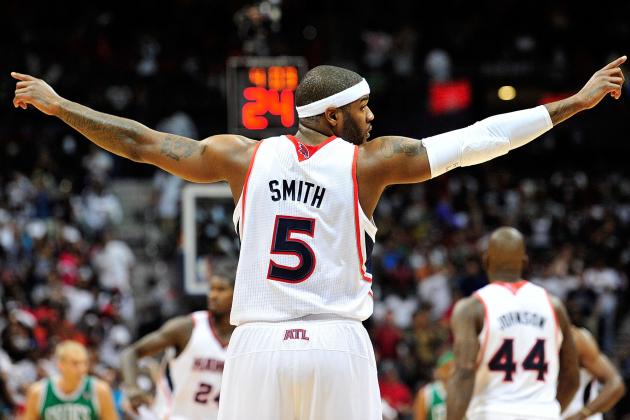 Grant Halverson/Getty Images

Josh Smith is without a doubt one of the most talented power forwards in the NBA. Thus far in his career, he has averaged 15.1 points, 7.9 rebounds and 2.2 blocks per contest.
As evidenced by his stats, Smith is a good shot-blocker and his ability to shoot the mid-range jumper puts more pressure on the defense.
Over the past couple of years, it has not been a secret that Smith wanted out of Atlanta, per Kelly Dwyer of Yahoo! Sports. For whatever reason, he no longer wants to play for the Hawks and will eventually have that wish granted.
Most players see their production suffer when they are forced to play for a team that they don't wish to be a part of. This hasn't been the case with Smith, who posted career highs in scoring and rebounding last season.
This season, Smith led the Hawks to the fifth seed in the Eastern Conference, but they fell to the Boston Celtics in the first round.
Whatever team ends up landing Smith in the long term will be very fortunate, as this 26-year-old power forward still has plenty of great basketball in him.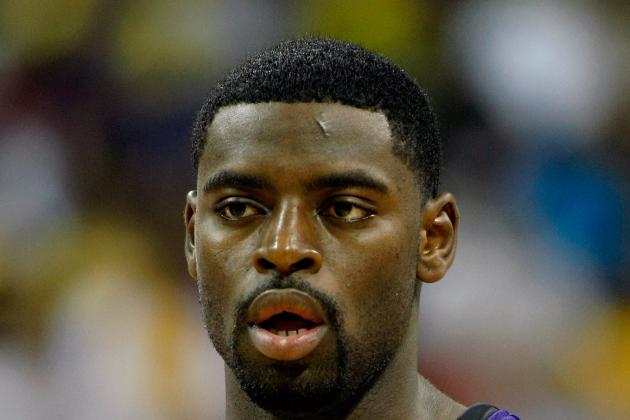 Ethan Miller/Getty Images

The Sacramento Kings chose Tyreke Evans with the fourth selection in the 2009 draft. During his rookie season, Evans proved that he was worthy of the selection, as he averaged 20.1 points, 5.8 assists and 5.3 rebounds per game.
His great play earned him Rookie of the Year honors and it appeared that Evans had a very bright future with the Kings.
Since then, Evans has regressed and the Kings are still nowhere near contention. The pairing of Evans and DeMarcus Cousins that was so promising a couple years ago no longer has the same luster.
According to Bill Ingram of HOOPSWORLD, there are rumors that the Kings are willing to move Evans, and the move could happen sooner than later.
There is no denying the fact that Evans has the talent to be one of the best combo guards in the NBA. At 6'6", he is almost big enough to play small forward but he handles the ball better than most guards.
Hopefully when the union between the Kings and Evans ends, he will find himself on a team that will help him develop into the star that he seemed destined to become.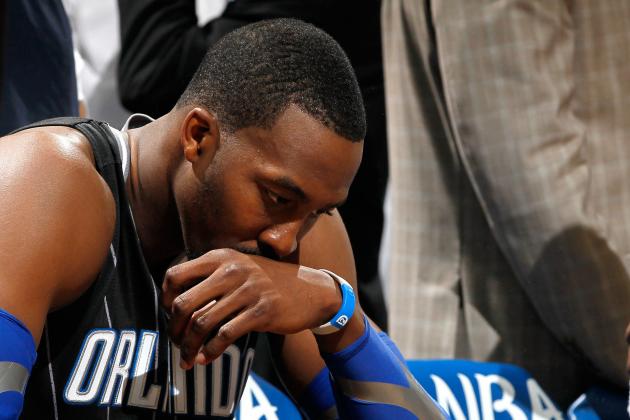 Kevin C. Cox/Getty Images

It was not that long ago that Dwight Howard was one of the most beloved players in the NBA. At that point, he was doing everything right and Orlando was captivated by his goofy personality and his strong play on the court.
At this point, it seems unlikely that Howard will play another game in an Orlando Magic uniform. His reputation and popularity appear to be irreparable for the time being, and he is no longer adored by fans across the league.
Per Roderick Boone of Newsday.com, Howard has made it clear that he no longer wants to play in Orlando, and a trade appears imminent. The Magic would be wise to move him before the season, as the circus that followed the team this season needs to be put to rest.
Howard will make one team, probably the Brooklyn Nets, very happy, as he is still the best center in the NBA. He had a tremendous career in Orlando, as he holds many of the team's all-time statistical records.
All good things come to an end, but it's unfortunate that Howard is going to leave Orlando on such a poor note.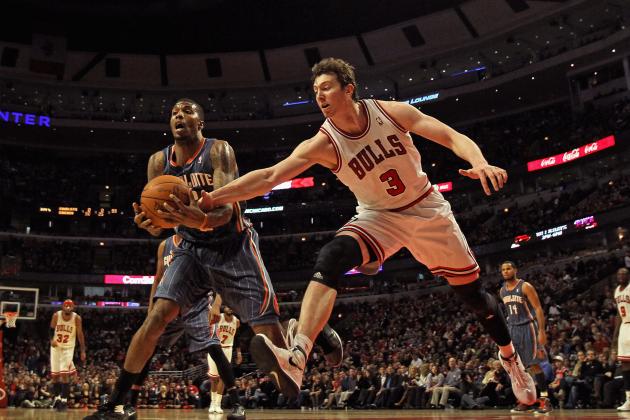 Jonathan Daniel/Getty Images

Omer Asik is currently the backup center for the Chicago Bulls, but he is ready to start for a different team.
When starting center Joakim Noah is out of the game, the team rarely suffers, as Asik is an excellent defender.
Asik is proof that teams can find quality players in the second round, as he was the taken with the eighth pick in Round 2 in 2008. He spent a few seasons playing overseas before joining the Bulls in 2010.
Asik still has one more year left on his contract, which will pay him $2.3 million next season. When he is eligible to hit the free-agent market, he will probably fetch about double that.
It would be a surprise to see the Bulls deal Asik because he performs at a much higher level than his contract would indicate.
Last season, he averaged 5.3 rebounds while playing a little over 14 minutes per game. When he is given the opportunity to play more minutes, Asik will prove that he is fully capable of being a starter in the NBA.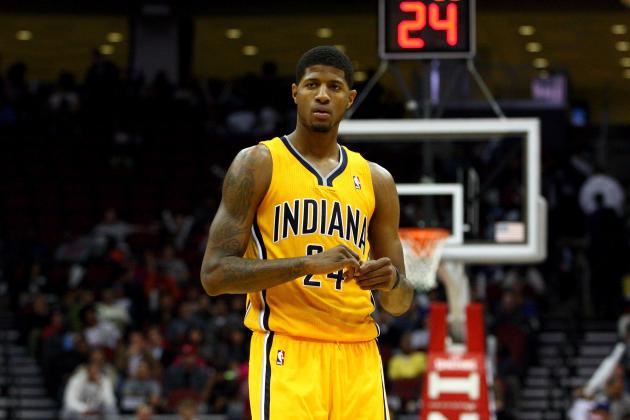 Chris Chambers/Getty Images

Paul George started every game at shooting guard for the Indiana Pacers this past season. At 6'8", George is one of the biggest shooting guards in the league and has a bright future.
Last season, he averaged 12.1 points, 5.6 rebounds and 2.4 assists per game. He had a disappointing series against the Miami Heat in the second round of the playoffs and is currently living in Danny Granger's shadow.
Like George, Granger has good size and shoots the ball fairly well. The two play very similar games, and in order for George to reach his potential, he should be separated from Granger. If he doesn't get traded, he should still develop as a player and he could turn into one of the best shooting guards in the league.
The Pacers also cannot afford to pay Danny Granger, Roy Hibbert, David West and George as well. Someone is going to have to play elsewhere, and the team could get a fair share in return for George.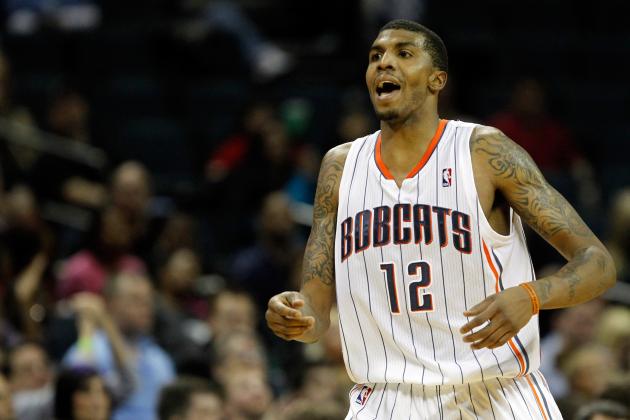 Streeter Lecka/Getty Images

When Tyrus Thomas was taken fourth by the Portland Trail Blazers in the 2006 draft, he was praised for his wingspan and ability to finish around the rim.
However, up to this point, Thomas has been a bust and the Bobcats are doing their best to trade him away, according to Kelly Dwyer of Yahoo! Sports. It will be difficult for them to find a new home for Thomas because he is due $26 million over the next three years.
Thomas is on the verge of joining his third different franchise, and his time to develop is dwindling.
He was unable to contribute much last season on the worst team in NBA history. So you can see how it will be difficult for Bobcats GM Rich Cho to move Thomas in the near future.
If Cho is unable to unload him, then Thomas will have one more chance to prove that he was worthy of the big contract that the Bobcats gave him in 2009.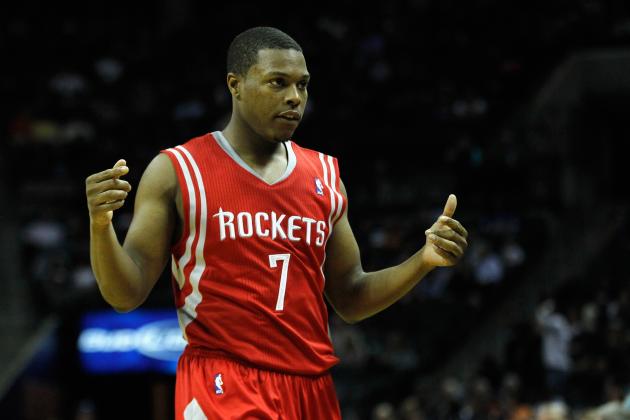 Streeter Lecka/Getty Images

Kyle Lowry has put together two good seasons in a row, and if he gets on the right team, the sky is the limit for Lowry.
According to Ben Golliver of CBS Sports, there have been reports that Lowry no longer wants to play for the Houston Rockets because he doesn't get along with head coach Kevin McHale.
In fact, Lowry said the following in Golliver's piece about the situation:
"Things have to be addressed. The situation would have to be addressed. If things aren't addressed coaching-wise, I guess I have to be moved."
Lowry's statement is about as honest as you will find, and it doesn't appear as if the team is going to be firing McHale anytime soon. This means that Lowry must be moved and the team that picks him up won't be disappointed.
Lowry did miss a portion of last season, but that was due to ailments that won't affect him again in the future. There are plenty of teams that need a point guard, and it appears as if he will be wearing a new uniform at the start of next season.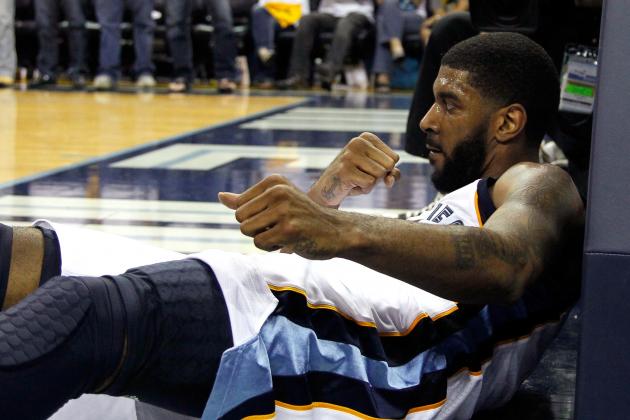 Kevin C. Cox/Getty Images

It has been obvious for quite some time that O.J. Mayo has the offensive game to be one of the league's better scorers.
When the Memphis Grizzlies used the third pick in the 2008 draft on him, they thought they had just drafted a superstar. Mayo started all but one game in his first two seasons, but since then, he has been moved into the sixth-man role.
His play during his rookie year got him selected for All-Rookie First team, as he averaged 18.5 points while shooting 43.8 percent from the field.
However, his shooting percentage was far better when he was a starter rather than coming off the bench. Mayo should be a starter in the NBA, and he will get that chance soon.
It is likely that Mayo's second team will be the one that benefits the most from his talent.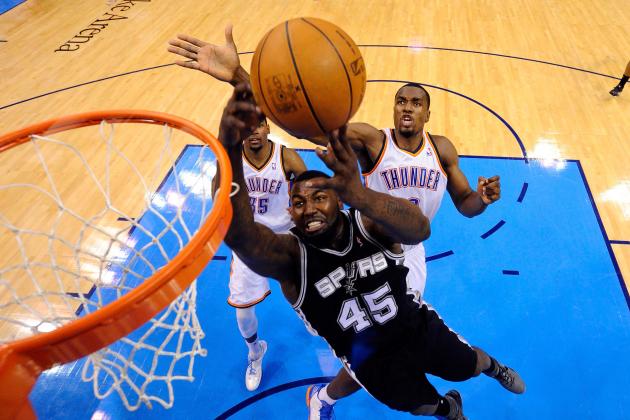 Pool/Getty Images

The San Antonio Spurs didn't take DeJuan Blair until the 37th overall selection. He was praised for his rebounding skills, but many were worried about his lack of height and offensive ability.
The arrival of Boris Diaw was the beginning of the end of Blair's playing time, as he barely played in the playoffs.
Yahoo!'s Adam Wojnarowski tweeted that Blair is on the trading block, and he will become a good role player for whatever team acquires him.
Although his height is a detriment, Blair plays extremely hard and is great on the glass. His lack of height plays a bigger role on the defensive end of the court, but if he plays a small role, his energy and rebounding will make him an asset.
Jonathan Daniel/Getty Images

Wilson Chandler was part of the package that the New York Knicks sent to the Denver Nuggets for Carmelo Anthony. He missed most of last season because he decided to play in a Chinese league during the lockout.
Thus far in his career, he has averaged 13.8 points per game on 45 percent shooting, along with 5.2 rebounds per game. He is also an excellent wing defender and would help any team that manages to acquire him.
There were reports, per SI.com, that Chandler was on the trade block, and that makes sense. Chandler is 25 years old, and with his skill set, he should be playing on a winning team. He would be perfect playing next to a superstar because he plays hard, tough-nosed defense and contributes on the glass.
The Nuggets proved that they are a deep, talented team when they pushed the Los Angeles Lakers to seven games in the first round of this year's playoffs. But without a true superstar, it is doubtful that they will be able to achieve true postseason success.
It may be unlikely that Chandler gets moved, and he will be productive for the Nuggets next season, but he could be the missing ingredient for quite a few teams.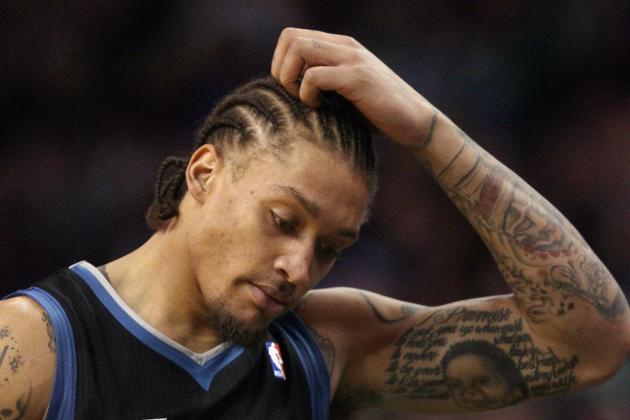 Elsa/Getty Images

Michael Beasley was the second pick of the 2008 draft by the Miami Heat, and he was supposed to be Robin to Dwyane Wade's Superman.
However, Beasley has yet to develop into a star in the NBA and is on the verge of joining his third different team. The Duluth News Tribune reveals rumors about Beasley being traded by the Minnesota Timberwolves all season, but it appears as if he will be moved sometime before the start of next season.
Beasley averaged 19.5 points per game during the 2011 season, but his scoring dropped to 11.5 points per game this year, although he did miss a portion of the season.
It would be a surprise if Beasley plays another game for the Timberwolves, as the team is not expected to extend a qualifying offer to him, according to Dave Campbell of the AP via Yahoo! Sports. If they don't, Beasley will be free to continue his development elsewhere.
The former Kansas State star has the talent to be an excellent player, but he if doesn't manage to do so soon, he will be labeled a bust.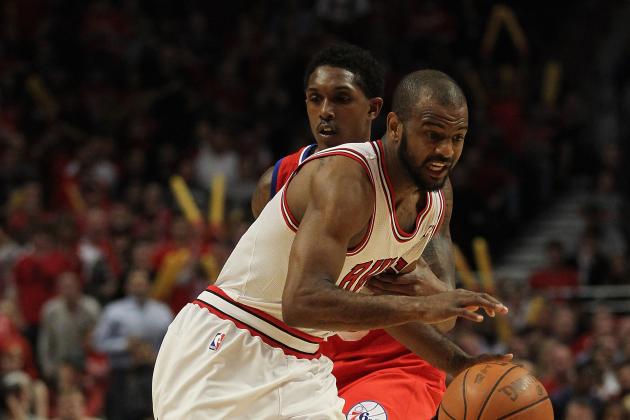 Jonathan Daniel/Getty Images

John Lucas III performed admirably this season while Derrick Rose missed portions of the year due to injuries.
Lucas III is never going to be a quality starting point guard, but he is a quality backup. He relies on his quickness and jump shot, and he would be an upgrade for most teams' benches.
Unfortunately for Lucas III, he has never been very accurate from the field, as he has shot 39.8 percent from the field in his career.
He had a 2.57 assist-to-turnover ratio last season, which was by far the highest ratio of his career. If he is able to keep up that level of play, then he will be playing at the NBA level.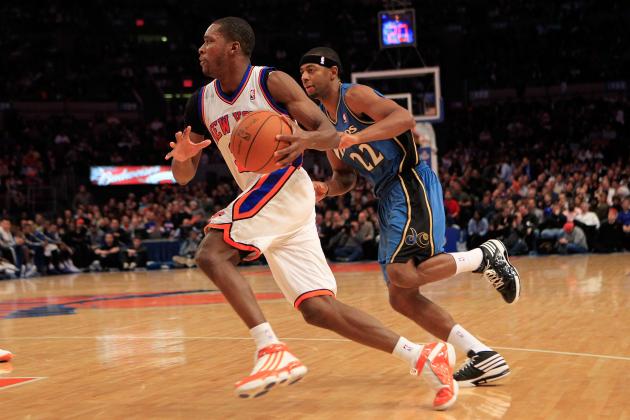 Chris Trotman/Getty Images

Toney Douglas is at his best when the ball is in his hands, and that won't happen much while he is with the New York Knicks.
He proved at Florida State that he is a dynamic scorer, but it remains to be seen if he can become one in the NBA. Douglas' stock has never been lower than it is now because he had a terrible season (ESPN.com).
At the beginning of last season, it appeared as if Douglas was going to be an important member of the Knicks at point guard. This turned out not to be the case, and Douglas only appeared in one playoff game in the first round of the playoffs.
Douglas has two years left on his deal, but the Knicks may look to trade him since he doesn't appear to be a part of their future plan.
If given the chance, Douglas should prove to be a strong bench player due to his ability to score.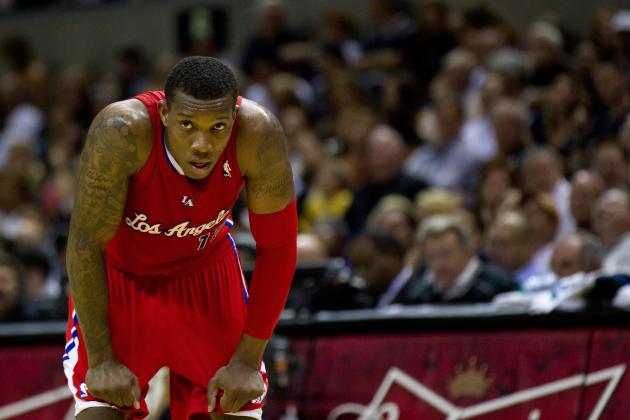 Justin Edmonds/Getty Images

Eric Bledsoe is getting a chance to learn from Chris Paul, who is the best point guard in the NBA.
Last year, Bledsoe missed the first month of the season and it took him a while to carve out a niche with the team. In the playoffs, Bledsoe stepped up and averaged 7.9 points, 2.1 assists and was great on the defensive end.
Bledsoe's immediate future will hinge upon whether or not fellow point guard Mo Williams returns to the Clippers. If Williams doesn't return to the team, then Bledsoe will see a lot more playing time.
Bledsoe deserves to play about 25 minutes a night, and if he were moved elsewhere that is what would happen. The Clippers had a lot of depth at point guard, and that really hurt Bledsoe's playing time.
The Clippers have no plans of moving Bledsoe, as he is cheap because he is still on his rookie contract. Hopefully he will be Paul's primary backup this year so he can showcase his game to the entire league for a full season.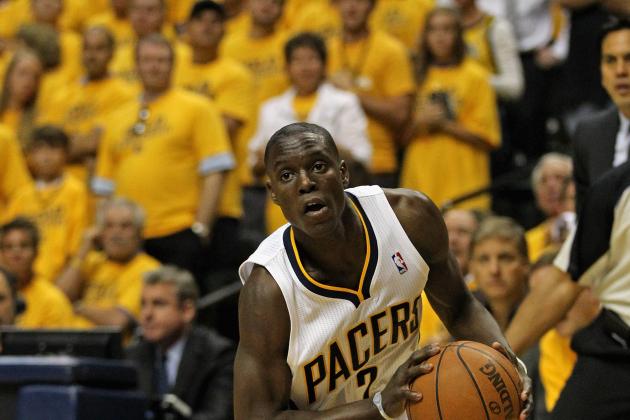 Jonathan Daniel/Getty Images

Darren Collison appeared to have a lot of promise as a young player for the New Orleans Hornets, and he still has a chance to be a very good NBA player.
Collison suffered with injuries throughout this season and came off the bench for most part. George Hill, whom the team acquired from the San Antonio Spurs during last year's draft, is a restricted free agent and may not be with the Pacers next year.
If Hill is no longer in the picture, then his situation with the Pacers is great. Collison has too much talent and can impact the game in a positive manner in too many ways to warrant him coming off the bench.
The Pacers should be able to get fair compensation for Collison if they were to put him on the trade block.