Why Sidney Crosby Is Worth over $100 Million for Pittsburgh Penguins
Justin K. Aller/Getty Images

For the past few weeks, there have been rumblings that a Sidney Crosby contract extension was imminent. Word came down early Thursday via the Pittsburgh Penguins (h/t Pierre LeBrun, ESPN.com) that a deal had been made, and Crosby, the Penguins captain, would sign a 12-year deal worth $104.4 million.
One must wonder if the delay in the announcement was to allow the Pens to throw bags of cash into a Brinks truck and drive it up onto Crosby's lawn.
The contract will not kick in until the 2013-14 season, as Crosby still has one year remaining on his current deal. He will be paid $7.5 million for this coming season.
While some saw the deal as a forehead slapper, others will tell you that it was the right deal to make, and I am one of that group. This deal does make sense for Crosby, for the hockey team, for the fans and for the Penguins as a business. I will tell you why.
Oh, and without doing the math, any guesses as to what the annual salary cap hit is for Crosby's deal? No need to think too hard...it's $8.7 million.
Begin Slideshow

»
Justin K. Aller/Getty Images

Everyone performs a better job when they feel wanted, even highly compensated professional athletes.
If you know that your employer values you, you'll go above and beyond. If you're wondering if your next paycheck will be your last, odds are you aren't going to be too motivated to do anything more than what is required to earn that paycheck.
The terms and amount of this deal sends a clear message to Sidney Crosby.
That message: You are our guy; this is your franchise and you will be taken care of. That is a confidence booster. That lets Crosby know exactly where he stands.
A confident player at any level is a great thing to have. Now, a confident player that may be the most talented player in the NHL...?
Well, the Pittsburgh Penguins' opponents will see that next season.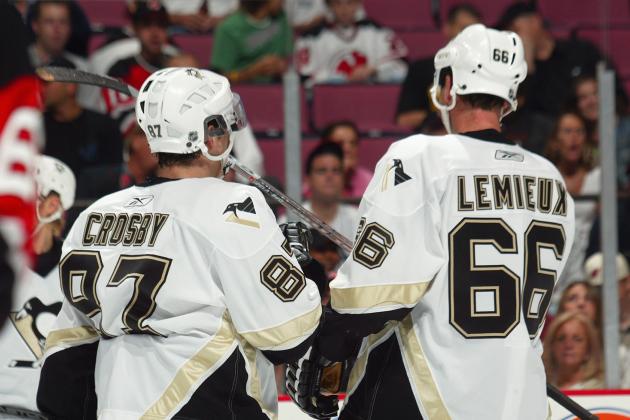 Bruce Bennett/Getty Images

This contract almost guarantees that Crosby will play his entire career with the Pittsburgh Penguins. I know, I know, we all thought the same thing about Mike Richards and Jeff Carter, and look how that turned out. However, the Penguins are not the Flyers, and Mario Lemieux is not Ed Snider.
Odds are good that Crosby retires in Pittsburgh.
That is a great thing for the franchise. Crosby is a superstar—a player you build a team around, a player that a fanbase can form around and be sustained with. Signing Crosby allows the Penguins to feel safe with a franchise player for the long term.
For the fanbase, they can feel confident that their guy is not going anywhere. They know that Crosby will be there at least until the 2025 season.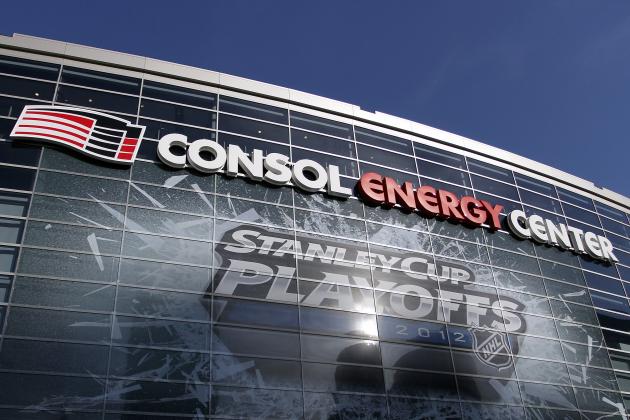 Justin K. Aller/Getty Images

Let's face it: There is no denying that hockey, like every other professional sport, is big business.
One of the keys to making money in that business is selling tickets, but more important is getting the wealthy to pony up a significant amount to purchase a luxury box.
Knowing that one of the premier players in the NHL will be on the ice, barring injury, 41 times per season until 2025 will allow the Penguins to aggressively pursue buyers for the luxury boxes at the Consol Energy Center.
That is a good thing, because odds are they will be near the salary cap for the foreseeable future as they pursue multiple Stanley Cup victories.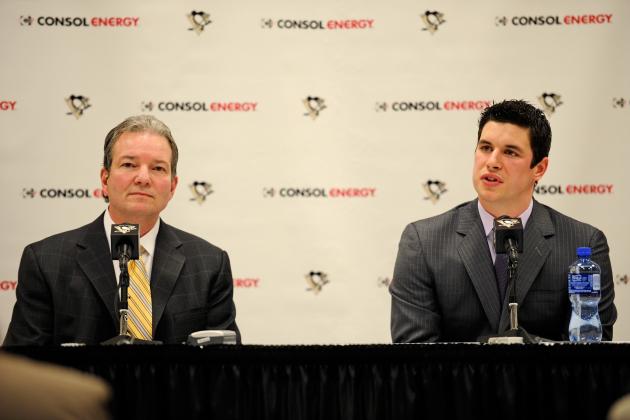 Jamie Sabau/Getty Images

Some would say that a deal like this hurts Penguins general manager Ray Shero. I would argue the exact opposite.
It helps him immensely.
One would be foolish to think that the Penguins did not think through the long-term implications of this deal. They know where they stand on Crosby, Evgeni Malkin and Marc-Andre Fleury.
Knowing where they stand in the long term on salaries and what types of players they will have on the club will allow them to draft and trade to complement those players.
The Penguins won't have to depend on the crapshoot that is the NHL draft or the uncertainty of the trade deadline. They will instead be calmly searching for the best pieces to help the current superstars shine even brighter.
Any GM would be happy to have talented players they can build around for the long term.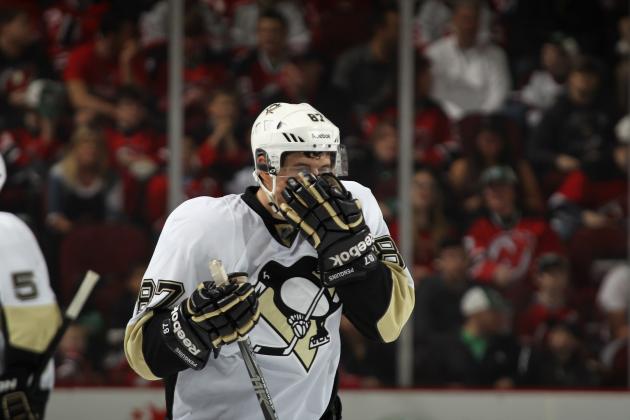 Bruce Bennett/Getty Images

The elephant in the room is Sidney Crosby's concussion history.
Over the last two seasons, he played less than 70 regular-season games. But what I like about this deal is that it screams, "So what?" It shows Crosby that the team believes he has fully recovered, and they have full faith in him and his doctors.
This contract has nothing to do with Crosby's health, because that is an unknown. Why should the Penguins worry about that?
They shouldn't, and they didn't.
They looked at the facts and saw the opportunity to sign an otherworldly talent to a long-term deal, and they did it.
For that, they should be applauded.