2012 NBA Draft: Charlotte Bobcats' Final Mock Draft Including Trades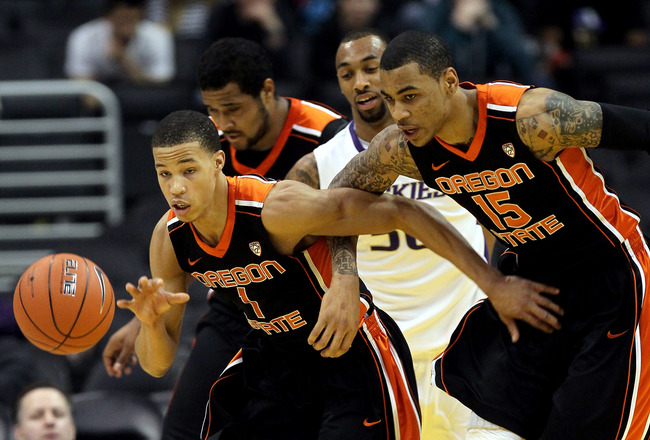 Stephen Dunn/Getty Images
The 2012 NBA draft is just hours away, with each and every NBA team anxiously awaiting the twists and turns that will take their franchise to the promise land or continue their stagnant pace. In the case of the Charlotte Bobcats, however, the latter is far from an option.
The only way is up for the 7-59 Bobcats, which is the mindset they're taking into tonight's franchise-altering event. This does not exclude them from the rigorous process of studying prospects, however, which is why each and every pick will be methodically chosen based off of a series of important factors.
Just make sure your eyes are constantly open if you're a Bobcats fan. A trade could happen at any given moment.
Trade Alert!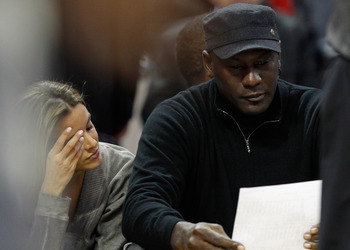 Streeter Lecka/Getty Images
Right off the bat, the Bobcats' phone is ringing and there are more than a handful of aggressive suitors. The lucky winner, however, is the team who has been the favorite since day one: the Cleveland Cavaliers.
According to John Telich of Fox News, that just so happens to be a very loaded deal.
Hearing Cavs /Bobcats talking. #Cavs want #2 pick..would give #4 #24 #34 #NBADraft

— john telich (@JohnTelich8) June 26, 2012
Maintain a lottery pick and add two others picks of serious value? That's an opportunity that the Bobcats will not pass up on.
Charlotte Bobcats Receive: First Round, Picks No. 4 & No. 24; Second Round, Pick No. 34
Cleveland Cavaliers Receive: First Round, Pick No. 2
First Round, Pick 4 (via Cavs): Harrison Barnes, North Carolina Tar Heels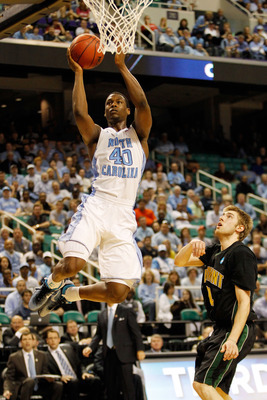 Streeter Lecka/Getty Images
Position: Small Forward
Class: Sophomore
Age: 20
Height, Weight Wingspan
6'8", 228 pounds, 6'11" wingspan
Pros
Immediate upgrade over current situation at 3 in Charlotte. Highly-praised leadership. Patient, intelligent and sometimes dominant perimeter defender. Fundamentals over flash. Outstanding mid-range jump shooter with three-point range. Smooth movement on the floor. High basketball IQ and grasp for fundamentals. Respected on-court and locker room leader.
Cons
Struggles to create for himself off of the dribble. Often too passive. Must bulk up to play NBA 3.
Why They'll Pull the Trigger
Sam Amick of Sports Illustrated offers all the insight you could possibly need.
[Barnes] worked out for Charlotte on Thursday, and the reviews from the team's official Twitter account couldn't have been more glowing. There was a mention of Barnes burying 80 percent of his midrange jumpers and finishing 15 dunks in one minute -- "all with authority." There was even a too-good-to-be-true tie-in relating to Charlotte owner Michael Jordan.
While the Jordan reference is clearly an exaggeration, as Barnes has yet to step foot on an NBA court, the high-praise should offer enough insight as to who the Bobcats are targeting. The selection becomes even more likely after the Bobcats dealt Corey Maggette to the Detroit Pistons, leaving Derrick Brown as their best option at the 3.
Season Averages
22.70 PER, 17.1 PPG, 5.2 RPG, 1.1 APG, 1.1 SPG
First Round, Pick 24 (via Cavs): Andrew Nicholson, St. Bonaventure Bonnies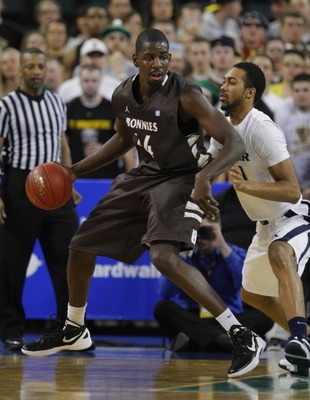 Photo Credit: Orlando Sentinel
Position: Power Forward
Class: Senior
Age: 22
Height, Weight, Wingspan
6'10", 234 pounds, 7'4" wingspan
Pros
Offers Bobcats a much-needed low-post scoring presence. Shoots well over either shoulder. Mid-range game solid. Above-average rebounder. Excellent, soft hands. Always looking to create points for himself and others. Admirable motor. Willing to get on the floor to secure loose balls. Very efficient player.
Cons
Stronger defenders can push him off the block. Turns the ball over too often. Foul prone.
Why It Works
The Charlotte Bobcats' current situation at the 4 includes a defensive-minded Tyrus Thomas and two players you forgot remained active: D.J. White and Eduardo Najera. If one were to doubt the Bobcats' need for a scoring front court option, it's safe to say that the team would be even worse off with them at the helm.
In selecting Andrew Nicholson, the Bobcats land one of the better low-post scorers available. Nicholson will spread the floor with his shooting and condense a defense with his post-up abilities, thus creating options for Ben Gordon and Harrison Barnes to fire away with freedom.
This is a major upgrade for the Bobcats' front court.
Season Averages
31.63 PER, 18.5 PPG, 8.4 RPG, 1.0 APG, 2.0 BPG, 0.7 SPG
Second Round, Pick 31: Jared Cunningham, Oregon State Beavers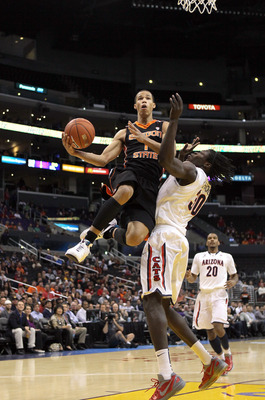 Stephen Dunn/Getty Images
Position: Guard
Class: Junior
Age: 21
Height, Weight, Wingspan
6'5", 188 pounds, 6'7"
Pros
Masterful at forcing turnovers. Very long, very athletic. Excellent ball handler. Sees the floor well. Can get to the basket at will. Very quick, tough to handle off the dribble. Non-stop motor. Possesses killer instinct and star mentality with the play to back it up. Could play the point or 2.
Cons
Must bulk up. Questions about true position. Jump shot must improve.
Why It Works
Gerald Henderson broke through as a respectable 2 in 2012, posting season averages of 15.1 points, 5.1 rebounds, 2.3 assists and 0.9 steals per game. Ben Gordon, meanwhile, has long been one of the game's deadliest three-point shooters.
Neither of those players brings to the table what Oregon State's Jared Cunningham possesses.
Cunningham is poised to be the steal of the draft, as he's capable of playing either guard position and true star in the making. He's an elite slasher with top tier scoring abilities once he enters the paint. He's also an excellent perimeter defender who forces turnovers for a living.
This is what the Bobcats need, as Henderson and Gordon take time to develop chemistry and Kemba Walker continues to answer question about his true position.
Cunningham is also a very good ball handler and with great court vision, causing some to believe that he will end up being a point guard in the NBA. Regardless of which position he plays, this is a great selection for the Charlotte Bobcats.
Season Averages
21.07 PER, 17.9 PPG, 3.8 RPG, 2.8 APG, 2.5 SPG
Second Round, Pick 34 (via Cavs): Kevin Jones, West Virginia Mountaineers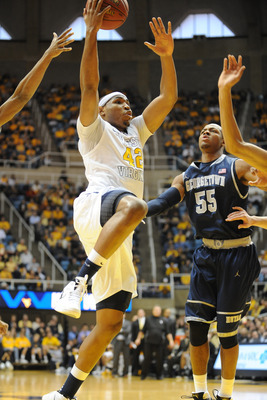 Mitchell Layton/Getty Images
Position: Power Forward
Class: Senior
Age: 22
Height, Weight, Wingspan
6'8", 251 pounds, 7'2" wingspan
Pros
Excellent rebounder. Crashes the boards with reckless abandon. Very good shooter with range out to three-point line. Respected motor. Proven winner. Excels on offensive glass.
Cons
In search of a defined position. Not the greatest athlete.
Why It Works
Even after drafting Andrew Nicholson, the Bobcats' woes at the 4 are far from solved. Their secondary option remains a toss-up between Tyrus Thomas, who always seems to be in a coach's doghouse, and the combination of D.J. White and Eduardo Najera.
Time to add some depth.
The Charlotte Bobcats ranked second-to-last in rebounds per game and rebound differential this past season. They also finished 25th in offensive rebounding and 21st in offensive rebounds allowed per contest. To cure the woes, the only logical move to make here is to add a player who will bang in the paint and fight on the glass.
Kevin Jones out of West Virginia does just that, as he ranked fourth in the nation with 11.1 rebounds per game during the regular season. Jones also posted a whopping 4.3 offensive rebounds per game, which led to a surplus of second-chance opportunities which he'd consistently convert.
Jones is versatile enough to play both forward positions, offering depth at two weak slots in the Bobcats' lineup. He's also a very good jump shooter with deep range. Expect Kevin Jones to make a difference early on.
Season Averages
29.10 PER, 19.9 PPG, 11.1 RPG, 1.2 APG, 1.0 BPG, 0.7 SPG, 50.9 FG%
Keep Reading

Charlotte Bobcats: Like this team?