2012 NBA Draft: Updated Needs for Lottery Pick Teams
Sitting on the fourth pick in Thursday's Draft, the Cleveland Cavaliers could use some help in the wings and in the paint.
Kevin C. Cox/Getty Images
It's here.
After months of frantic speculation, the 2012 NBA Draft kicks off on Thursday. With one of the deepest Draft classes in years and a horde of teams looking to trade up, there will be ample opportunity for franchises to find their missing pieces.
Check out the one biggest need each lottery team faces as David Stern takes the podium tonight.
New Orleans Hornets: Power Forward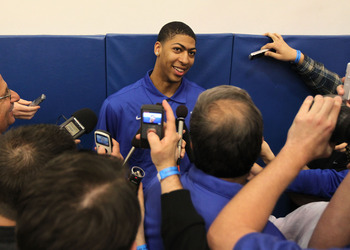 Andy Lyons/Getty Images
Kentucky's Anthony Davis (pictured) is the consensus first pick in Thursday's Draft, a seamless fit for a New Orleans team desperate for a power forward.
If the Hornets can resign shooting guard Eric Gordon, they'll boast a respectable backcourt in 2012. One-guard Jarrett Jack averaged over 15 points and six dishes a night.
Despite hauling away forward Trevor Ariza and center Emeka Okafor from the Big Easy, New Orleans' biggest need ostensibly lies at the four spot, where the Hornets went with a power forward by committee of Jason Smith, Carl Landry, and Lance Thomas.
The Hornets also hold the Draft's 10th selection, which could be used to fill Okafor's spot at center. However, many expect New Orleans to snag Duke guard Austin Rivers.
Charlotte Bobcats: Forward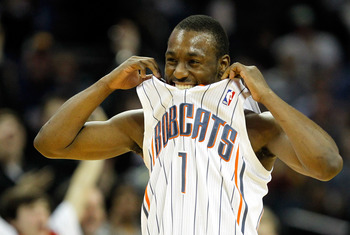 Streeter Lecka/Getty Images
The Bobcats had a historically bad 2011-12 campaign, and need to boost their frontcourt presence if they wish to see improvement next season.
Charlotte acquired guard Ben Gordon from Detroit on Wednesday, tossing Corey Maggette to the Motor City. The 'Cats suddenly flaunt a decent backcourt with Gordon, point guard Kemba Walker (pictured) and shooting guard Gerald Henderson.
But the Bobcats still have a gaping hole at both forward positions, and with the second pick in Thursday's Draft, could look the way of Kansas power forward Thomas Robinson.
However, the Charlotte front office appears to be inundated with trade offers, and could wind up shipping their pick for an established forward. Regardless, they need some help at the three and four.
Washington Wizards: Shooting Guard
Chris Trotman/Getty Images
After acquiring Okafor and Ariza, the Wizards are slowly building a serviceable starting five.
Point guard John Wall (pictured) and big man Nene return from last season, leaving the Wiz with their biggest need at the two spot.
Incumbent Jordan Crawford played well last season, but is certainly expendable. Washington clings to the third pick in Thursday's Draft, and could look the way of Florida shooting guard Bradley Beal.
However, Sports Illustrated's Sam Amick reports that the Cleveland Cavaliers are hard-pressed for Beal, and may trade up to Charlotte's spot to secure the sharp-shooting Gator. If Beal is knocked off the board, Washington may be faced with a tough decision.
With a secure pair of bigs, the Wiz could look to the three spot, where Ariza and 2011 lottery pick Jan Vesely stand.
Cleveland Cavaliers: Wing Guard/Forward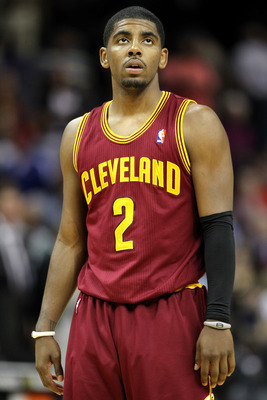 Andy Lyons/Getty Images
Kyrie Irving (pictured) mans the one, while Tristan Thompson and Anderson Varejeo man the paint. What the Cavs will likely seek out on Thursday is a dominant two/three.
Cleveland ranked 25th in overall scoring and 29th in field goal percentage. Irving's development will be facilitated by a better mid-range game.
Slated at fourth, the Cavaliers appear to be another team testing the waters of the Draft day trade market. Bradley Beal is the clear-cut best fit, while North Carolina's Harrison Barnes and Kentucky's Michael Kidd-Gilchrist would be welcomed additions at the three. There have even been rumblings over shooting guard Dion Waiters here.
Sacramento Kings: Forward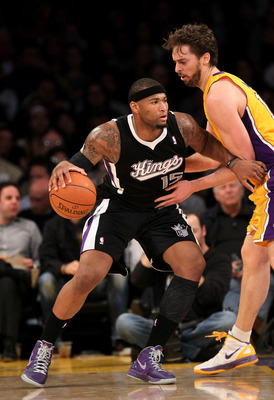 Stephen Dunn/Getty Images
Despite a woebegone 2011-12, the Kings have a solid core of talent to work with in center DeMarcus Cousins (pictured) and wings Tyreke Evans and Marcus Thornton.
Point guard Isaiah Thomas showed promise last year, and former lottery pick Jimmer Fredette waits in the wings. The Kings subsequently need to improve at the three and four, and the 2012 Draft class offers plenty of enticing forwards.
As Sam Amick notes, the Kings could trade down and target North Carolina power forward John Henson, or could stay put at the fifth slot and look for either Michael Kidd-Gilchrist or Harrison Barnes.
Regardless, Sacramento's offense needs a boost, after ranking 29th in three-point percentage and 26th in field goal percentage.
Portland Trail Blazers: Point Guard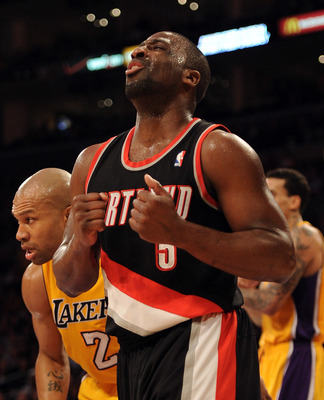 Harry How/Getty Images
Incumbent point guard Raymond Felton (pictured) is a free agent, and Portland desperately needs a set-up man for star power forward LaMarcus Aldridge.
With the sixth pick in the Draft, Portland could look to either Austin Rivers or Weber State's Damian Lillard. Small forward Nicolas Batum and shooting guard Wesley Matthews are able shooters, and adding a top ball-handler could yield immense improvements in 2012-13.
The Blazers will likely seek out a dominant center as well, and with two lottery picks, new general manager Neil Olshey could fill his team's two glaring weaknesses.
Golden State Warriors: Wing Guard/Forward
Ezra Shaw/Getty Images
The Dubs had a rough season, but with a productive Draft, they could turn things around quickly.
With a sturdy lineup comprising of point guard Stephen Curry, guard/forward Klay Thompson (pictured), power forward David Lee, and center Andrew Bogut, Golden State just needs a strong wing man to sure up their starting rotation.
Thompson could assume the three spot with the prospective drafting of Syracuse's Dion Waiters.
Toronto Raptors: Small Forward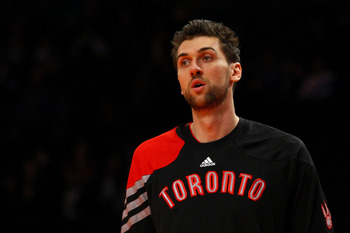 Chris Chambers/Getty Images
The impending arrival of center Jonas Valanciunas and the return of power forward Andrea Bargnani (pictured) give Toronto a nice frontcourt presence for next season. DeMar DeRozan shored up the two spot as well.
The Raptors desperately need a strong three to stay afloat in the competitive Atlantic Division. Current starting small forward James Johnson averaged just nine a night in 2011-12.
With rumors of Toronto trading their pick to the Lakers, things could get interesting at the eighth spot. For now, pencil the Raptors in for targeting a promising young forward.
Detroit Pistons: Forward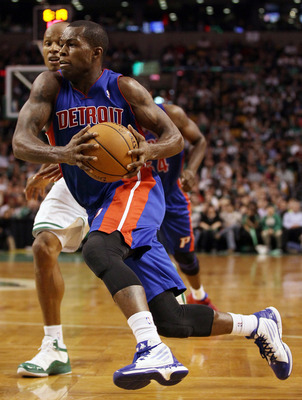 Elsa/Getty Images
The Motor City enjoys a nice guard tandem in Brandon Knight and Rodney Stuckey (pictured). With Greg Monroe manning the paint, they'll need to augment their forward presence for the upcoming season.
Detroit lacks a true power forward, although if Connecticut center Andre Drummond is available at nine, the Pistons may pounce and shift Monroe to the four.
By all accounts, Detroit is going to draft big. John Henson has been pegged as a Piston in most mocks. The D ranked just 27th in total rebounding last year.
Houston Rockets: Center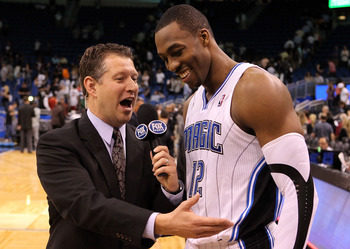 Sam Greenwood/Getty Images
Talk is cheap for the Houston Rockets right now.
As the busiest players in Draft day trade talks, no one is quite sure what Houston will do when they're finally on the clock. Earlier this week, the Rockets acquired the no. 18 pick from Minnesota, and later shipped their no. 14 selection and center Samuel Dalembert to Milwaukee for the Bucks' 12th pick, plus guard Shaun Livingston and forwards Jon Leuerand and Jon Brockman.
Houston appears to be interested in Orlando center Dwight Howard (pictured), and may be assembling this slew of picks and players to piece together a trade.
Regardless, they'll need to make upgrades at center, with incumbent Marcus Camby clearly not part of a long-term solution.
Phoenix Suns: Wing Guard/Forward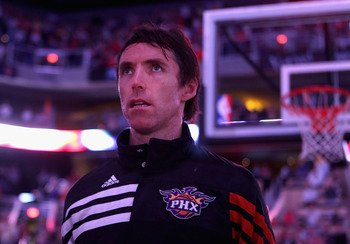 Christian Petersen/Getty Images
While the future of point guard Steve Nash (pictured) hangs in the balance, the Suns will look to improve their mid-level game on Thursday.
Power forward Markieff Morris and center Marcin Gortat make up a promising paint duo, and Phoenix will look to couple them with a strong two or three. Many mocks have Connecticut shooting guard Jeremy Lamb heading to the desert, while some see Washington's Terrence Ross.
Milwaukee Bucks: Forward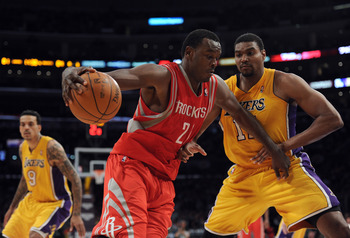 Harry How/Getty Images
The addition of Samuel Dalembert (pictured) fills a huge void at center for the Bucks. With guards Brandon Jennings and Monta Ellis patrolling the backcourt, Milwaukee could use some help at forward.
The Bucks were 26th in the NBA in rebounding differential, and could look towards the four spot. Ersan Ilyasova did put up 13 points and 8.8 boards a game last year, but Milwaukee would likely still pursue a player like Kentucky's Terrence Jones if available.
Many mocks have the Bucks targeting North Carolina's Tyler Zeller, despite the acquisition of Dalembert. But with just nine points a night in 2011-12, incumbent small forward Carlos Delfino could stand to be replaced.
Keep Reading