Amanda Beard: Why American Swim Legend Should Skip London Olympics
June 28, 2012
Streeter Lecka/Getty Images
Looking to make her fifth Olympic squad in London 2012, American swimmer Amanda Beard might be wise to step away from the pool this summer and come back ready for 2016.
The swimmer looks like she may be turning a new page in her life, transitioning from the pool to motherhood and family life.
At 30, Beard is competing with the young guns, trying to keep her dreams afloat. Time might have run its course for the legend, keeping her off the US team this summer.
Here is why Beard should skip the 2012 Olympics.
Questionable Commitment to the Pool
Beard claims that she is more prepared than ever for this summer's Olympic games.
After a disappointing showing in Beijing in which she did not take home any hardware, Beard is looking for some redemption in London. 
In a story by the Associated Press, Beard said (via ESPN.com):
"I was actually talking to my husband earlier and he said you're a thousand more times prepared for the trials than the 2008 trials, and it's true," Beard said. "I've been training consistently for the last three years. In 2008, I wasn't. I was kind of all over the place and probably had only two or three months of good training before those trials. I feel a little more confident coming into this meet."
A positive mindset is one thing, but Beard will have to back it up in the pool.
In the Olympic trials at the Mutual of Omaha Swimvitational earlier in the month, Beard finished second in the 100-meter breaststroke and was disqualified for an elbow violation in the 200-meter breaststroke, her bread-and-butter race.
Since Beijing, Beard has explored other avenues of her life, including motherhood and modeling.
In a tell-all memoir In the Water They Can't See You Cry, Beard reveals the depression and self-image problems that have plagued her throughout her career. Despite the sympathy many may feel, Beard's psyche has to be concerning for Team USA coaches.
It seems like the swimmer is reaching a crucible in her life in which she is having a crisis of identity.
A loving mother and relentless competitor, Beard wants to always be there for her young son Blaise and contend for a gold medal in London.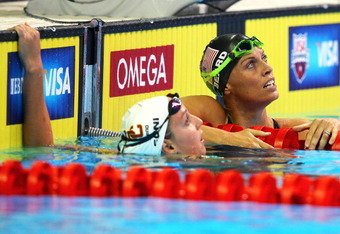 Al Bello/Getty Images
Speaking about her priorities and crunch for time in an interview with Yahoo! Sports writer Sandra Johnson, Beard commented (via Yahoo! Sports):
"Now, I never have enough time," Beard told me. "So my priorities now have shifted. It's all about my son and taking care of him and his health and making sure everything is running smoothly in his life, and then trying to squeeze my stuff in in between."
With London fast approaching, Beard must get her priorities straight and stick to them.
There is no shame in picking motherhood over swimming, but Beard will need to make a decision soon if she plans on contending in London.
Racing Time
Unlike basketball or football, swimming is not a sport for wily veterans.
Every race is like a sprint and only the fast and strong survive. At 30, Beard is clearly in the twilight of her career.
No longer is she the young 14-year-old prodigy that stunned Atlanta 16 years ago.
With younger swimmers like Ashley Wanland starting to come together, the clock is not in Beard's favor. 
She is not in a position to be a veteran leader on this team either.
There are simply better options to tutor burgeoning American swimmers like Annie Chandler and Rebecca Soni.
Having lost any semblance of dominance since the 2004 games in Athens, Beard may be wise to gracefully exit the pool.
It looks like Beard will be on the outside looking in this summer. Perhaps she could take these games off and reload for a comeback run in 2016.
The seemingly-immortal Dara Torres finished a stretch in which she competed in five Olympic games from Los Angeles in 1984 to Beijing in 2008. A renewed attitude and commitment to training could have Beard in the same situation in a few years.