2012 NBA Draft Grades: Grading the Draft Night Suits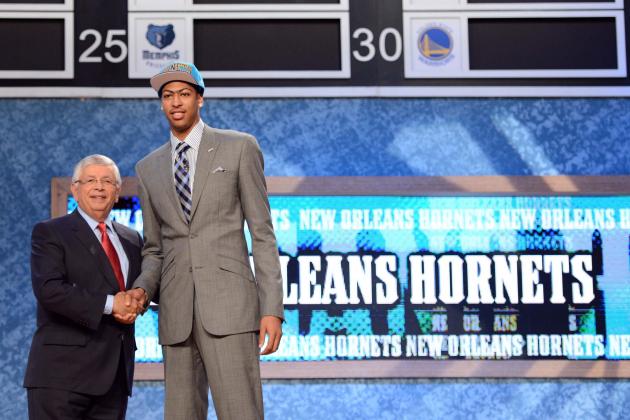 Jerry Lai / US PRESSWIRE
I love the NBA draft. I love it for teams loading up on new talent, the draft day trades, the speculation...
But I really love the draft suits.
The NBA is famous for having guys show up in ridiculous outfits at the draft. From Samaki Walker looking like the world's worst Bond villain, to Drew Gooden's no-button poncho, you never know what to expect.
Even though things have gotten a lot tamer of the last few years, with agents and handlers making sure the players don't look too ridiculous, mistakes still happen.
That's why I'm here, to walk you through the draft suit triumphs and mistakes. This is my fourth straight year covering the NBA draft suits. I've forgotten more about NBA draft fashion than you've learned. Remember that when you comment. And I'm sure you will comment.
Grab your pocket squares and let's get started.
Begin Slideshow

»
Jerry Lai / US PRESSWIRE
Anthony Davis knew he had to look good tonight because he'd probably get more camera time than anyone, and he delivered.
The former Wildcats star paid tribute to his college team with Kentucky blue on his shirt and tie to go along with his sharp grey suit that's tailored perfectly to a guy with one of the most unusual frames in the draft.
I'm digging the light colors on him, nice and subtle to go along with the enormous and flashy diamond earrings and watch he has going on.
Grade: A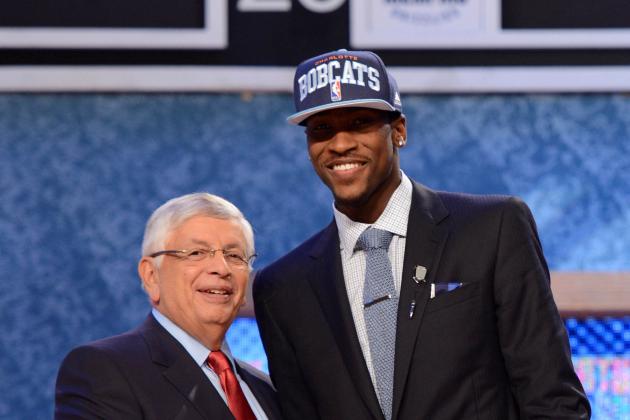 Jerry Lai / US PRESSWIRE
Nobody loves Michael Kidd-Gilchrist more than I do, believe me. But I gotta be honest when it comes to his suit tonight. I'm not a fan.
First of all, he's got way too much going on. He's got a tie clip and like three other clips somewhere on his suit. What is this, a Bennigan's?
And the brown shoes with a suit that dark? C'mon man. The suit is nice enough, but the rest of MKG's outfit takes away from it.
Grade: C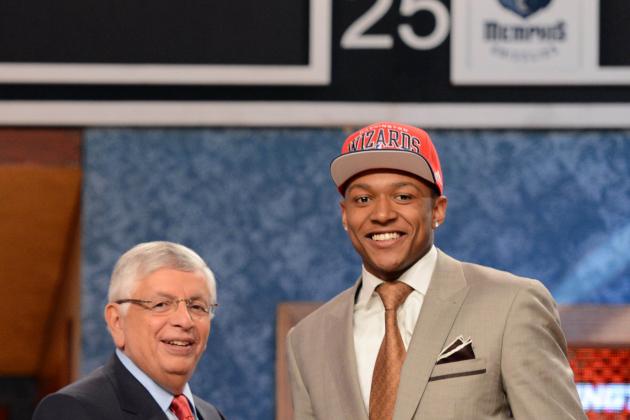 Jerry Lai / US PRESSWIRE
There's nothing wrong with Bradley Beal's suit, but there's nothing really good about it either. It's very tan and very plain. He's repping Florida with the orange tie, but that's really the only thing notable going on.
I'm also not really sure where his pocket square is coming from. It doesn't seem to go with anything.
Grade: B-
Dion Waiters looks like a Bradley Beal twin up there, but somehow a lot better. I like the grey suit and the orange tie and light orange shirt combination.
This seems like a big reach the the Cavs, but at least they're getting a guy who looks the part.
Grade: B+
Jerry Lai / US PRESSWIRE
Thomas Robinson looks good, as expected. He's a grown-ass man, so you knew he was going to come correct.
The dark suit goes great with his complexion, and I love the straight red tie and light blue shirt callout for Kansas. If you can't tell, I'm a big fan of when guys give a nod to their schools in their colors.
Great dark/light combination for Robinson.
Grade: A-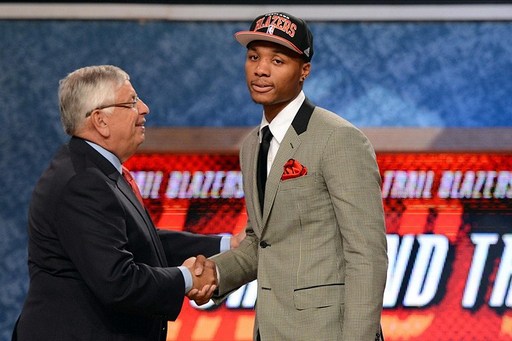 Jerry Lai / US PRESSWIRE
With the first real surprise pick of the draft, we have our first surprise fashion choice.
Lillard comes out with a sharp looking grey suit and black tie, but then you see that he has some sort of black collar going around his suit. Ug-ly.
And what's with the crumpled handkerchief that looks like a rose? Really? Son that is not a good look.
Grade: D+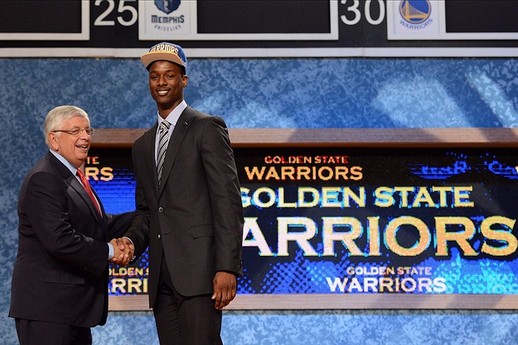 Jerry Lai / US PRESSWIRE
As much as I enjoy hating on Harrison Barnes (and believe me, that's a lot), I can't really knock him for this suit.
He looks great, which has always been the case with The Black Falcon, he always looks great on paper. I bet under the suit he's sweating because he can't handle the spotlight.
In all seriousness, though, nicely done.
Grade: B+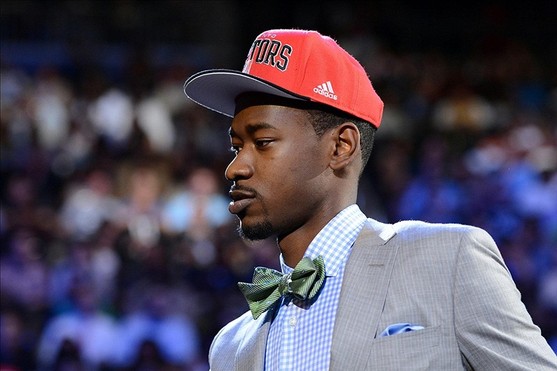 Jerry Lai / US PRESSWIRE
There's always one. There's always one guy who thinks he has what it takes to pull off the bow tie look. One guy who has watched too much Bruce Bowen or Russell Westbrook press conferences.
Terrence Ross is that guy. Some people can truly pull it off. He just doesn't. It looks sloppy and, as much as I like the colors, it takes away from the look because it's just goofy.
So far you're 0-1 in your NBA career, Terrence.
Grade: C-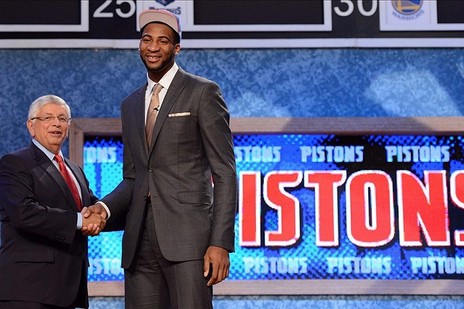 Jerry Lai / US PRESSWIRE
In order to really appreciate Drummond's whole look, you need to see a full picture of him, which I don't have at my disposal. You'll just have to take my word for it that his pants are way too baggy.
He looks great up top, very tailored and smart, but it falls apart with the pants in my opinion. You gotta finish the whole look, you can't just stop at the top.
Bad omen for a guy that people have a lot of questions about?
Grade: B-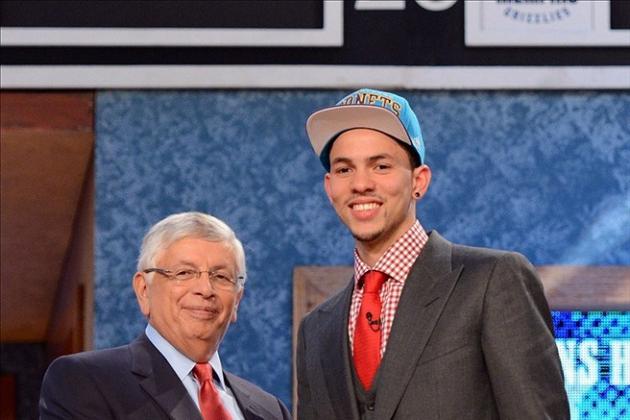 Jerry Lai / US PRESSWIRE
It's hard to be objective about this one. There's nothing technically wrong with Austin Rivers' suit, but the whole look just kind of makes him seem sketchy. Like a guy who shows up to prom after he's graduated and tries to hit on your girl.
I'm not in love with the checkered shirt and solid tie look for him. I probably would have gone with lighter colors, some pastels maybe.
I can't believe someone with a dad as universally agreed upon as a great guy as Doc Rivers could be "that guy" that went to Duke and will probably be a ball hog.
So, yeah, nice suit.
Grade: B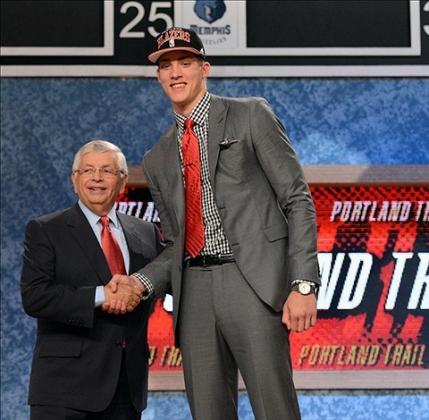 As opposed to Rivers, I like the checkered look for Leonard. Maybe it's the fact that the black and white shirt goes better with his grey suit and the one splash of color he has with his tie really stands out and looks sharp.
I wish his suit was buttoned, though. Looks sloppy leaving it hanging like that. Gotta dock him a couple of points for that one. That and I really have no idea who he is.
Grade: A-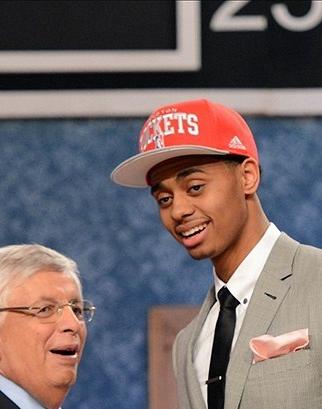 I'm torn with Jeremy Lamb right here, who apparently just learned to smile yesterday.
I think the suit looks great, love the pastel handkerchief, but I'm not sure if the black tie fits.
Ah, screw it, I like it. A skinny tie for a skinny guy. He can pull off the black. And I just saw the black buttons near the tie knot. That's sweet. I'm talking myself into this more and more.
Grade: B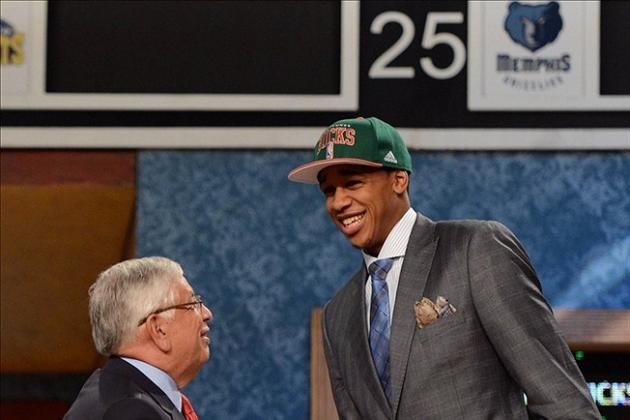 Look at John Henson, how can you not like that guy?
Personally, I think he's going to become a great NBA player and I enjoy his personality. That comes across with his suit tonight. The colors work great for him and the silver suit is just awesome on him.
Grade: A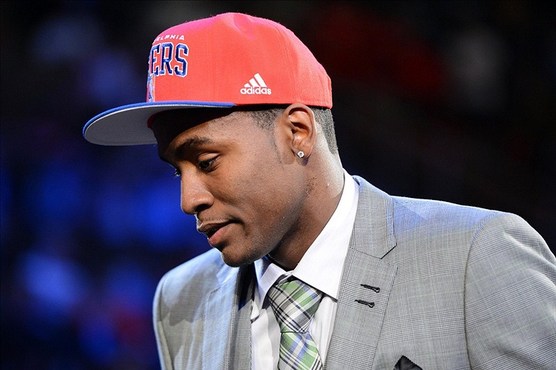 Two solid suits in a row. I don't think I've ever seen Maurice Harkless before, but he's making a great impression right now.
The light suit and pastel tie looks great. I'm not always a big fan of the plain white shirt, but it definitely works with this combination.
Grade: A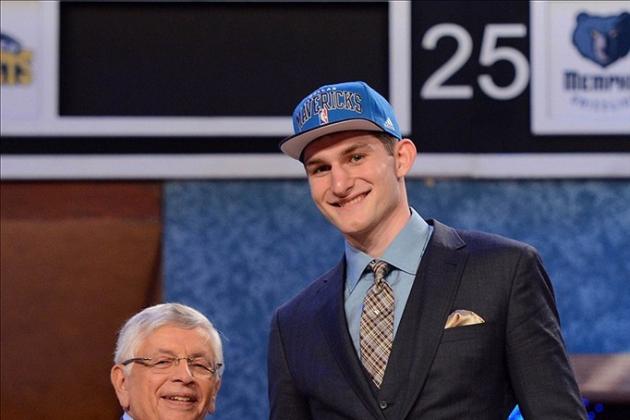 I can't believe I'm saying this, but UNC players brought the heat tonight. Not that I'm saying Tyler Zeller is hot, but he did the best he could with those genes, let's just say that much.
Anyway, on to the suit. Zeller shows that's he's a senior with maturity with this suit. It's classic, but simple enough, doesn't try to be flashy, which is not what Tyler Zeller is about.
Nicely done.
Grade: B+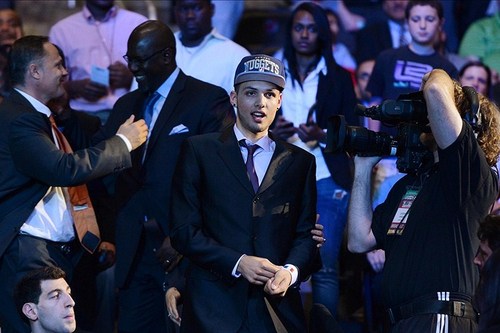 Jerry Lai / US PRESSWIRE
We have our first out-of-the-crowder of the night! Remember when this used to be a novelty? Now everyone who's not invited does it.
Fournier comes all the way from France, so I'm going to try and not be too hard on him, but his suit kind of looks like he wore it on the plane and he just got in a couple of hours ago.
It's a little sloppy and I don't like the super high buttons. I expect more from France, they're supposed to be more cultured than us.
Grade: C+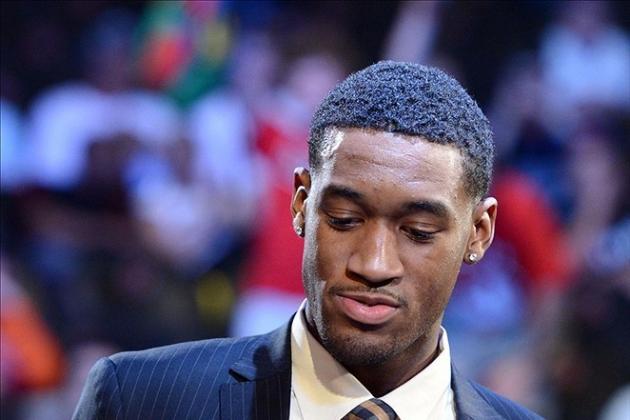 Jerry Lai / US PRESSWIRE
Perry Jones III comes out of the crowd looking like someone just shot his cat. That's what you get for going back to school, buddy. At least you end up on an awesome Thunder team that can bring you along.
I appreciate Jones rushing to button up his suit and look good for the commish. He does look good though. The suit fits him nicely and I love the muted colors and the sharp looking pocket square.
He may have dropped like a stone weighted down by Eddie Curry, but at least he showed up in style and took his shots like a man.
Grade: B+