2012 NBA Mock Draft Dynasty
Kevin C. Cox/Getty Images

The day is here. 30 NBA teams try to hit it big, and over a hundred college players hope they hear their name called. As they prepare, I present the 2012 NBA Mock Draft.
This mock is based on what teams should do. I fully anticipate a flurry of draft day trades as which I cannot predict. It is of my belief, that in the lottery, teams should without exception, select the best player available as this is a superstar driven league—teams need to fish for their champion.
30 players are ready to hear their names called in the first round, are you?
Begin Slideshow

»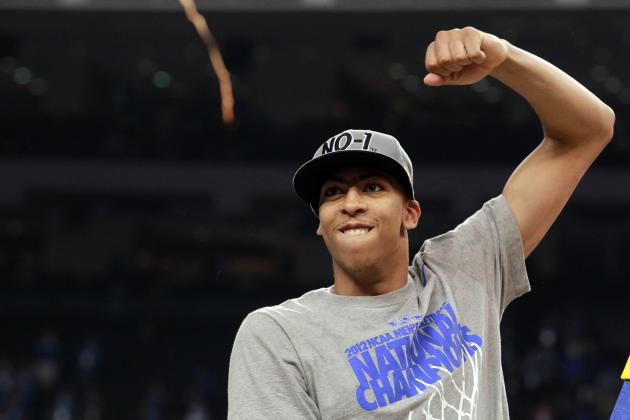 Ronald Martinez/Getty Images

The 19-year-old NCAA champion has been a lock at this pick for months now. It is of my belief that the 6'10", 222-lb. Davis will fill out in the coming years and be able to be a dominant center in the NBA.
After averaging 4.7 blocks as a college freshman, he has the potential of a young Dwight Howard and his game could have similar impact on the league. Davis goes number one overall though because he is the safest prospect available. The Hornets get a steel frame in which to build their franchise around.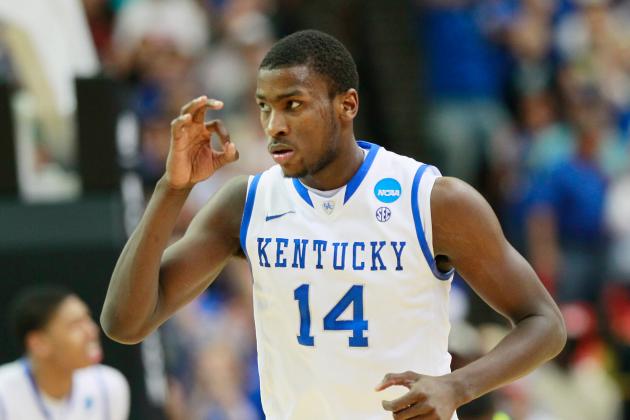 Kevin C. Cox/Getty Images

There has been much speculation as to what Charlotte will do with this pick, but Michael Jordan and company would be complete fools to do anything but take MKG with the second pick.
Kidd-Gilchrist is a defensive stalwart, and has nasty ability to get to the rim. The knock on him is his shooting stroke, but a correctable flaw.
In my opinion, MKG has a higher ceiling than Anthony Davis. He didn't fully showcase his ability at Kentucky because of the abundance of talent on the squad. If the Bobcats take him he instantly becomes their best player.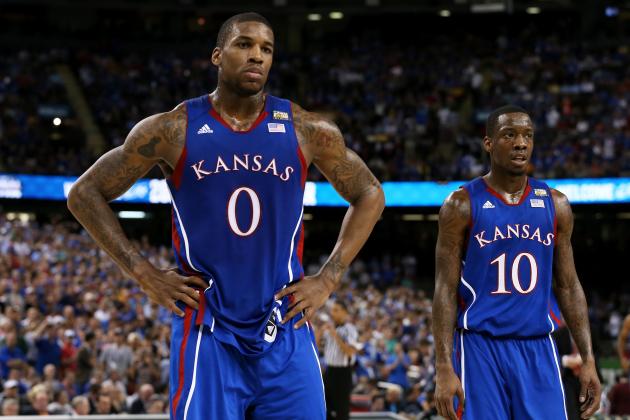 Jeff Gross/Getty Images

Thomas Robinson may not be the third best prospect in the draft, but like Anthony Davis he gets taken here because he is very safe. You know what you are getting with Robinson. Although undersized (6'9"), he is a tireless worker and he brings athleticism to an otherwise slow front court.
Robinson is explosive and will bring tenacity to a young Wizards team that could sure use it. Paired with John Wall, they could do work running the pick and roll. Bradley Beal goes here if not Robinson.
Doug Pensinger/Getty Images

I have my reservations regarding Bradley Beal. He is a very nice two guard with excellent shooting ability. But in my mind he is the biggest hit or miss prospect outside of Andre Drummond.
Many have likened Beal to a young Ray Allen, a very generous comparison. I would have liked to see him do more on a Florida team that needed his presence.
At 6'5" he brings nice size to the position, and paired with PG Kyrie Irving, the Cavs would have the best young backcourt in the game. Thus, the draft selection makes sense for a team that isn't ready to win.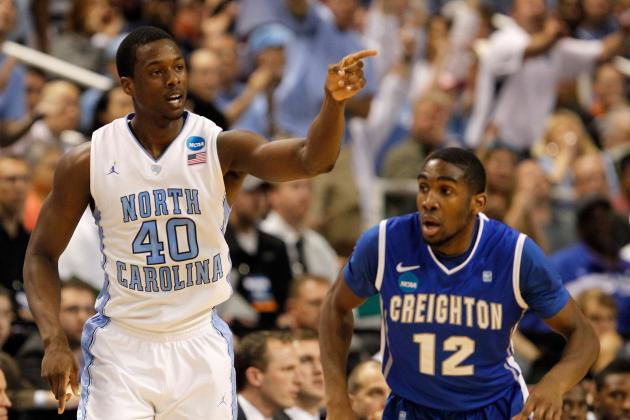 Streeter Lecka/Getty Images

I absolutely love this pick. Currently, the Kings employ a bunch of knuckleheads that lack identity in their future. Barnes is a two-year All-American who has matured beyond his years.
Coming out of high school, he was the number one recruit in the nation and would have likely been a top three pick in last year's draft. Barnes has a complete offensive skill set and has a cold-blooded shooting stroke.
His only flaw is that at times he fails to play to his strengths and is reluctant to take the game over.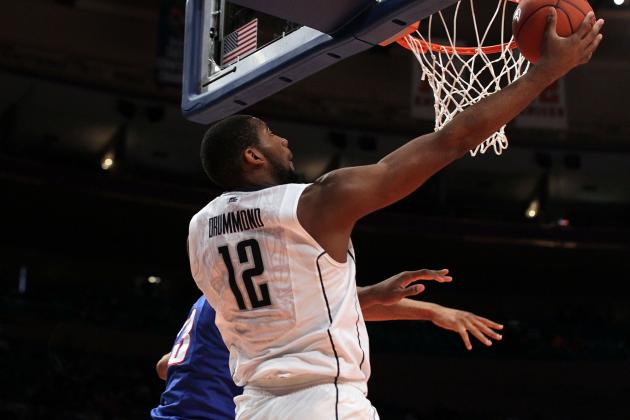 Jim McIsaac/Getty Images

Andre Drummond could be Dwight Howard, Andre Drummond could be Kwame Brown and the kicker is that it is all up to him. He has enormous physical talent, but is well noted for lacking desire and work ethic.
With that being said, sometimes you gamble on prospects like Drummond. Portland busted on Greg Oden, and that still leaves a bad taste in the mouths of many, but with two picks in the top 12 they are the team who can afford to roll the dice.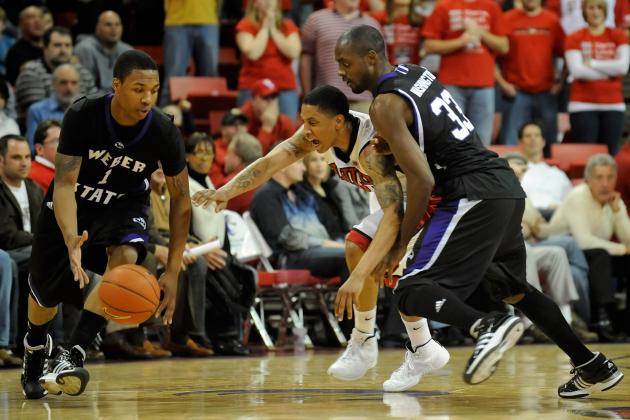 Ethan Miller/Getty Images

The fact remains that Stephen Curry is not an adequate point guard for the Golden State Warriors. The trading of Monta Ellis left a major void among the guard positions.
There are many questions about Lillard and his potential, but the Warriors will be getting the hands-down best player at his position in this draft. The Oakland native averaged an astonishing 24.5 points per game at Weber State.
With Damian Lillard in the rotation, Mark Jackson will be able to have more flexibility with this lineup and will keep the Warriors among the more athletic teams in the NBA. In addition, Lillard's presence will provide depth (if you are not aware Steph Curry gets hurt...frequently).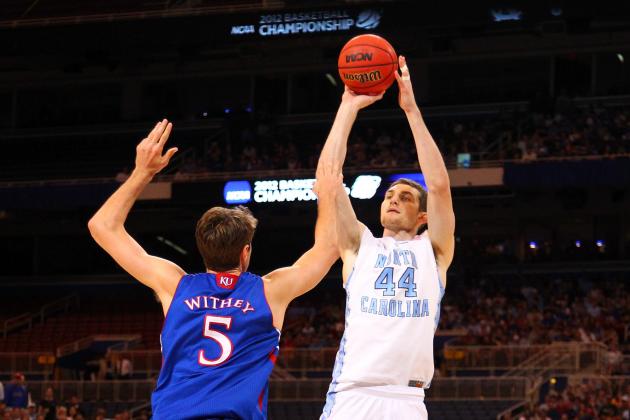 Dilip Vishwanat/Getty Images

The Raptors completely lack identity and possess mediocre talent. No player they take here will change that for them, but choosing Tyler Zeller would be a great move for the front court. What Zeller lacks in athleticism, he makes up for with a complete skill set. And the Raptors' current bigs are athletic individuals.
At 7'0" and 247 lbs., Tyler Zeller is a true center. He averaged 16.3 points per game and 9.8 rebounds and is a worthwhile piece for the Raptors in their rebuilding process.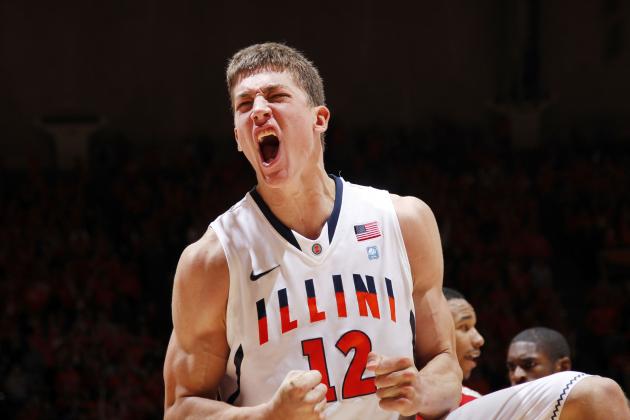 Joe Robbins/Getty Images

The Pistons want to move Greg Monroe to PF, and the only way they can feasibly do so full time is if they fill the potential void at center. Leonard played at Illinois and has great size at 7'1" and 250 lbs. The 20-year-old big man should do the trick.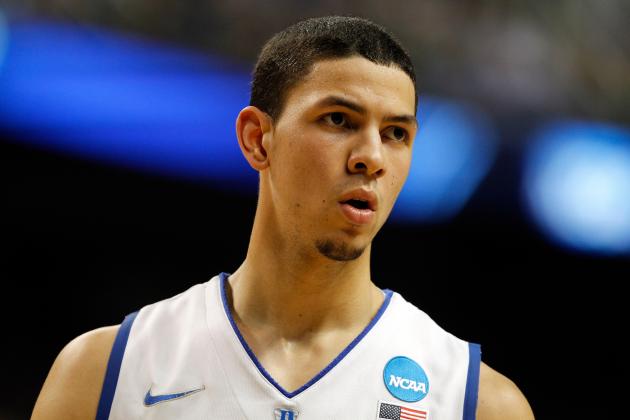 Streeter Lecka/Getty Images

Austin Rivers really should have stayed at Duke for another season. He is 19 years old and has yet to fill out. I would not be surprised if he struggles mightily during his first year.
With that being said, he is potentially the best guard in this draft. Due to his tutelage, his basketball IQ is very high and Duke ran their entire offense around him. His ability to take over and challenge defenses is immeasurable. His fearlessness reminds me of a young Kobe.
A core of Jarrett Jack, Anthony Davis and Austin Rivers could be awfully dangerous.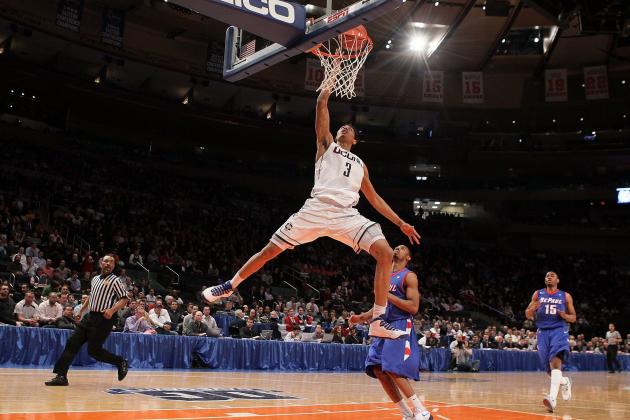 Jim McIsaac/Getty Images

Jeremy Lamb is one of the most "hot and cold" players in college basketball. He could single-handedly destroy an opposing team or completely disappear. I question his ability as a leader, but he did legendary work in his tenure at UCONN.
He is scoring ability is uncanny and will be a nice wing player for the right team. Portland has to hope one of these two first-round picks is a star.
Andy Lyons/Getty Images

The Rockets are about to be disappointed in their pursuit of Dwight Howard, but they still have to use these picks. Henson is the best shot blocker in the draft outside of Anthony Davis.
A 6'10" PF, Henson has a growing offensive skill set, but is a great defender. Safe pick.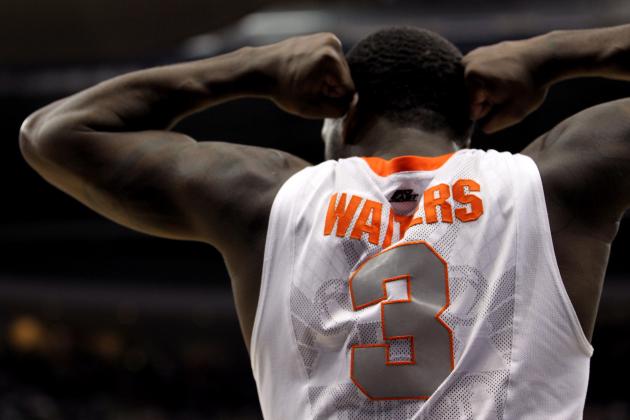 Gregory Shamus/Getty Images

The Suns are losing Steve Nash. How they decide to shape their team is very much determined by this pick.
They take the best remaining guard (Dion Waiters) in the hope that he can make a bigger impact in the NBA than he did in the college. Due to their system at Syracuse, Waiters often did not flash his talent in as much quantity as he would have liked.
Here's to hoping he can score more than 12.6 PPG at the next level.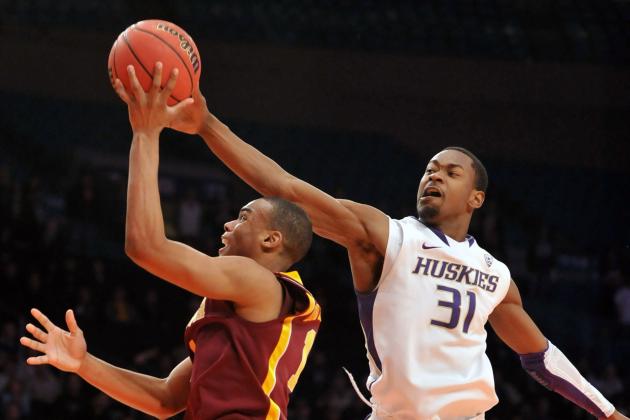 Jason Szenes/Getty Images

Terrence Ross is long. As a 6'7" swingman, he will be able to play off the ball of Brandon Jennings. An excellent wing, Ross likes to take it to the rack and finish inside.
The Bucks would have liked a strong big man here, but unless they reach on Fab Melo, Ross is a great pick.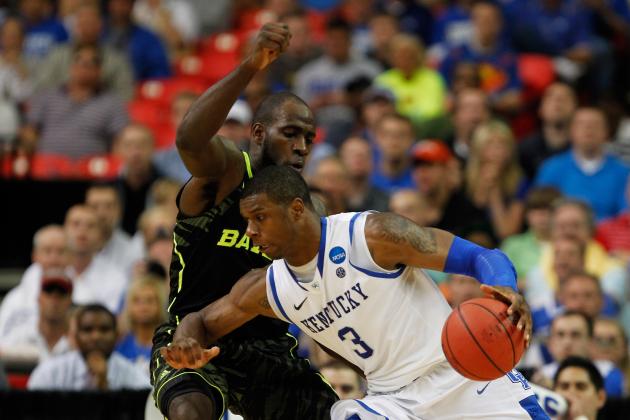 Streeter Lecka/Getty Images

Terrence Jones is one of my favorite prospects, and him sliding to 15 is an absolute steal. He's a powerful forward with a diverse skill set. He plays fantastic defense and can guard multiple positions. With Elton Brand aging, this is a great pick up for the developing Sixers.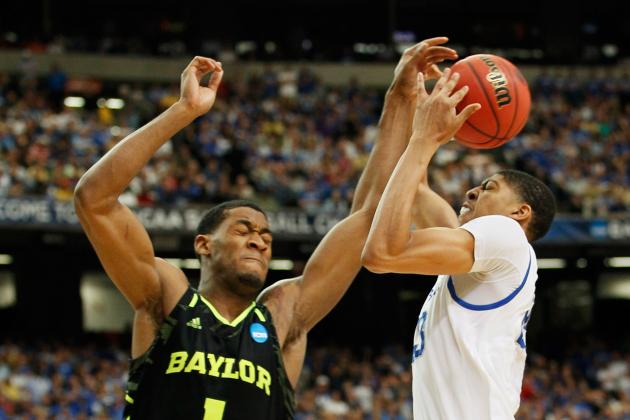 Kevin C. Cox/Getty Images

I am not as concerned about Perry Jones' knee, as much as everyone else is. Players tweak their knees all the time; it is natural and it is just really poor timing. Jones is near 7' tall and has a skill set that makes me think he could be Dirk Nowitzki.
He could flop, but at pick 16 he's well worth the risk.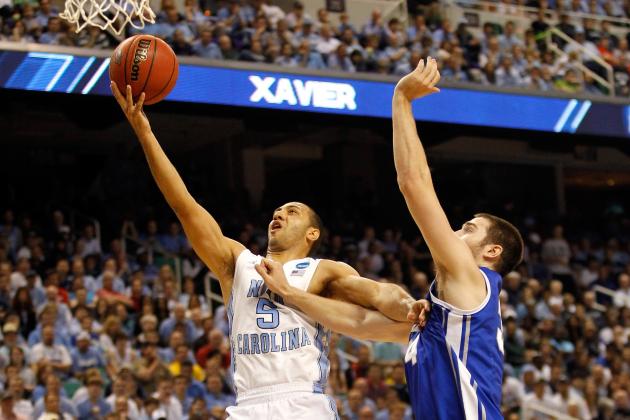 Streeter Lecka/Getty Images

The Mavericks have a very good shot at landing Deron Williams, in fact, I almost expect them to. Despite that, they still lack PG depth. Marshall could do great learning behind Williams, and if they don't land the free agent, they will definitely be in need of his services.
Marshall is a pass-first point guard who is used to playing with stars. I expect him to fit in well with a veteran core.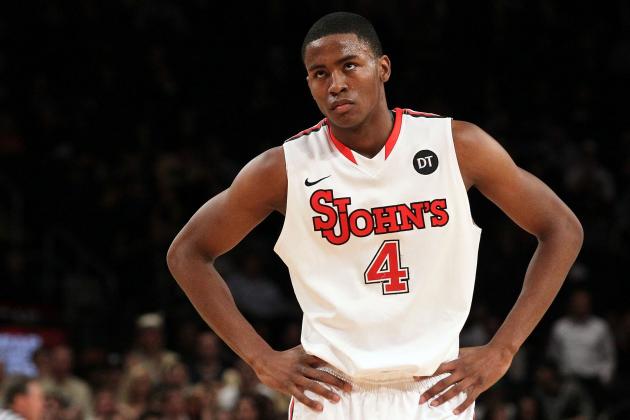 Jim McIsaac/Getty Images

With their third pick in the first round, take Moe Harkless. The best wing prospect available, the Rockets take him to complement the two bigs already selected.
Not a very good shooter, but he gets to the rack and gets steals.
Christian Petersen/Getty Images

I don't understand why Draymond Green doesn't get more love. I get that he is undersized, but he is a stat machine who can flat out play. He knows how to win at a high level and lead a team. He probably will never be a great player, but Green will be a great teammate.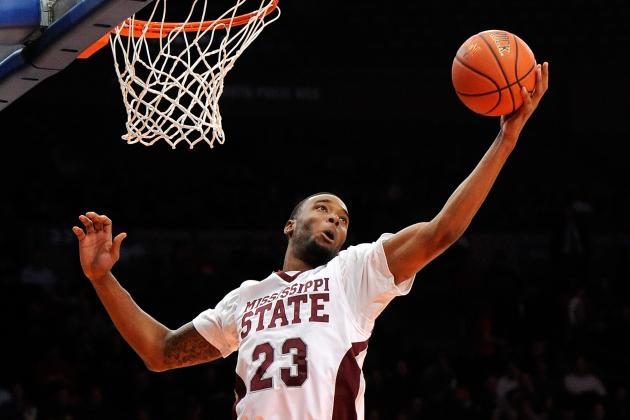 Patrick McDermott/Getty Images

The Nuggets need help in their front court. Moultrie brings size and athleticism. They are trying to move Wilson Chandler, and they should. Moultrie will play well with Ty Lawson.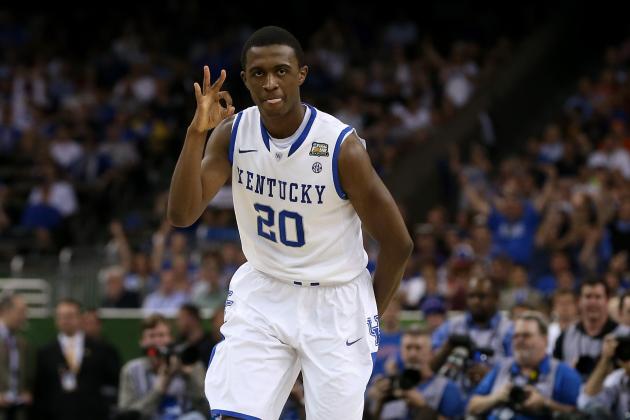 Jeff Gross/Getty Images

Ray Allen is gone. Avery Bradley is a nice two guard, but Doron Lamb could step in and contribute right away as well. Great shooter and he helps fill the void.
Shooting guard by committee. Championship player would play well with the Boston vets.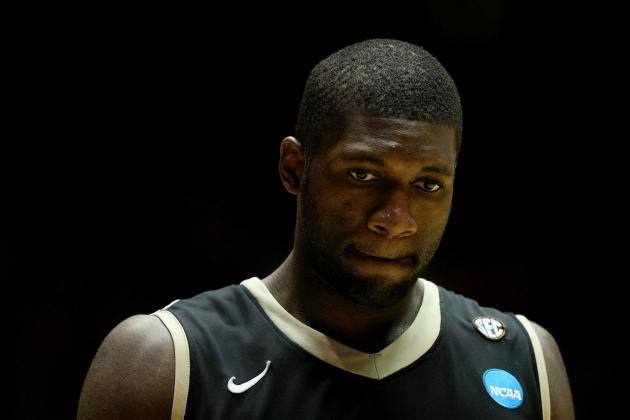 Christian Petersen/Getty Images

I like how the Vanderbilt big man plays. He's tough and likes to bang in the interior. The Celtics have back-to-back picks here, and if they don't trade them they'll do a good job of addressing needs.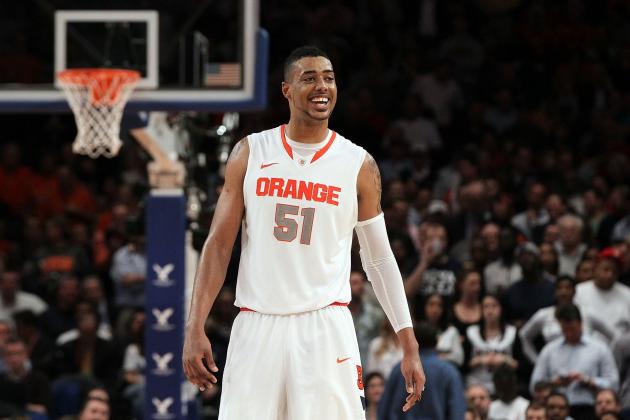 Jim McIsaac/Getty Images

I have him at 23 overall, but in my mind Fab Melo is the second-best center available. His stock has fluctuated because of his eligibility issue in college, but that should not take away from the fact that he's a great big man and likes to go hard in the paint.
I hope to see him taken in the lottery, as he should be.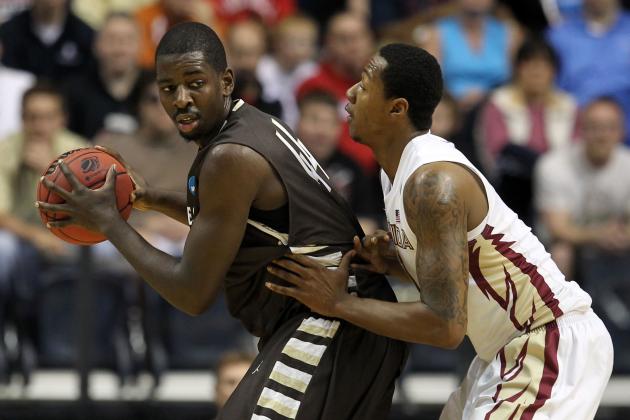 Jamie Squire/Getty Images

If you recall, St. Bonaventure had the big upset in the NCAA tournament against Xavier, spearheaded by none other than Nicholson. He will give Kyrie another frontcourt option.
He very well could go higher than this pick, but I love the fit.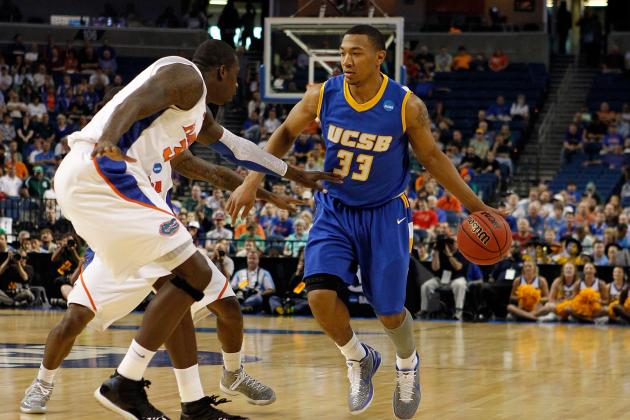 J. Meric/Getty Images

The former UCSB star is a mid-major legend. He dominated the Big West his entire collegiate career and lead a talentless UCSB team to the NCAA tournament in back-to-back seasons as a sophomore and junior.
He is crazy athletic and can get to the rim, but he complements it with a nice jumper. Above-average ball handler who is as thick as he is fast.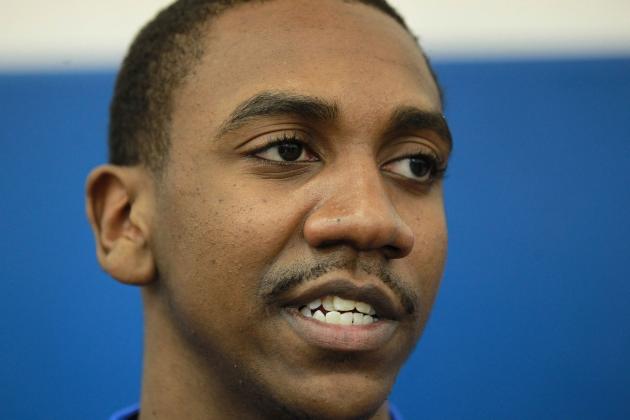 Andy Lyons/Getty Images

The Pacers are disgusting at the point guard position. The younger brother of Jeff Teague, Marquis is athletic. He turns the ball over and is reckless, but maybe that is what the Pacers need to take a step in the playoffs.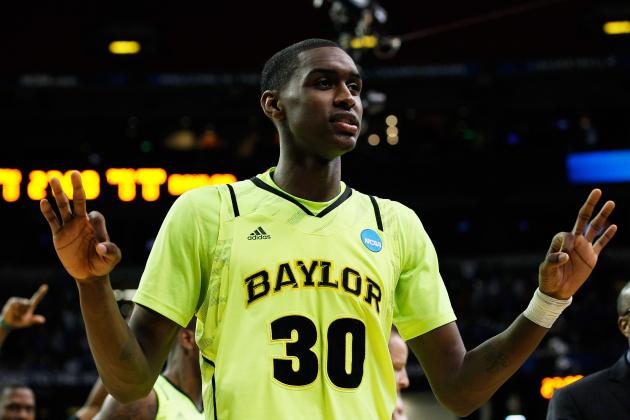 Kevin C. Cox/Getty Images

Perry Jones is a higher rated prospect, but Quincy Miller was the star of this year's Baylor squad. Once considered a top 10 pick, the Heat add a swingman that has a range of offensive moves.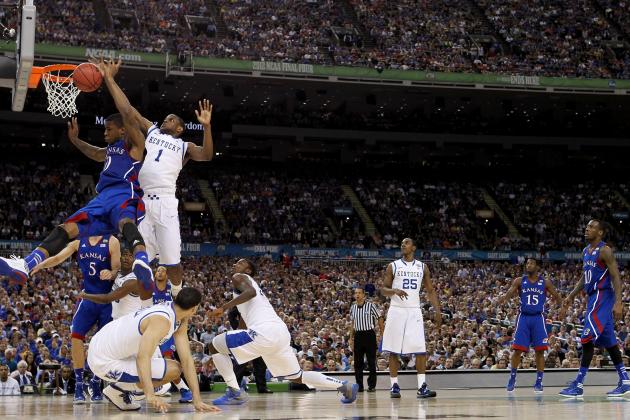 Ronald Martinez/Getty Images

You know exactly what you are getting with the Kentucky senior, and the Thunder could use a sure thing role player. They could also get a PG, but Tony Wroten is too much of a gamble for their squad.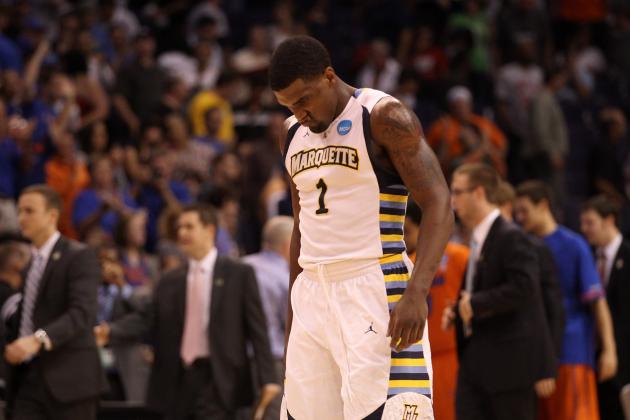 Christian Petersen/Getty Images

DJO looks like a football player. All of the shooting guards on Chicago are soft. A healthy Derrick Rose will need a sparring partner to bang in the paint when the Bulls make their championship run.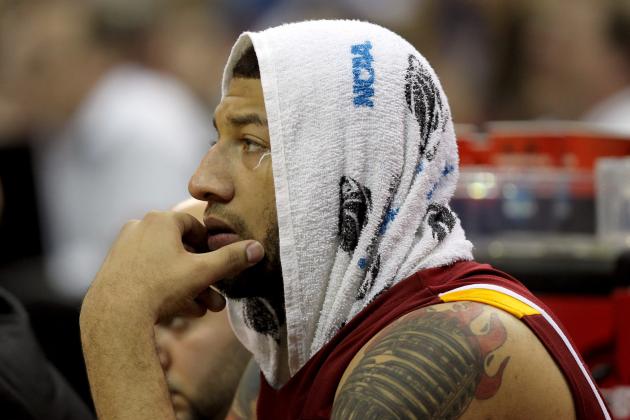 Jonathan Daniel/Getty Images

The Warriors took Damian Lillard with their first pick, now they select a tough big man. Can't be winning games with David Lee and Andrew Bogut on the block—it's too easy to score inside.