College Football Recruiting: A Look at the Top 10 Uncommitted DBs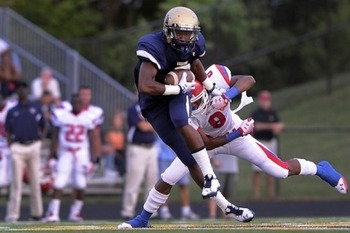 Photo Courtesy of Gazette.net
It is no secret that college football is turning into a more wide open game.
Offenses are employing multi-wide receiver sets, which means that teams will have to load up in the secondary in each recruiting class.
Look no further than the 2011 LSU Tigers, who boasted some of the best DBs in the country with the "Honey Badger" Tyrann Mathieu and first-round pick Morris Claiborne.
Dominant secondaries are the anchors to any great defense, and corner back is one of the more heavily recruited positions in all of college football.
Here are 10 of the top uncommitted corners in the 2013 class and the schools who are after them on the recruiting trail.
Johnny Johnson: Fresno East, Fresno, California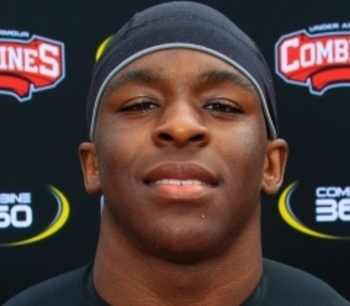 Photo Courtesy of ESPN.com
Johnson is a very explosive athlete, and he is one of the best players on the west coast.
He is a 4-star recruit by both ESPN and Rivals. At 5'11" and 180 pounds, he has the solid size to stick any receiver at the BCS level.
He will need to work on his speed a bit, as he only runs a 40-yard dash of 4.65. However, once he arrives on a college campus, a strength coach will be able to help him with both his speed and agility.
Johnson is a big part of one of the best secondaries in the country, as he plays alongside a pair of 4-stars—safety Hatari Boyd and fellow CB L.J Moore.
Although it hasn't been stated that these young men are a package deal, recruiting all three certainly wouldn't be a bad idea.
Johnson has a very impressive offer list, as Oklahoma, USC, California and Notre Dame have all extended offers.
He currently has an October 26 official visit scheduled at Oklahoma, so obviously he is very serious about the Sooners.
It will be difficult to get him to leave the west coast, and, as with any talented California prospect, you have to watch out for Southern Cal and UCLA.
William Likely III: Glades Central, Belle Glades, Florida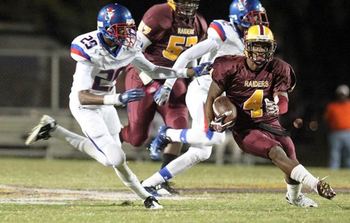 Photo Courtesy of Palmbeachpost.com
Will Likely is one of the more exciting players in the country and was named Gatorade Player of the Year in Florida in 2011 as a junior.
At 5'7" and 170 pounds, he will depend on his elite athleticism in college to develop into a very solid corner.
Entering his senior year, he will likely see his stock rise after a dominant 2012 season.
Likely will have the opportunity to improve on a junior season in which he accounted for just shy of 1,200 yards and 20 TDs on offense while picking off five passes on defense.
Heading into his senior year, Likely is one of the best players in the south and is being recruited by all the big dogs in the SEC with an offer list that includes Alabama, Florida and LSU.
He also has offers from several ACC programs, such as Clemson, Florida State and Miami.
LSU looks like the team to beat, but don't count out the Crimson Tide.
Priest Willis: Marcos De Niza, Tempe, Arizona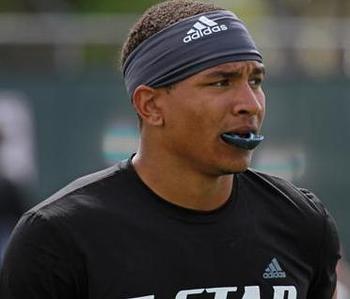 Photo Courtesy of 247sports.com
Priest Willis is an absolute beast at DB and is rated as a 5-star recruit by 247Sports.
He is one of the best players not only on the west coast, but in the entire country.
At 6'2" and 200 pounds, he is an elite athlete that has great speed, as he was clocked running a 4.40 in the 40-yard dash.
What is intriguing about Willis is his versatility, as he can line up at both corner and safety.
He has a staggering offer list with well over 20 programs hoping to gain his services.
One of them is Notre Dame, which has done well in recent years recruiting in the state of Arizona, as they plucked the No. 1 player in the state a year ago with Davonte Neal.
This race is far from over, however. Watch out for USC before all is said and done.
Whichever team lands Priest Willis will be getting an outstanding football player who will be great for years to come.
Rashard Robinson: Blanche Ely, Pompano Beach, Florida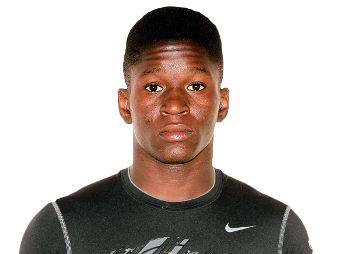 Photo Courtesy of ESPN.com
Robinson is flying a bit under the radar compared to other corners on this list, but this kid has game. He is a 4-star recruit on Rivals, but he still doesn't receive the credit he deserves.
At 6'2", he has great size to match up with taller receivers, and with 4.40 speed he has what it takes to cover ground in the back end of any defense.
He is one of the more talented defenders in Florida and so far has a top four of Florida State, LSU, Oklahoma and Miami.
The talented DB has said he hopes to visit all four schools, with the Miami visit likely coming this summer.
His athleticism is off the charts, and he posted a 35-inch vertical leap, which will make him a matchup nightmare for any receiver in front of him.
As of now this is a four-team race for his services, but look for more teams to jump into the mix the longer his recruitment goes on.
Jalen Ramsey: Brentwood Academy, Nashville, Tennessee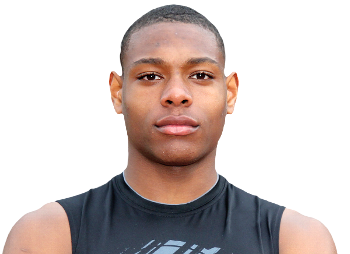 Photo Courtesy of ESPN.com
Ramsey is one of the top prospects in Tennessee and is also among the best corners in the south.
This prospect has all the tools you look for in a shutdown corner: 6'1", 4.40 in the 40-yard dash and an amazing 40-inch vertical.
He had a very impressive performance at the Rivals 5-star challenge, which pinned the best athletes in the country against each other in a seven-on-seven drill.
Rivals recruiting analyst Mike Farell said that Ramsey was the best corner at the competition, and the Tennessee native took home the MVP award for the DBs.
He has a ridiculous offer list with over 30 schools competing for his services, and at this point it seems that USC and Auburn stand out. However, his recruitment is still wide open.
One program to watch out for is the in-state Tennessee Volunteers, who will not give up on this talented athlete until the very end.
Artie Burns: Miami Northwestern, Miami, Florida
Photo Courtesy of 247sports.com
Once an early Alabama commit, Burns has decided to reevaluate his options and open things up.
Burns, a 4-star CB by both ESPN and Rivals, is another one of the standout players from Florida that makes this list.
As a junior, he had 80 tackles (10 for a loss), 12 pass breakups, four forced fumbles and an interception.
Did I mention he is a track star?
Burns has elite speed and would also like to run track in college. He is the nation's top hurdler, and that speed will be what has coaches drooling at the next level.
He is a player that will take all five of his official visits prior to making his final decision, and as of now he is very high on Alabama, Florida St., Louisville and Miami.
Other programs of interest are Clemson, LSU and USC. Look for this battle to come down to the wire.
Burns will likely stay in the state of Florida, and I think this race will come down to FSU and Miami. However, his recruitment is far from over.
Cole Luke: Hamilton High School, Chandler, Arizona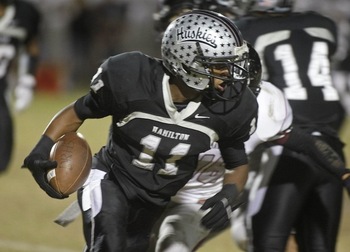 Photo Courtesy of umgoblue.com
Cole Luke is one of the best players in the Southwest and is a standout at Hamilton High. He has over 20 offers and is a 4-star recruit by both ESPN and Rivals.
On June 9, he made a top five of Notre Dame, Texas, Michigan, Nebraska and Cal. This recruitment is very far from over, as Luke has interest in both Oregon and USC.
One program to keep an eye on in his recruitment is Oklahoma, who are hot on his trail. However, it is unknown how much interest he has in the Sooners at this point.
Luke has great height at 6'0", but he only weighs 165 pounds, so he will have to beef up once he arrives on the campus of his choice.
What stands out in Luke's game is his ability to make plays with the ball in his hands, a quality that may earn him a look on special teams as a kick returner.
His speed is elite, and once he is in a weight program he will develop into a beast.
Kendall Fuller: Our Lady of Good Counsel, Olney, Maryland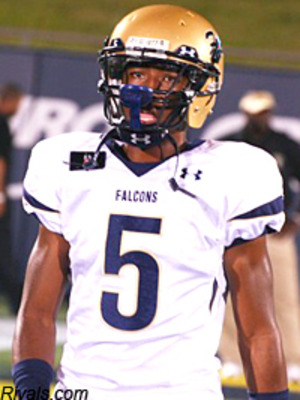 Photo Courtesy of Rivals.com
Kendall Fuller is one of the best overall players in the country and is a 5-star recruit according to Rivals.com. He is an elite player who has offers from nearly every big-time program in the nation.
Fuller is a very rare prospect who has an innate ability to cover both the run and pass at a high level.
What separates him from other defensive backs across the country is his high football IQ. He has the ability to quickly diagnose the play and break on the football quickly.
Recently he has cut his long list of suitors to three schools: Virginia Tech, Clemson and Michigan.
Although Michigan is a finalist, this recruitment is essentially a two-team race between Virginia Tech and the Clemson Tigers.
One thing that has to help Clemson's cause is the commitment of all-world DE Robert Nkemdiche.
Top players love to team up with other great players, and Clemson having the nation's top player has to be appealing to the Maryland CB.
Mackensie Alexander: Immokalee High School, Immokalee, Florida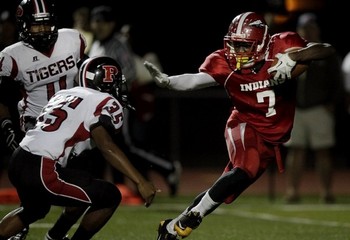 Photo Courtesy of naplesnews.com
Mackensie Alexander's recruitment is a bit difficult to call, as he doesn't speak much on recruiting. However, he did just take an unofficial visit to Notre Dame.
He was once an early commit to Tennessee, but he quickly backed out of that commitment and opened things up.
Alexander is a 5-star recruit according to ESPN, which is a feat in itself.
He will have his pick of schools, and so far the only schools he has visited are the aforementioned Notre Dame and the in-state Miami Hurricanes.
Florida State, Alabama and Florida will also be schools in his recruitment. Expect this race to go the distance.
Although he isn't overly large at 5'11", he plays much bigger than his height and can lay the wood much like a safety.
Alexander is your typical ball hawk in the secondary, and he is one of the more exciting prospects in the country.
Wherever he chooses to play college ball, he will be on the field from day one.
Vernon Hargreaves III: Wharton High School, Tampa, Florida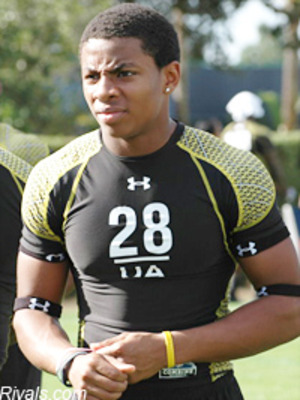 Photo Courtesy of Rivals.com
Hargreaves is hands down the best corner in the country and is in the top 10 overall in nearly every recruiting service (fourth on ESPN).
At 5'11" and 190 pounds, much like Mackensie Alexander and Kendall Fuller, he plays much bigger than his frame.
He has all the top programs in the country after him, but has recently listed a top three of South Florida, Florida and Miami.
This looks like a battle between the Florida schools, and with his father coaching at USF, you have to like the Bulls in this race.
He plays like a coach's son—he has a very high football IQ and his play recognition is off the charts.
Add that to 4.40 speed, and you have one of the best players in high school football. He has the size, speed and athleticism to play as a true freshman.
Keep Reading