2012 NBA Draft Order: Which Teams Must Trade Up to Salvage the Future?
June 28, 2012

Al Messerschmidt/Getty Images
With the NBA draft only a mere hours away, there are certain players on the board that could be franchise-changers for certain teams.
However, there is next to no chance of getting them where teams are drafting.
That's why it is almost a must for certain teams to salvage some of their future to get the right guy.
With the clock ticking away, here's a look at four teams that need to take a gamble and move up in the draft.
Boston Celtics
If the Celtics want to avoid taking a step or two in the wrong direction, Danny Ainge must try and package the No. 21 and 22 picks to move up.
With those two picks, it's possible the Celtics could get a couple of players who could become good NBA players in time. But they could add an impact front-line player by moving up in the draft.
Age is not on the Celtics' side, so if they want to take advantage of the core they have now, they need to add someone who can help them now.
Houston Rockets
Potentially parting with three first-round picks and point guard Kyle Lowry could be on the table for the Rockets, and it's something they should do even if they don't come away with Dwight Howard.
ESPN's Chad Ford reported that the No. 5 (Sacramento) and No. 8 picks (Toronto) could be in play for Houston.
With that, they could target a much-needed big man like Andre Drummond and a play-making guard like Dion Waiters, Damian Lillard or Austin Rivers.
This has the potential to be a good draft for the Rockets, but they need to stay aggressive and continue to move up.
Los Angeles Lakers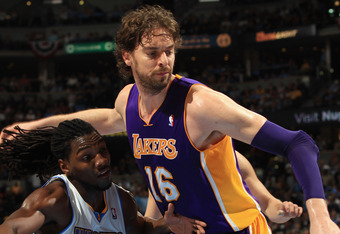 Doug Pensinger/Getty Images
The Lakers need to get younger and more athletic, and they can do that by getting into the top 10 of the draft. Fox Sports Ohio's Sam Amico reports that the Lakers are trying to move into the first round, and they need to do so.
Getting a player and a pick that they can turn into an impact player is a must if they were to deal Pau Gasol.
That might be easier said than done, though.
Cleveland Cavaliers
The Cavs sit at No. 4 and have four picks total. While they will get a good player with the No. 4 pick, it is important they move up to No. 2 and get Bradley Beal.
A future backcourt featuring Kyrie Irving and Beal could be outstanding.
There's no deal on the table as of now, but Beal is the guy the Cavs need to land.
Here is the order of the first round of the 2012 NBA Draft
First round
1. New Orleans
2. Charlotte
3. Washington
4. Cleveland
5. Sacramento
6. Portland (from Brooklyn)
7. Golden State
8. Toronto
9. Detroit
10. New Orleans (from Minnesota via LA Clippers)
11. Portland
12. Houston (via Milwaukee)
13. Phoenix
14. Milwaukee (via Houston)
15. Philadelphia
16. Houston (from New York)
17. Dallas
18. Houston (from Minnesota via Utah)
19. Orlando
20. Denver
21. Boston
22. Boston (from LA Clippers via Oklahoma City)
23. Atlanta
24. Cleveland (from LA Lakers)
25. Memphis
26. Indiana
27. Miami
28. Oklahoma City
29. Chicago
30. Golden State (from San Antonio)
Second round
31. Charlotte
32. Washington
33. Cleveland
34. Cleveland (from New Orleans via Miami)
35. Golden State (from Brooklyn)
36. Sacramento
37. Toronto
38. Denver (from Golden State via New York)
39. Detroit
40. Portland (from Minnesota via Houston)
41. Portland
42. Milwaukee
43. Atlanta (from Phoenix)
44. Detroit (from Houston)
45. Philadelphia
46. New Orleans
(from Washington via Dallas)
47. Utah
48. New York
49. Orlando
50. Denver
51. Boston
52. Golden State
(from Atlanta)
53. LA Clippers
54. Philadelphia
(from Memphis)
55. Dallas (from LA Lakers)
56. Toronto (from Indiana)
57. Brooklyn (from Miami)
58. Minnesota (from Oklahoma City)
59. San Antonio
60. LA Lakers (from Chicago via Milwaukee and Brooklyn)