Chicago Bears: Projecting 2012 Stat Totals for All Wide Receivers
June 28, 2012

Justin Edmonds/Getty Images
Much has already been written about the 2012 Chicago Bears passing offense. Jay Cutler will be moving around to give himself more time to throw the ball, and he'll be given the chance to audible out of bad defensive matchups. 
With the addition of Brandon Marshall, Alshon Jeffery, Eric Weems and the now-infamous "Devin Package" for Devin Hester, the Bears should be able to improve on their 26th-ranked passing offense from 2011.
Bob Warja broke down the stat leaders for all positions earlier this week, but this article will take a deeper look at the wide receivers from this season only.
Brandon Marshall (84-1250 8 TDS) 
Marshall has a string of five consecutive 1000-plus yard seasons, and he should become the first receiver in Chicago to have more than 1000 receiving yards since Marty Booker in 2002.
Marshall is also a solid red-zone threat, and you can expect him to reach the end zone more than receivers in the past have done, as well. Eight TDs for the season would put Marshall in the Top 20 for receiving TDs, and that doesn't seem like a stretch if the Bears are going to focus on the pass more this season.
Alshon Jeffery (44-550 4 TDS) 
Jeffery will probably start out the season slow and may be behind Earl Bennett or Devin Hester when the season starts. However, by the time the season is over, you can expect that Jeffery will get plenty of opportunity to distinguish himself.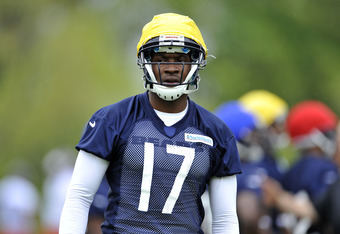 Brian Kersey/Getty Images
If he displays some of the second-round talent that the Bears expect from him, it won't be a stretch to see him finish as the No. 2 WR on the team. 
Earl Bennett (36-485 3 TDS) 
Bennett's contribution to the Bears has dropped in each of the last two seasons, and he finished 2011 with just 24 receptions for 381 yards.
You can expect that to improve this season, provided that Bennett is healthy. However, with Marshall and Jeffery in the mix now, Bennett probably won't reach 50 catches like he did back in 2009.
Both he and Hester will really compete for slot position, but you can expect Bennett to finish the season with slightly better stats. 
Devin Hester (30-390 2 TDS) 
"Devin Package" aside, Hester isn't going to see 50 passes come his way this season. There simply isn't enough passing to go around. Between Michael Bush and Matt Forte, the Bears will run the ball enough to limit the number of passes they throw each game.
Of the four top receivers, Hester is the guy who you can expect to come up on the bottom of the list if everyone is healthy. Obviously, if Bennett or Jeffery miss time, this could change, but 400 receiving yards is probably the ceiling for Hester this season. 
The 'Other Wide Receivers' (15-165 1 TD [combined]) 
Until training camp opens, it's a little too early to tell who will finish as the No. 5 WR for the Bears this season. Currently, it's either Eric Weems or Dane Sanzenbacher, but Devin Thomas and rookie Chris Summers will also be in the mix.
Whoever emerges as the No. 5 WR will put up minimal stats, and there is a good chance that one or two of these guys may further divide these minimal numbers, depending on who sees the most playing time.