Germany vs. Italy Euro 2012 Preview: Midfield Will Be the Deciding Factor
June 28, 2012

In what will be a repeat of past clashes in major tournaments (think World Cup 2006), Germany will play Italy in tonight's high-profile Euro 2012 semifinal in Warsaw.
Both sides remain undefeated, but their paths to the semifinals have been very different.
Germany
Germany was the only team in Euro 2012 to win all three of their group stage games, impressively topping the tournament's "group of death."
The Germans have dominated opponents. Their free-flowing and offensive style of play has been the talk of the tournament thus far.
Germany's offense has improved each game—they scored five goals in the group stage and four goals against Greece in their quarterfinal victory. Their defense has been solid too, conceding just four goals.
Die Mannschaft have played so well, in fact, that they currently hold the record for consecutive competitive wins with 15. They've scored at least once in each of their last 20 matches. Clearly, Joachim Löw has this team ticking like clockwork. 
If the Germans have one weakness, it's history—Germany has never beaten Italy in a competitive fixture.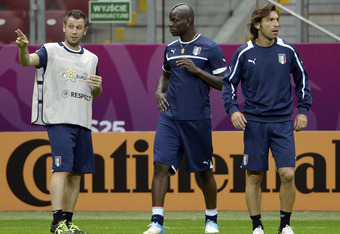 Claudio Villa/Getty Images
Italy
Italy has also gone undefeated through their first four games. After an impressive 1-1 draw against Spain and a draw of the same score against Croatia, Italy beat Ireland 2-0 to advance to the group stage.
Italy absolutely dominated England but couldn't find the net. Had the Azzuri scored even half their chances, they could have won by at least three goals.
Under Cesare Prandelli, Italy haven't been the dominant European force they were in the past. However, watching the Italians at Euro 2012 has instilled confidence in his coaching. Like Germany, Italy looks better with each passing game. 
Their defense has only conceded two goals—which is the second best in Euro 2012 after Spain.
Center-backs Leonardo Bonucci and Andrea Barzagli have performed admirably considering Giorgio Chiellini's absence.
And what more can be said about goalkeeper Gianluigi Buffon? He is back to his best, and with him in goal, it's never easy to score.
Italy's weakness is their inability to finish the chances they create. Against Spain, Italy could easily have won had they converted more of their opportunities. With Andrea Pirlo pulling the strings in midfield, Italy's strikers will get their chances—they must finish them if they are to play Spain in the final.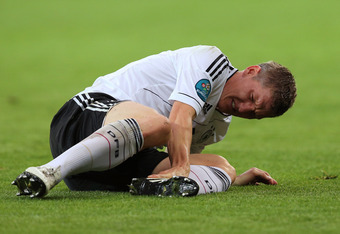 Joern Pollex/Getty Images
Controlling the Midfield
If the Italians can be most praised for their stubborn defense and the Germans for their potent offense, the midfield will be the battleground of the pitch. 
Germany have pace and flair, thanks to their young group of offensive-minded midfielders. Eyes will be on Mesut Özil for the creative spark against Italy.
With Löw switching the starting-XI at will, it's hard to guess who will start tonight alongside Özil. Look for Germany to play an attacking 4-5-1, with three offensive midfielders. 
The return of Bastian Schweinsteiger from injury is a huge boost for the midfield. The Bayern man is an anchor to the entire team—he is Germany's most important mental and physical presence.
Italy's midfield works a bit differently. They don't rely on pace and slick passing as much as they do possession and spreading the field.
Andrea Pirlo can control a game better than anyone on the planet—and that includes Xavi. The fact that Pirlo can do it on his own (he doesn't have an Iniesta or an Alonso at his side) speaks volumes to the player's experience as a deep-lying playmaker. 
If Germany can control Pirlo, they will put themselves in a great position to beat Italy. This is easier said than done, of course, as Pirlo apparently had a man-marker assigned to him during the England game and dominated the entire game.
Players to Watch
Italy: Andrea Pirlo, Antonio Cassano, Gianluigi Buffon
Germany: Mesut Özil, Bastian Schweinsteiger, Mario Gomez
Prediction
Germany's midfield will start the game in rampant fashion, but Italy's defense will hold firm.
As the game continues, look for Italy to get more and more into the game, as Pirlo begins to work his magic. Italy's defensive prowess, coupled with Germany's propensity to choke late in big tournaments, will see the Italians through, but only just barely.
Look for an explosive game. 
Germany 1 - 2 Italy