2012 Olympic Swimming Trials: Michael Phelps Faces Fierce Competition
June 28, 2012
Jamie Squire/Getty Images
Michael Phelps has a significant amount of work remaining in his next three events.
And although he has qualified for the 2012 Summer Olympic Games in the 400-meter individual medley and 200-meter freestyle, Phelps is held to a higher standard. Meaning, two events is not enough for America's most famous swimmer to continue his legacy.
That said, Phelps has a golden opportunity to steal the U.S. Olympic Swimming Trials spotlight. However, there are also other competitors looking to make a name for themselves on the national landscape.
So, let's see who will give Phelps the toughest challenge as the trials progress.
200-Meter Butterfly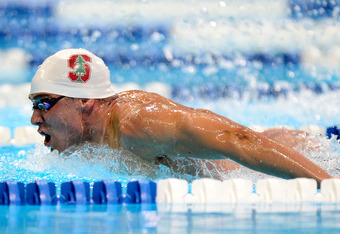 Jamie Squire/Getty Images
Finishing third in the 200-meter butterfly semifinals, Michael Phelps has to reduce his time by at least three seconds. For one, it's going to be a much faster pace from the beginning in the final and his 1 minute, 56.42 seconds time won't cut it.
The two best competitors will be Bobby Bollier and Davis Tarwater, both of whom specialize in the fly. Not to mention, but both were the two swimmers that ousted Phelps in the semis and look to pull an encore performance en route to London.
Phelps was out-kicked in the transition between laps, and that allowed Bollier and Tarwater to get ahead. Those little tenths-of-seconds lost can accumulate quickly when the pace picks up. So in the final, expect Phelps to begin more explosively and polish off his transitions.
Still, Bollier and Tarwater will be right there with him (if not in the lead) in one exciting race to the Olympics.
200-Meter Individual Medley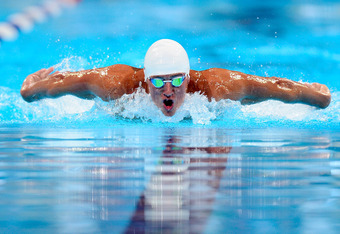 Jamie Squire/Getty Images
Ryan Lochte will be the most fierce competition for Michael Phelps in the 200-meter individual medley.
Lochte holds the world record at 1 minute and 54 seconds, which he set almost one year ago. The man is clearly on a mission and is building his own legacy as Phelps' main rival, and hitting a stride during his prime as well.
In addition to Lochte though, there are also a some other competitors to keep an eye on.
Tyler Clary and Conor Dwyer both are at the beginning stages of their primes and certainly among the leaders in the next wave of elite U.S. swimmers. Both are seeded with times below two minutes and have the underdog advantage on their side.
Nonetheless, expect this race to be another Phelps versus Lochte classic finish.
100-Meter Butterfly
The 100-meter butterfly is arguably the best event for Michael Phelps, as he holds the world record at 49.82 seconds.
Clearly the expected favorite, Phelps has to be wary of Tyler McGill and Tim Phillips in the 100-meter butterfly. Both are not far back from Phelps and with a quick/strong kick in the transition to begin the final 50 meters, either could make a chase toward London.
McGill is also only 24 years old and Phillips is just 21. So, youth is favoring them and the faster each push the beginning pace the more pressure is put on Phelps to respond throughout. Here, is where we'll see how much Phelps thrives on big stages against elite competition.
Follow John Rozum on Twitter.