Euro 2012 Semi Finals: Key Players to Watch for in Germany vs. Italy
June 28, 2012

Laurence Griffiths/Getty Images
The last spot in Sunday's Euro 2012 final is on the line at National Stadium in Warsaw, Poland on Thursday (2:45 p.m. ET, ESPN), when European football powerhouses Germany and Italy clash in what promises to be a thrilling semifinal.
Spain survived a gritty effort from Portugal in Wednesday's semifinal, advancing 4-2 on penalty kicks after both teams failed to score in regulation and extra time.
The winner on Thursday will move on to play the defending European champions in Kiev, Ukraine this weekend.
Regardless of which side wins in Warsaw, here are the key, difference-making players to watch for.
Andrea Pirlo
The cold-blooded Italian midfielder showed why he is the Azzurri's leader last weekend, scoring a clutch, chipped penalty kick against England to help Italy advance to the semifinals.
Pirlo has one goal and two assists in four matches at Euro 2012, and is a huge reason why the Italians have made it this far already.
The 33-year-old Juventus player brings a wealth of experience and calmness to Italy's midfield, and can provide the necessary skill and decision making on both offense and defense for the Azzurri.
Pirlo will be a critical asset for Italy against a high-powered, offensive-minded opponent like Germany.
Mesut Ozil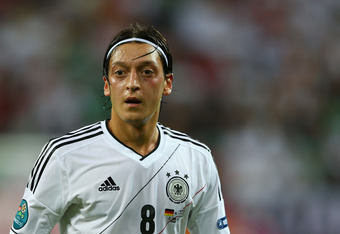 Michael Steele/Getty Images
Germany's future looks bright as they boast one of the world's best young midfielders in Mesut Ozil.
The 23-year-old Real Madrid prospect has played in all four matches at Euro 2012 for the Germans. He has tallied three assists in his last two games, including a two-assist effort against Greece in the quarterfinals last Friday.
Ozil has yet to score at this summer's tournament, but he has been ultra aggressive as of late, taking three shots against Greece, all three of which were on target.
His pin-point passes and speed going forward into the final third against a stingy Italian defense on Thursday will be vital for Germany to return to the Euro final.
Gianluigi Buffon
The veteran goalkeeper has been through jubilation and disappointment with the Italian side, from winning the 2006 World Cup in Germany to falling at Euro 2008. Gianluigi Buffon is as experienced as they come on the international stage.
The 34-year-old stopper has allowed just two goals in four matches at Euro 2012, and has shutout Italy's last two opponents in the Republic of Ireland and England.
In a semifinal that will feature two opposing styles of football, Buffon's experience and composure in front of the net has the potential to be the difference for Italy in the end.
The Italians will surely defend brilliantly in front of Buffon, but if the Azzurri defense breaks down, there is no one better to be left alone against Germany's handful of top finishers.
Follow Patrick Clarke on Twitter for more take on Euro 2012.