Toronto Maple Leafs: What Justin Schultz Would Mean to the Future of the Defense
June 28, 2012

Elsa/Getty Images
The Toronto Maple Leafs have been linked to just about every player that has been seemingly available this offseason. Rick Nash, Bobby Ryan and James Van Riemsdyk are among the many players that have been speculated to be heading to Toronto; in fact, Van Riemsdyk already dons the jersey thanks to last week's trade with Philadelphia.
However, for established players like Rick Nash and Bobby Ryan, GMs are probably asking for packages including the likes of Toronto's Jake Gardiner. With even the mention of his name, I would hope that Brian Burke would simply hang up the phone.
Last year, Gardiner played spectacularly in training camp and, to the surprise of many, including myself, he started the season with the Toronto Maple Leafs. He did not disappoint, and towards the end of the year, he was playing 20+ minutes a game, and playing them well. He finished the season with the lead in assists and total points among rookie defensemen, and was named to the All-Rookie First Team.
He was, to say the least, outstanding. He developed tremendously during his time at the University of Wisconsin, which culminated in his breakout 2010-2011 season in which he scored 41 points in 41 games. His partner that season? Fellow 2008 Anaheim draft pick Justin Schultz, who put up 47 points in those same 41 games.
Schultz followed up his impressive 2010-2011 season with 44 points in 37 games the following year. He has clearly proved that the talent is there, and he will undoubtedly be an impact player in the NHL; the question is, with which team?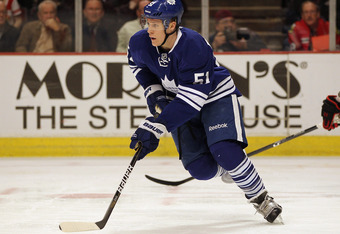 Jonathan Daniel/Getty Images
Schultz is free to sign an entry level contract with any team come July 1st. Every team will be interested in the dynamic blueliner, but it seems that he has a shortlist of teams that he would be willing to sign with. The list reportedly includes the Edmonton Oilers, Vancouver Canucks, Toronto Maple Leafs and New York Rangers.
Now, each of those teams has different qualities that may attract Schultz. However, I am confident that despite their depth on defense, Schultz will make the decision to sign with Toronto. An opportunity to play with former Wisconsin linemate Jake Gardiner in the center of the hockey world may be too good to pass up for the soon-to-be 22 year old. It also helps that Brian Burke, in addition to being the one who drafted Schultz in 2008 while he was the GM of Anaheim, may be the most convincing man in hockey.
One may argue that there isn't any room on the Toronto blueline for Schultz. However, the same thing was said for Gardiner last year, and he ended up averaging over 21 minutes per game. With the recent trade of Luke Schenn, it seems that there is an opening in Toronto for the coming season.
Adding Schultz, and pairing him with Gardiner, would give Toronto an extremely formidable defensive core. They would be able to use this position of strength to fill in other spots on their roster, much like the trade for Van Riemsdyk. With Dion Phaneuf, Carl Gunnarsson, J-M Liles, Mike Komisarek and Jake Gardiner all under contract for next season, Cody Franson a RFA, and Matt Lashoff, Korbinian Holzer and Simon Gysbers of the Marlies  all pushing for regular NHL duty, it seems that adding Schultz would provide much opportunity for the Leafs on the trade market.
Schultz would instantly become a fan favorite in Toronto, and his chemistry with Gardiner would make the transition from the NCAA to the NHL all the easier. The two defensemen, along with recent 5th overall draft pick Morgan Rielly, would make Toronto's defensive core the envy of the league for years to come.
Having Gardiner play the way he did last year was great for the Toronto Maple Leafs. It has given them a true franchise cornerstone. Hopefully, come July 1st, they'll gain another.