Austin Rivers: Former Duke Star Is Missing Piece for the Toronto Raptors
June 28, 2012

Streeter Lecka/Getty Images
Austin Rivers became a star in Duke. The shooting guard, first spotlighted for being a member of the Rivers basketball family, grew into a guard who can finish games. 
Rivers became a closer in Duke, and his abilities as a shooting guard can change the face of any NBA team.
In other words, he is the missing piece for the Toronto Raptors.
The Raptors are in a division ripe for the taking in the Atlantic. An era could be changing for the 2012-13 campaign.
The Celtics and Nets are rebuilding. The 76ers and Knicks are vying to be contenders. This leaves the Raptors falling behind in that division.
They need another impact player to complement G/F DeMar DeRozan, PG Jose Calderon and F/C Andrei Bargnani. Rivers is their man.
According to Draft Express, Rivers averaged 33 minutes per game and scored 15.5 points per game with a field-goal percentage of 43.3. Rivers became the catalyst in Duke because of his play on the offensive side. Without Rivers, Duke didn't have an offense.
Rivers carried Duke on his back. He was so driven trying to score for his team. Rivers also can distance himself from defenders, and he will need that speed in the NBA. 
With Toronto, the weight won't be solely on him.
Rivers will have veteran players around him who will help him mature into an NBA player. DeRozan might form a budding relationship with Rivers, who share similarities in their roads to becoming NBA players. Calderon can have another player to manage and turn the trio of himself, Bargnani and Rivers into the next big three.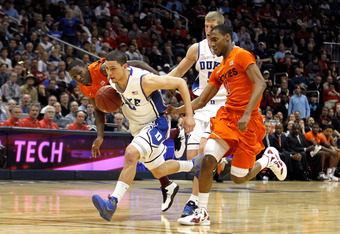 Streeter Lecka/Getty Images
Plus, a healthy Bargnani would make Rivers take the ball more in clutch situations. Duck the ball to Bargnani, and he would pass it to the open rookie. It seems a play orchestrated so well for Toronto.
These veteran players will help Rivers more with his all-around game. He can become a better passer.  He can even improve his offensive skills, especially in being better at taking more controlled shots. 
Defense needs work, but Rivers can learn from his teammates and coaching staff. The Raptors were ranked 14th out of 30 this past season. They can only improve Rivers' defensive skills even more.     
Adding Rivers would give Toronto a much-needed weapon: a playmaker. Enter Austin Rivers, a young player from Duke who can help Toronto get to the next level. For Toronto's future, it needs Austin Rivers.