NBA Draft 2012: 6 Teams That Will Strike Gold in the Second Round
June 28, 2012

Gregory Shamus/Getty Images
In a draft that's considered very deep on talent, there will be several players taken in the second round that have first round talent.
Teams that can hit on players in the second round not only add talented players, but salary cap flexibility down the road.
Here's a look at teams that will strike gold during Thursday's second round of the 2012 NBA Draft.
Charlotte Bobcats
Depending on where the Bobcats decide to go with the No. 2 overall pick, they can address a different need altogether with the first pick of the second round.
If they go with a big such as Thomas Robinson, there could be excellent shooting guards sitting there for them that could include: John Jenkins, Doron Lamb, Kim English, Jared Cunningham, Will Barton, among others.
In this draft, this pick is just like having an additional first round pick.
Cleveland Cavaliers
The Cavs have back-to-back picks toward the beginning of the second round (No. 33 and 34).
After they add two players in the first round, the Cavs could add one of the shooters mentioned above and possibly some additional size like Norfolk State's Kyle O'Quinn or Vanderbilt's Festus Ezeli if he slides.
Cleveland could add a ton of young talent to their roster during Thursday night's draft.
Washington Wizards
Assuming the Wizards select Bradley Beal in the first round, they can add a backup point guard like Scott Machado or Tyshawn Taylor with the second pick of the second round or elect to add some size.
Either way, they will be getting a good player at No. 32.
Portland Trail Blazers
The Blazers can add two pieces to their future with two of the first 11 picks in the draft, but can also do so with the No. 40 and 41 picks.
Depending on how they treat the first round, Portland can look to add some quality depth in the second round.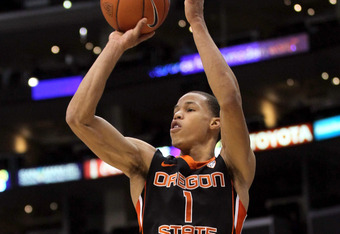 Stephen Dunn/Getty Images
Golden State Warriors
The Warriors also have a pair of second round picks to go along with a pair of first rounders. They should be able to fill a need at No. 35 and if they get lucky at No. 52 as well, the 2012 draft could set the Warriors up for a very nice future.
Detroit Pistons
The Pistons will pick No. 39 and No. 44 in the second round, and if they add size as expected in the first round, they could target a number of players for backcourt depth with these picks. This draft has a ton of quality players that could help them do that in the middle of the second round.
Follow Matt Shetler on Twitter for news, reaction and analysis from around the NBA.