NBA Draft 2012 Time: When and Where to Catch Every Pick
June 28, 2012

Pool/Getty Images
The NBA Draft is merely hours away, and the future of the NBA rests in these college players' hands.
These college players likely won't be the only ones on the move. We've already seen teams make trades for picks and other players. Who knows which other players will be dealt on this draft day?
Many valuable prospects are in this draft, but the uncertainty lies not in just their ability, but their fate.  Which teams will get the players they want?
Here's a look when the NBA Draft airs tonight:
Where: The Prudential Center, Newark, N.J.
When: 7 p.m. EST
Watch: ESPN
Live Stream: ESPN3.com
Here's a look at where some picks might be going:
Anthony Davis, PF, Kentucky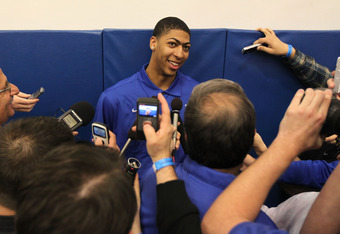 Andy Lyons/Getty Images
It seems like a match made in heaven for both Davis and New Orleans. 
The Hornets need to bring back excitement and plan to do so with their choice at No. 1. Davis is a natural fit. The 19-year-old brings presence and averaged a double-double in his time at Kentucky.
When the Hornets traded Emeka Okafor to Washington, it came as no surprise. They made room for Davis, and Davis to New Orleans is a lock.
Michael Kidd-Gilchrist, SF, Kentucky
Kidd-Gilchrist is a wanted man for many NBA teams. Teams love the freshman for doing all the little things, such as his hustle and dedication to the game.
Kidd-Gilchrist, 19, is likely to get snatched up quickly. The team that needs a small forward the most is Cleveland. 
Don't expect any team to move up to take him. Kidd-Gilchrist is going to Cleveland as the No. 4 pick.
Harrison Barnes, SF, North Carolina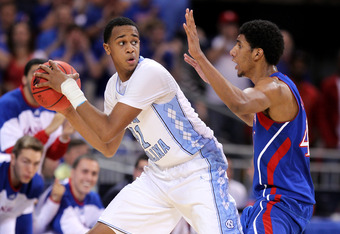 Andy Lyons/Getty Images
With Kidd-Gilchrist gone, the next best small forward is Harrison Barnes.
The 20-year-old sophomore is just a notch below Kidd-Gilchrist. Barnes can draw the foul just as well as anyone. According to Draft Express, his free throw rate of 14 percent ranks fifth amongst NBA draft prospects.
Sacramento needs a player to complement PG Isaiah Thomas. If they can't get Kidd-Gilchrist, they'll take Barnes.
John Henson, PF, North Carolina
Barnes' teammate might have a better fate, or worse depending how you view it.
The junior from North Carolina is the third-ranked power forward in the draft. He is raw talent on the offensive and defensive side of the glass.
Henson, 21, will be a top-10 pick in Thursday's draft. He will go to Detroit and learn to harness that raw talent from coach Lawrence Frank. 
Thomas Robinson, PF, Kansas
The second-best power forward could be a force to be reckoned with in the NBA.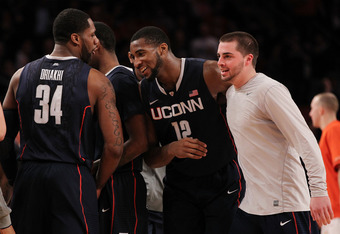 Michael Heiman/Getty Images
Robinson, 21, also averaged a double-double throughout last season. The Kansas junior needs to improve on the offensive end, but his energy and rebounding make him an attractive prospect.
With Davis expected to go first, Robinson would soon follow. The Bobcats need a player of Robinson's caliber: aggressive and energetic. Both sides should benefit in Charlotte. 
Andre Drummond, C, Connecticut
He is the second-youngest prospect behind Kidd-Gilchrist. The freshman from Connecticut also is expected to be the first center in the draft.
Drummond had a good year helping the Huskies win the National Championship in 2011, but he ended up a disappointment this past season. 
Despite last year's struggles, Drummond, 19, is still a viable option. Portland, which has a history of drafting big men, won't resist when Drummond falls in its lap at No. 11.
Austin Rivers, SG, Duke
The 19-year-old freshman will soon join his father in the NBA. Which team, however, remains to be seen.
Rivers is a shooting sensation, averaging 15.5 points per game. He can also handle the ball well, creating separation from those defending him.
New Orleans might take Rivers if he falls to No. 10, but don't expect that to happen. Rivers will be taken No. 8 by the Raptors.
Damian Lillard, PG, Weber State
Where Damian Lillard ends up will be an interesting situation.
The top-five teams do not need point guards. Plus, Lillard is not an attractive option at the PG position, and he might fall down the line.
Portland would be wise to take him at No. 6. However, it could wait for Kendall Harrison of North Carolina. Lillard will fall to No. 12 and the Houston Rockets.