Cleveland Cavaliers Mock Draft: Players Who Will Definitely Be Chosen
June 28, 2012

Kevin C. Cox/Getty Images
In my two and a half or so years of writing for the Bleacher Report, one thing has become crystal clear: sports fans love mock drafts no matter how irrational or overly ambitious they may be. For the NFL Draft especially, fans love the "Seven Round Mock Draft" for their prospective team even though the odds the writer has of being right on even three of those picks are the same as he has of actually getting drafted himself.
So with that as our introduction, I shall throw caution to the wind and tell you definitively who the Cleveland Cavaliers will be selecting with their four picks in the 2012 NBA Draft.
First Round, Pick No. 4
It goes without saying (as I say it anyways) that the Cavs have to wait to see who is taken ahead of them before they can determine who their pick will be. It's possible that with the Bobcats' and Wizards' selections that the choice could be made for them. I believe there are three players that the Cavs have their sights on with this pick: Bradley Beal, Harrison Barnes, and Michael Kidd-Gilchrist (I wrote more about these three and other wing players earlier this week but my article has disappeared, not sure what happened there).
The general consensus from smart people who do mock drafts is that the first three picks will as follows:
No. 1, Hornets: Anthony Davis
No. 2, Bobcats: Thomas Robinson
No. 3, Wizards: Bradley Beal
This would then leave the Cavs with their choice of small forwards in Barnes and Kidd-Gilchrist, which is essentially, but certainly not entirely, a choice between offense and defense respectively. Barnes is definitely the more NBA-ready player at the moment and someone who has had obscene expectations placed on him going back to high school.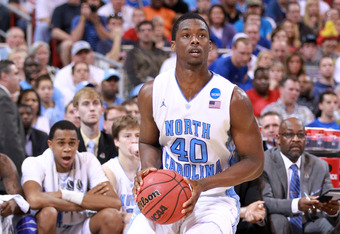 Andy Lyons/Getty Images
Kidd-Gilchrist is Mr. Intangibles, a label that seems to suggest that he's all hard work and leadership, which is never enough to get you drafted this high. Make no mistake; MKG is a very good basketball player. He needs a lot of work on his jump shot and his offensive play in general, but he's a great defender and a very good rebounder and more often than not just does smart and effective things when he's on the basketball court that help his team win.
At multiple times throughout their careers, Kidd-Gilchrist has beaten Barnes both in one-on-one and team competitions (Dave Telep talked about this with Chad Ford on the NBA Today podcast on Tuesday). This is what Chad Ford had to say about Kidd-Gilchrist to the Cavs: "Cavs GM Chris Grant always talks about building a winning culture in Cleveland. MKG is a culture guy. He is not the draft's best scorer, he has an ugly jumper and he's not particularly polished. But he is an incredible defender, has an elite motor, finishes tremendously well around the basket and is a leader. If the Cavs are trying to build a winner, they can't go wrong with Kidd-Gilchrist."
I've gone back and forth on this pick so many times in my mind. The Cavs really need offense and I think that Barnes has the potential to be an All-Star level player in the NBA. Many people believe that he'll be better in the pros than he was in college. But the coach in me loves what Kidd-Gilchrist brings to the table. It feels like he's almost underrated at this point because people have picked him apart because of his shot.
I'm just glad that I don't have to make this decision. But if you're asking me who I think the Cavs are going to take I'll go with Kidd-Gilchrist at this point and that's largely because that's who Chad Ford (among others) believes they're taking and he's as connected as anyone. He's also the only person that I heard or read even hint that the Cavs might take Tristan Thompson last season so his words carry a lot of weight with me.
Now of course I must mention that all things being equal the Cavs probably like Beal best and have talked with the Bobcats about moving up to No. 2 to jump Washington and take him. I'm against this simply because I believe it would require the Cavs to give up the No. 24 pick and I don't really believe that Beal is that much better than Barnes, Kidd-Gilchrist, or Jeremy Lamb for that matter. I just don't know that it's a great idea to trade up for a guy whose defining trait is that he's a great shooter when he actually didn't hit that many shots in college. It's not just about holding onto that No. 24 pick because I really like someone up there. It's that they'd be giving away a valued trade asset that could net you a second lottery pick. More on that later.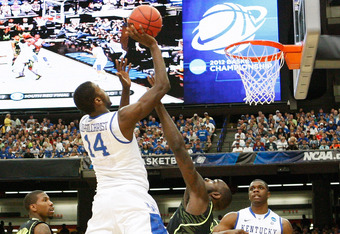 Kevin C. Cox/Getty Images
There have also been reports that if the Bobcats trade No. 2 to the Cavs to take Beal that the Wizards will then trade No. 3 to a team that wants Thomas Robinson. This could be completely untrue, but at the very least it should give the Bobcats pause before they decide to trade that pick.
One more thing…if the Cavs go totally off script and draft Andre Drummond, I will drive the 476 miles to the 480 bridge and jump. (If you want more of my opinion on Drummond you can read it here.)
The pick: Michael Kidd-Gilchrist
First Round, Pick No. 24
In a perfect world I package this pick along with whatever else I can to move back up into the lottery to get Jeremy Lamb or another wing who can contribute on offense (Terrance Ross was in Cleveland for a workout on Wednesday morning). According to multiple sources including Jason Lloyd of the Akron Beacon Journal, the Cavs are not as high on this draft as a lot of people. They don't see it as being very deep, which is why they are working very hard to move up. Unfortunately, I don't know that the Cavs have enough trade bait to move all the way back up into the lottery. Aside from trading Anderson Varejao (which has been rumored) I don't see much else on the Cavs roster that other teams might want.
One thing I did look into was the possibility that some teams may have players with bad contracts that they would like to get out from and may be persuaded to give up that player along with a high pick for the Cavs later picks. I don't think this is that likely, but it's worth exploring.
The following are a few teams and players that could be potential trade partners:
No. 5, Kings: John Salmons or Marcus Thornton…Both players have salaries that fluctuate from $7-8.5 million over the next three years (Salmons has a team option for the third year). Both players are over-paid for their production.However, the Kings are in desperate need to shed salary at this point and giving up the No. 5 pick just doesn't seem realistic.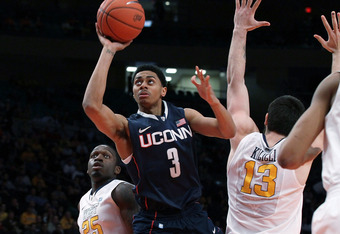 Jim McIsaac/Getty Images
No. 7, Warriors: David Lee, Richard Jefferson, or Andris Biedrins…The Warriors are an absolute mess right now with their financial situation. They're spending a lot of money on all the wrong players. All three of these guys are nice players, just not for what they're being paid. The Cavs would probably not like to take on Lee's salary ($13-15.5 million per year over next four years) though he is a pretty good player. I wonder whether Golden State would want to part with Biedrins, who's really a very good player and was underrated until he was overpaid. The most likely guy here would be Jefferson, who stands to make $10 million this season and $11 million in the next (he has a player option for the final year, but let's be honest…there's no way he's passing on $11 million). This one is very enticing to me, especially since we know that there have been talks between the Cavs and Warriors about this pick. But the current asking price is Varejao and No. 24, and that's too much for me. (If you don't know my feelings about Varejao you can read them here.)
No. 8, Raptors: Jose Calderon or Andrea Bargnani…This is another team that I don't think is very likely at all. Calderon is only on the books for one more season at $10.5 million. Bargnani is probably the team's best player (contract escalates from $10-12 million over next three years) so I'd be shocked if Toronto gave him away for basically nothing. They're also not so strapped for cash that they'd be looking to dump their best players.
No. 11, Blazers: Wesley Matthews…The only reason that I included the Blazers is because this is they're second pick in the draft (also hold No. 6) but they've already shed all of their bad contracts. Matthews will be the second highest paid player next year at only $6.5 million (three years left on his deal) which really is not bad at all for a player that's as good as him. Other than that the Blazers' finances look pretty good.
No. 13, Suns: Josh Childress or Channing Frye…I don't really know how the Suns feel about each of these players (both make about $6-7 million over the next three years with a player option for the final season). But this is also a team that is not in a bad situation financially since the only player making more money than these two guys is Marcin Gortat at $7 million. They probably don't feel a major need for either Childress or Frye and I doubt they view them as building blocks; but they have to spend their cap money somewhere.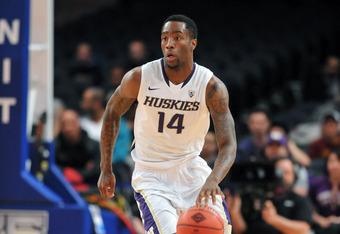 Jason Szenes/Getty Images
(I didn't include the Pistons or Bucks since I doubt that either of those teams would make this type of trade with a division rival.)
I think the most likely scenario would be trading for the No. 7 pick with the Warriors. If that happened, you'd probably be looking at a wing player like Dion Waters, Jeremy Lamb, or Terrance Ross.
But for the sake of argument, let's just assume that the Cavs are not able to trade back up into the lottery. I don't believe there is any way that the Cavs come away from this draft with four rookies they are planning on bringing to training camp, so I think they'll continually explore moving up for No. 24.
One guy I would love for them to target in Jared Sullinger who has fallen because of issues with his back. I really like Sullinger as a pro player and think that as long as he can stay healthy he can have a very productive career as a rebounder and pick-and-pop big men. At the very least he's a rotational PF/C who would play over the scrubs the Cavs have backing up Varejao and Tristan Thompson at this point. If the Cavs want him they'll probably have to move up about five or so spots because I don't believe the Celtics, who hold pick Nos. 21 and 22, will pass on him.
If by the worst of luck the Cavs are stuck at No. 24, I think they'll go with a wing player since they can probably get a decent big guy in the 30's. Some people believe they'll look at Fab Melo and hope that Varejao's high character and work ethic will rub off on him. I just don't see the Cavs, who value character so much, taking a guy who has had so many issues. With that said, if they're going to take a chance on a player, this is where they should do it.
I'm going to go out on a limb and say that the Cavs take Tony Wroten, the 6'6" combo guard from Washington. I think he's the type of player that the Cavs like and not just because a few years ago it seemed they were trying to corner the market on combo guards. He's a versatile player and a scorer that would be very good coming off the bench, but could also work as a staring two guard.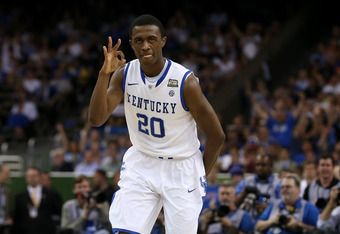 Jeff Gross/Getty Images
The pick: Tony Wroten
Second Round, Pick Nos. 33 and 34
I've already stated that I don't believe the Cavs will even have these last two picks but just for the sake of mocking, let's say they do. They need two things at this point in my opinion: shooting and a big guy.
I'll make this really easy then, there are two shooters: John Jenkins and Doron Lamb. I don't really know that there's much of a difference between the two players, but it would be kind of fun to bring Kidd-Gilchrist's Kentucky teammate along as well.
The pick: Doron Lamb
Next you need a big guy. I don't think you really want Miles Plumlee, who's probably the third best player in his own family. If he's still on the board I'd almost guarantee that the Cavs take Festus Ezeli from Vanderbilt. (I swear that NBA teams put as much thought into these second round picks as I currently am.)
The pick: Festus Ezeli
In all reality they'll probably take some foreign player we've never heard of, and probably never will hear from, since that's the popular thing to do these days.
Final thoughts
I believe that in the end, the most important thing for the Cavs in this draft is to come away with at least a starter and a solid rotation player. Whether they have the assets to move back up to the lottery and get two starters I don't know. What I do know is that if I was Chris Grant, I'd be doing anything I could to make it happen.
Only three players on the roster are at least semi-untouchable: Kyrie Irving, Tristan Thompson, and Anderson Varejao. (And I'd be willing to talk about Tristan and Andy.) As for everyone else? They're just players. A dime a dozen. You want 'em you can have 'em.
This has the potential to be a very big day for the Cleveland Cavaliers franchise moving forward. We already have a bona fide star in Kyrie Irving. Now we just need to find the right pieces and parts that will fit with him.
You can follow Benjamin Flack on Twitter @ClevelandFlack.