Germany vs. Italy Euro 2012: Key Matchups in Epic Semifinal Clash
June 28, 2012

Joern Pollex/Getty Images
World football rivals Germany and Italy will meet once again in a major international tournament semifinal on Thursday, as the two sides battle for a berth in the final of Euro 2012. 
The two countries played in one semifinal at the 2006 World Cup, where Italy defeated the Germans 2-0 with a pair of extra-time goals en route to their World Cup title over France just days later.
Let's look at the key matchups that will decide who plays Spain for the European championship.
Goalkeepers: Manuel Neuer (GER) vs. Gianluigi Buffon (ITA)
This match may come down to a penalty shootout, where two of the world's best goalkeepers would decide the outcome of the match.
Manuel Neuer is an athletic goalkeeper who can dive to both sides and keep out shots with his fantastic reflexes. His ability to put distance on his throws and kicks helps to ignite the German counterattack off corner kicks and other set pieces.
Buffon has the edge when it comes to experience. In addition to his great size, his positioning is fantastic, and his ability to save penalties is world-class.
In what promises to be a low-scoring game, the goalkeepers could make a profound impact on the outcome.
Attack vs. Defense: Mario Gomez (ST, GER) vs. Italian defense
Mario Gomez is one of the world's best goal scorers, and he has found the back of the net three times at Euro 2012, which is tied for the tournament lead.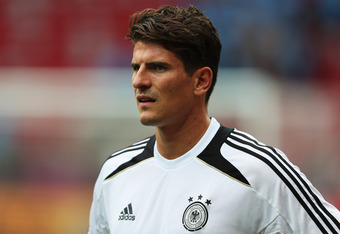 Joern Pollex/Getty Images
Gomez has impressive strength and will be a difficult striker for the Italian defense to stop. The German midfielders will look for Gomez early and often in this match, but the Italian defense cannot allow him to have an open shot on Buffon, as he will fire from any angle with accuracy and power. 
If Gomez has a great game in the German attack, it will be hard for Italy to advance to the final.
Midfielders: Andrea Pirlo (ITA) vs. Bastian Schweinsteiger/Sami Khedira (GER)
For Germany to win Thursday's match, they must stop Andrea Pirlo from dominating in the midfield. With impressive passing and a knack for scoring on set pieces, Pirlo is the playmaker that Germany must contain.
German midfielders Bastian Schweinsteiger and Sami Khedira will have to be strong defensively against Pirlo, or the Italian maestro will lead the Italian attack to victory.