Portugal vs. Spain: What La Roja Must Improve to Defend Title at Euro 2012
June 28, 2012

Alex Livesey/Getty Images
It took 120 minutes and penalty kicks, but Spain eventually overcame Portugal to earn a spot in the Euro 2012 championship match. While the performance was far from La Roja's best, they will be pleased just to have a chance at defending their title from four years ago.
In order to do that, they will need to raise their level of play significantly in the final. Either Germany or Italy will be the opponent, and both teams have been in good form, so a lackluster showing won't be enough for Spain to repeat as European champions.
Let's take a look at three things La Roja must do in order to win their third straight major tournament, having also won the 2010 World Cup.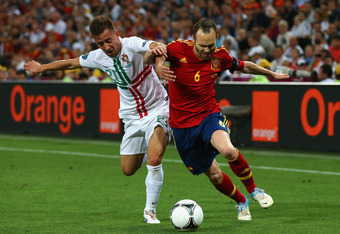 Martin Rose/Getty Images
Be More Aggressive
Even though Spain controlled possession like they usually do, they weren't able to generate enough chances from it until extra time. Portugal was already in a defensive shell by that point, making it nearly impossible to get a clean look at goal.
Showcasing more aggressiveness will be key on Sunday. The team's talented back line is more capable of handling any counterattacks that may arise, so La Roja should push an extra player or two forward with hopes of striking first.
Penalty kicks are exciting for fans, but a team doesn't want its title hopes depending on them. Spain hasn't allowed a goal since the group stage opener, so there's a good chance even a single goal would be enough to win it all.
Find Attacking Focal Point
Spain has no shortage of players capable of leading the offensive charge. Andres Iniesta, David Silva—the list goes on. But without David Villa atop the formation, La Roja has struggled to find a rhythm in the attacking third.
Somebody has to step up to fill that void. Whether it's the streaky Fernando Torres or shootout hero Cesc Fabregas, Spain needs a player that becomes the main target. It will help balance out the offense and allow everybody else to find their usual comfort zone.
Even though I would take a chance on Torres since he's a true striker and had a late-season resurgence for Chelsea, Fabregas seems like the more likely choice. Either way, Spain needs a sole focus up top to improve the attack.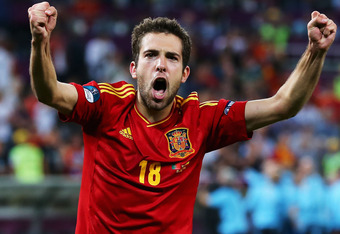 Martin Rose/Getty Images
Quicker Counterattacks
Through the first five games, Spain's defense has limited risk. After gaining possession, they have played it safe with a series of short, quick passes to start moving the ball in the other direction. It's what everyone has come to expect from the back line.
Sticking with the offensive theme, however, they should attempt a few more long outlet passes with hopes of generating a counterattack. It will lead to more turnovers, but it also improves their chances of getting on the scoreboard.
Spain manager Vicente del Bosque has been through enough high-pressure games to know his team's performance against Portugal wasn't good enough. These offensive-minded changes should improve their chances of winning another title.