NBA Draft 2012: Prospects Who Won't Flop as Much as Expected
June 28, 2012

Chris Graythen/Getty Images
With the NBA draft rapidly approaching, several players are destined for stardom, but there are another handful of players expected to be flops in the NBA as well.
However, some of these perceived flops could turn out better than many people think.
With that being said, here's a look at a few prospects that could turn out better than expected.
Jared Sullinger, Ohio State
Sullinger isn't a great athlete, and many, including myself, think he will struggle against longer and more athletic NBA defenders.
However, he will slide in the draft and could be very motivated to prove his doubters wrong. He won't likely be an All-Star, nor will he be the 17.3 point and 9.7 rebound player he was during his career at Ohio State.
But Sullinger has a very good post-game and understands how to produce. He will turn himself into a decent NBA power forward.
Kendall Marshall, North Carolina
Speaking of guys that know how to play the game, that brings me to Marshall.
He's not an athlete. He can't shoot the ball and doesn't commit to playing defense.
But Marshall is a pure point guard, and while some people don't view him as a starting point guard, he's a guy that makes his teammates better and will turn out to be a good NBA point guard.
Draymond Green, Michigan State
He's a guy without a real position, especially at the defensive end of the floor where he's way too small to guard NBA 4's and not quick enough to guard NBA 3's.
While Green isn't a player who does anything great, he is a guy that does everything well. He will have some issues entering the NBA, but I expect him to find a way to be productive.
Austin Rivers, Duke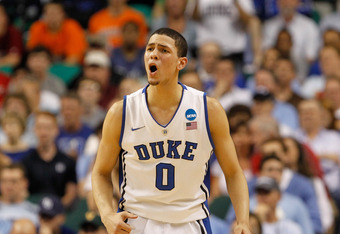 Streeter Lecka/Getty Images
What is Rivers?
He's not a point guard and he's not really an NBA 2-guard either. He takes poor care of the ball, doesn't have a consistent jumper, doesn't use his teammates well and doesn't play well without the ball.
I'm not as high on Rivers as most, but he's a natural scorer (15.5 PPG) with star power, and while I don't think he will become an NBA star, I can see him becoming a pretty good scorer in the league.
Tyler Zeller, North Carolina
Zeller has bust written all over him, but I don't believe that will be the case. He's another guy that I don't believe will be an All-Star but will turn out to be a decent NBA center.
He's athletic and has good leaping skills. In addition, he has very good footwork and fundamentals and has a soft touch around the rim, shooting 55 percent from the floor.
Zeller got better all four years at North Carolina and finished averaging 16.3 points and 9.6 rebounds. He won't be that good, but Zeller can make a good NBA career for himself.
Follow Matt Shetler on Twitter for news, reaction and analysis from around the NBA.