NFC South Morning Jog: Matt Ryan Snubbed from Top 100 List
June 28, 2012

Wesley Hitt/Getty Images
Each morning, I like to start the day off with a workout—usually a morning jog. I can clear my head, plan my day, and think about what's going on around the NFC South.
The Atlanta Journal-Constitution called Matt Ryan's omission from The Top 100: Players of 2012 list a snub.
Defensive assistant Mark Collins shares some thoughts on Atlanta's defense with the media at minicamp (via AJC).
The Charlotte Observer has more on Cam Newton's decision not to give up his No. 1 jersey to go back to his college No. 2.
Drew Brees was named the No. 2 player in the in the NFL, according to the NFL.com The Top 100: Players of 2012 list (video).
Jonathan Vilma said he'll file an injunction if Roger Goodell doesn't rescind Vilma's suspension, according to WWL TV.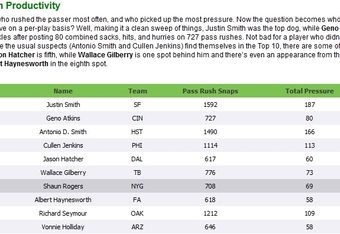 JoeBucsFan.com noted that two of the interior defensive linemen on the Buccaneers' roster were listed in a Pro Football Focus article on pass-rush productivity.
In a look at which Florida-based NFL team will fare the best in 2012, Sports Talk Florida listed Jacksonville, not Tampa Bay, as the potentially best team this season. I'm not ready to outright disagree, but I'm leaning that way right now.