Summer X Games 2012 Live Stream: Online Viewing Guide & More
June 28, 2012

Jeff Gross/Getty Images
The Summer X Games are the adrenaline junkie's dream. No other sport combines death-defying stunts, speed and talent like extreme sports' ultimate event.
This year's games will be no different. Familiar names will compete for medals in their respective events, while some athletes (Bucky Lasek) will cross over into unfamiliar waters. Household names create intrigue in any event, but the obscurity of most of these events relies upon it.
In case you can't get to your television, let's take a look at which events you can watch via the Internet.
*All viewing information can be found on espn.com.
Every one of these events can be found on ESPN3.com, or on the Watch ESPN app.
 

Thursday, June 28

TIME (ET)


               EVENT
9:00 - 11:00 PM
 

               Skateboard Big Air


 

               Moto X Freestyle
Friday, June 29
TIME (ET)


EVENT
4:00 PM
 
Women's Skateboard Street
6:00 PM
 
BMX Street
9:00 PM - 12:00 AM
 

Skateboard Big Air




Moto X Best Whip




Moto X Step Up




Moto X Best Trick
Saturday, June 30
TIME (ET)


EVENT
3:00 - 5:00 PM
 

Skateboard Game of Sk8




Men's Skateboard Park
8:00 PM
 
Women's Moto X Racing
8:30 PM
 
BMX Vert
9:00 PM - 12:00 AM
 

Women's Moto X Racing




Moto X Speed and Style




Skateboard Vert
Sunday, July 1
TIME (ET)


EVENT
3:00 - 5:00 PM
 

RallyCross




Men's Skateboard Street
5:00 - 7:00 PM
 

RallyCross




Men's Skateboard Street
9:00 PM - 12:00 AM
 

Skateboard Real Street




BMX Big Air




Men's and Women's Moto X Enduro X
Now that you know where to watch, let's look at a specific event to pay attention too as well as an athlete to keep an eye on.
Event to Watch: Moto X Best Trick
This event is must-watch TV because of the amazing stunts achieved by these athletes. You can bet we will see some breathtaking tricks this year.
One reason you can bank on that is Kyle Loza, a three-time gold medalist. He's the only rider to ever win the competition more than once, and he is the hands-down favorite this year as well.
Loza is incredibly creative. He's not afraid to take a risk and his consistency is unmatched. Watching him attack each jump with ruthless precision is a treat all by itself.
Thomas Pages, Cameron Sinclair and Jackson Strong are also solid performers, but they aren't up to Loza's caliber. They round out a solid field of athletes who will do their best to land this year's best trick.
People watch the X Games for events like this. These stunts can't be found anywhere else.
The Moto X Best Trick competition is the "granddaddy of them all."
Athlete to Watch: Bucky Lasek
Lasek has won six gold medals as a skateboarder at the X Games, but now he will try his hand in a different event. He will compete in the RallyCross event.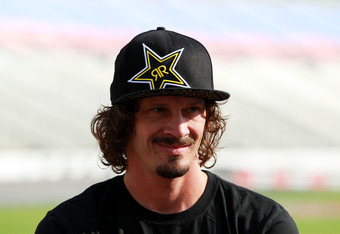 Ronald Martinez/Getty Images
Lasek joins Travis Pastrana as another crossover athlete in this year's event. He's always been exciting to watch on a skateboard, and it won't be any different in a car. He's an X Games veteran who knows what it takes to deliver big performances on a major stage.
He will compete against the likes of Brian Deegan (10 career XG medals) and Top Gun personality Tanner Foust. He will also deal with Pastrana as they fight for their reputation across the extreme sports' spectrum.
Personally, I always enjoy RallyCross. Lasek's presence makes it more exciting. If he performs in his car like he did on his skateboard in 2003 (also in Los Angeles), we will be in for a treat.