Spain vs. Portugal: 10 Things We Learned from Euro 2012 Semifinal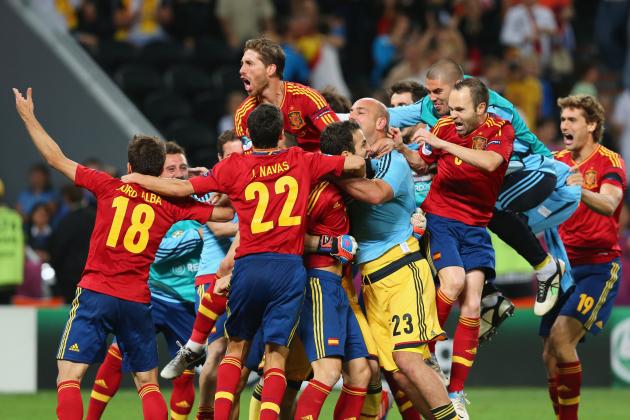 Martin Rose/Getty Images

Just as Andrea Pirlo's Panenka penalty for Italy shook English hearts, so too did Sergio Ramos' equally exquisite effort lead to Bruno Alves' missed penalty against Spain.
Step up Cesc Fabregas, who smacks in Spain's final penalty off Rui Patricio's post.
All this after 120 minutes of tentative but flowing football.
In a match of interesting contradictions, Wednesday night's Euro 2012 semifinal between Spain and Portugal served up some scrumptious counterattacking football, but yielded a combined total of just seven shots on target.
Spain march (or stutter) on to their third successive international final at the expense of Portugal, but what were the underlying storylines?
Here are 10 things we learned from the Spain-Portugal semifinal—and, as usual, feel free to have your say in the comments below.
Begin Slideshow

»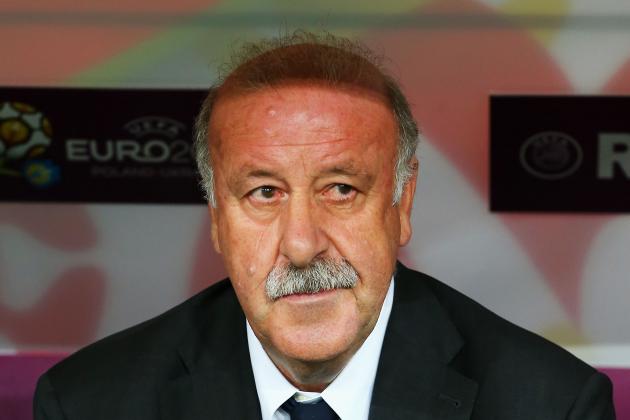 Martin Rose/Getty Images

After 20-odd matches without a single goalless draw, we have now witnessed two in rapid succession.
Portugal managed to match Spain for good measure for a majority of the game and even threatened to win it at certain points. While Spain finally switched on during extra time, the fact remains that they enter the Euro 2012 final unconvincingly.
With Cesc Fabregas' substitution for Alvaro Negredo around the hour mark, Vicente Del Bosque reverted to the 4-6-0 formation that he implemented at the start of the tournament.
The result hasn't been a scintillating Spain that we've been used to seeing.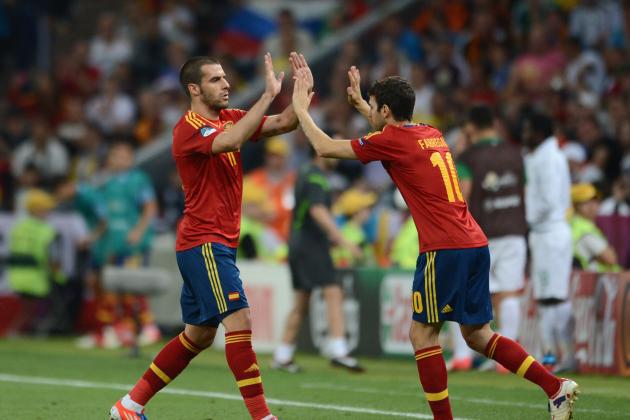 Jasper Juinen/Getty Images

No, really, what was Alvaro Negredo's selection all about?
If Vicente Del Bosque wanted to switch things around by playing a tall, physical striker capable of holding up the ball and scoring goals, surely the better option would have been Fernando Llorente.
That Del Bosque opted to take Negredo off for his favored "false nine" said plenty about his failed experiment.
And he only introduced Pedro Rodriguez and Jesus Navas, Spain's two out-and-out wingers capable of setting up Negredo, after Fabregas came on.
Baffling, to say the least.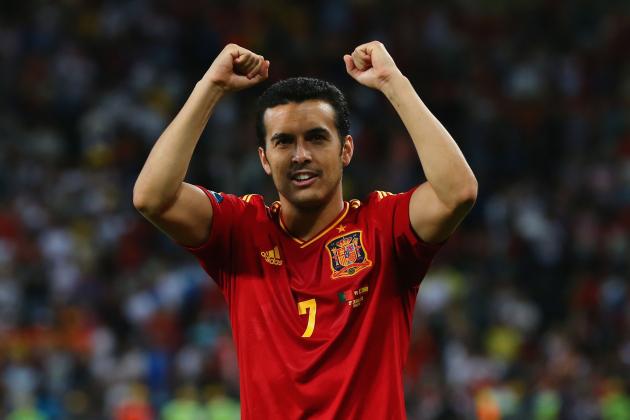 Martin Rose/Getty Images

To Del Bosque's credit, Pedro and Navas' introductions helped turn the game in Spain's favor.
Before then, Spain's central-looking attacking midfielders were constantly harassed by Portugal's excellent midfield trio (more on them later) and saw Portugal's wingers apply some excellent pressure on the counterattack.
Pedro and Navas' pace and direct running—Pedro in particular—caused plenty of problems for a tired Portuguese defence and helped turn the heat back onto Paulo Bento's side.
Perhaps 4-3-3 should become Spain's first-choice formation.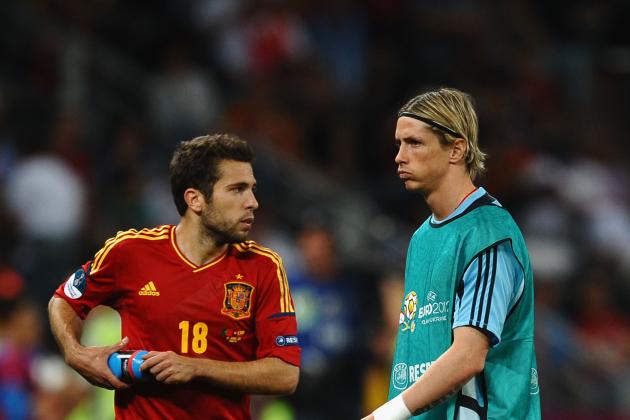 Laurence Griffiths/Getty Images

So, for all the previous reasons, some of which have manifested throughout this tournament, Spain have shown themselves to be quite mortal after all.
They showed some initial self-doubt with unsure passing for long periods in the game, unconfident defending from Gerard Pique and Sergio Ramos, and the rarely seen long-ball tactic to Negredo.
It doesn't help that Carles Puyol, their central defensive rock, and that the famous David Villa-Fernando Torres strike partnership haven't turned up, for injury and out-of-form reasons.
Del Bosque's seeming reluctance to change an at-times ineffective system also adds to their mortality factor.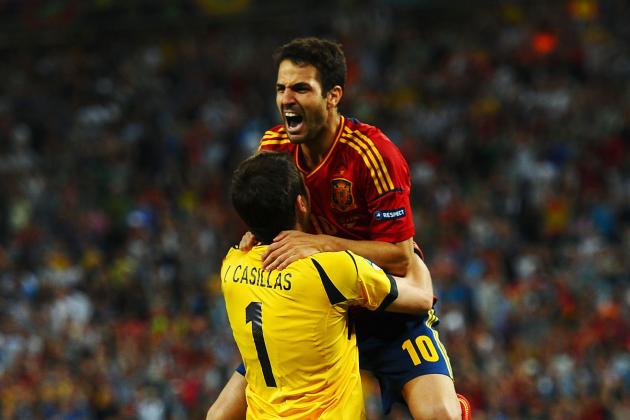 Laurence Griffiths/Getty Images

But, when all's said and done, Spain find themselves in a third consecutive international final as world and European champions.
They're there again because they're good. Pretty darn good.
And, just like true champions, they have mastered the art of winning games without playing to their maximum level.
Some observers might favor Germany or Italy in Sunday's final, but we all know Spain will always be around.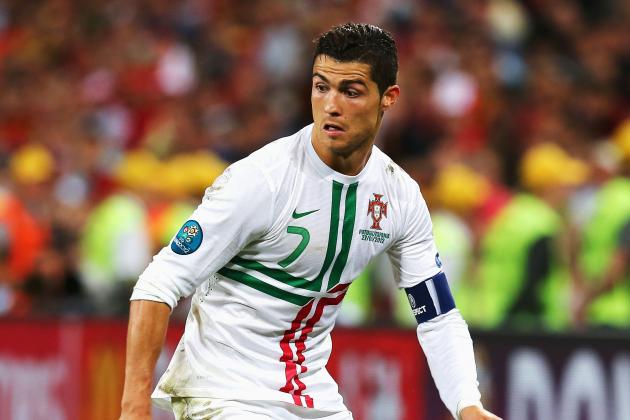 Martin Rose/Getty Images

For a good while on Wednesday night, Portugal threatened to make the breakthrough.
Cristiano Ronaldo had his chances, especially in the dying minutes of the regulation 90 minutes, to take Portugal into the final.
And until the team started showing signs of fatigue—inevitable after spending high levels of energy relentlessly tracking their counterparts—Portugal acquitted themselves quite well and were able to replicate the impressive performances they'd put on in the earlier stages.
The pre-match hype was all about how Portugal would play their game against Spain, and for a while they took their game to Spain.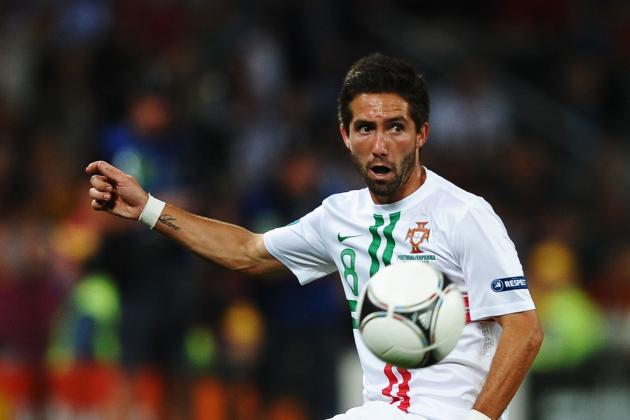 Laurence Griffiths/Getty Images

Their midfield trio, especially, deserved massive credit.
Joao Moutinho, Raul Meireles and Miguel Veloso all had outstanding games for Portugal in the middle of the park, with Moutinho and Meireles impressing in passing and finding little pockets of space to move into, and Veloso helping shield the yellow-card-prone back four.
Their constant harassing of their Spanish counterparts ensured that Spain finished the game with just 57 percent possession, a notch down from their Euro 2012 record so far.
They linked well with their wingers in Cristiano Ronaldo and Nani, who caused endless problems to the Spanish defence.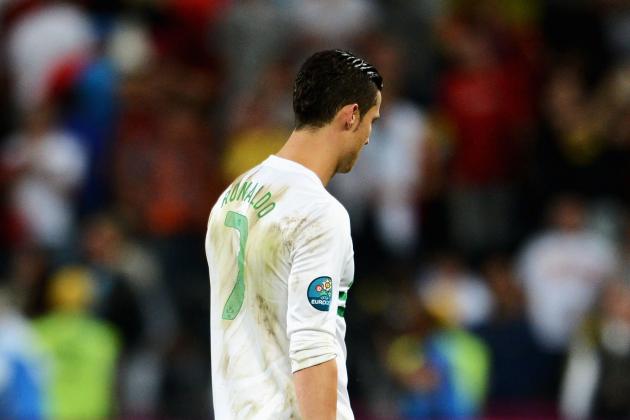 Jasper Juinen/Getty Images

The postgame reaction has understandably been focused on Cristiano Ronaldo.
Why he couldn't finish his last-gasp chance, why he didn't hit a single free kick on target this summer and why he didn't take a penalty for Portugal in the shootout.
And, of course, his last-gasp fluff was met with chants of "Messi, Messi" from a small section of the Spanish crowd.
While Portugal are a talented team, they still look to Ronaldo for moments of inspiration, and in the games leading up to the semifinal, he provided them.
Toward the end of the 90 minutes, when his colleagues started to tire, it became a Portugal team that Ronaldo had to carry on his shoulders.
Perhaps the pressure got to him. Understandably so.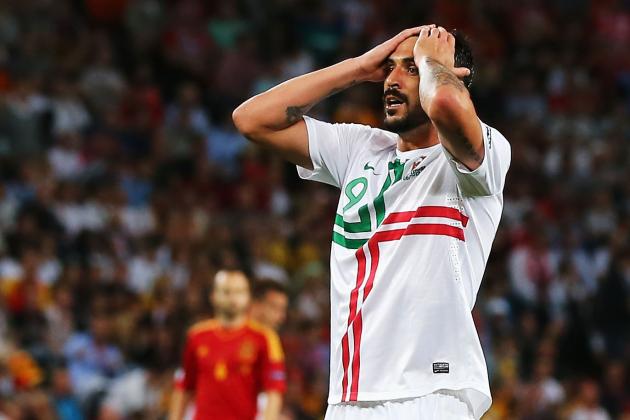 Martin Rose/Getty Images

One of the reasons that Portugal's attack seemed toothless against Spain, and indeed that Ronaldo appeared to be carrying his team, was that Hugo Almeida proved to be a less-than-adequate replacement for Helder Postiga in the lone striker role.
That's not saying, of course, that Postiga himself would have done a much better job leading the line.
The simple truth is that Portugal are one top-class striker away from having a truly world-beating team.
If not for Almedia's profligacy and lack of potency up front, Portugal might actually have beaten Spain, instead of just threatening to.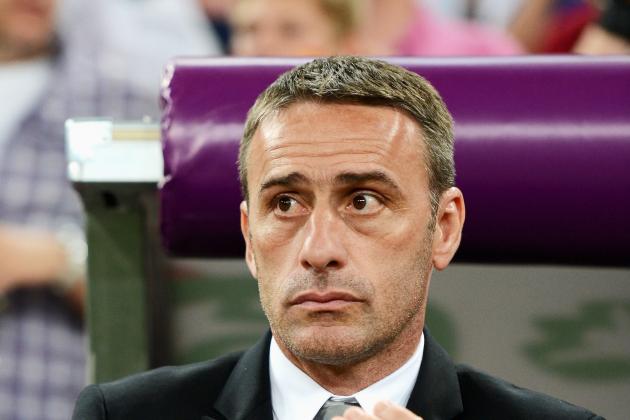 Jasper Juinen/Getty Images

But one thing's for certain: Portugal have a bright future with Paulo Bento in charge.
Since succeeding Carlos Queiroz in the hot seat, Bento has found a way to make his talented midfield charges work together, in particular freeing Cristiano Ronaldo to take up a left-sided free-roaming role in the attack.
A far cry from Queiroz's underwhelming team, this team has made a positive impression on Euro 2012 and, with a bright young coach in charge, look to be a force on the international stage for years to come.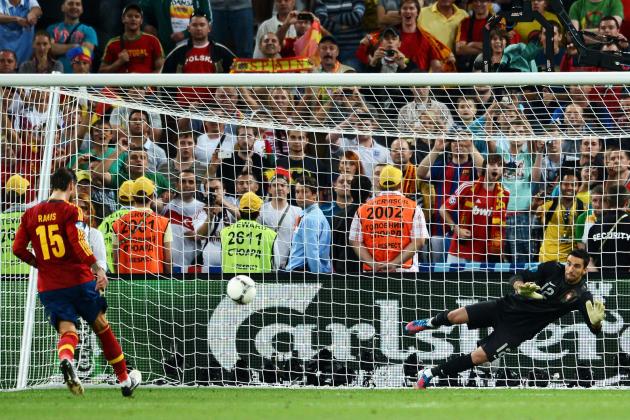 Jasper Juinen/Getty Images

What else did you learn from Spain vs. Portugal?
How do you see Portugal's future? Do you see Spain winning the tournament outright on Sunday?
Let us know in the comments below.
For more Euro 2012 and English Premier League coverage, check out my Bleacher Report writer's profile. For Liverpool opinions and match reactions, check out and subscribe to The Red Armchair.