NBA Draft 2012: 3 Scorers Memphis Grizzlies Should Consider Picking
Stephen Dunn/Getty Images
The Memphis Grizzlies need to find a scorer in the 2012 NBA draft. With O.J. Mayo likely to leave during free agency, the Grizzlies may be at a loss for bench scoring.
In the 2011-12 season, the Grizzlies relied upon Mayo to produce scoring off the bench. The current options for next season don't look very promising. Josh Selby might become a good scorer, but the team still needs to see what he does in the offseason.
Quincy Pondexter can't be counted upon to score in double figures game after game.
With that said, the Grizzlies will have to look to the draft to see who they may acquire to fill the void. Following are a few players who could be up to the challenge.
Tony Wroten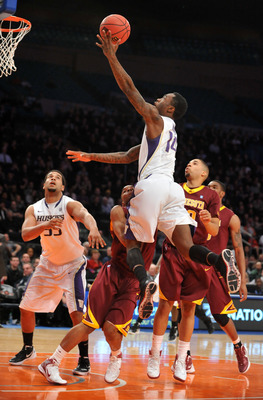 Jason Szenes/Getty Images
Tony Wroten is a potent scorer who showed a great deal of flash in his year at Washington. He's a fine slasher to the hole and can dribble well.
His ability to score is apparent when looking at his 16 points per game last season.
He does struggle shooting from the outside. Three-point land is not an area from which Wroten can shoot.
Also, he turns it over a ton. He committed 3.8 turnovers per game.
Wroten seems like a project. If he becomes a star scorer, it could take him a few years to scratch that potential.
Having said that, the Grizzlies seem to be looking for someone who can be a significant scorer immediately, and Wroten won't be able to be relevant for a few years.
Evan Fournier
Evan Fournier is a starlet scorer. He can control the ball, pass and score. He can drive to the basket and knock down three-pointers.
Granted, his shot selection leaves something to be desired. Still, that's something that can be overcome.
Fourneir has the size to be a strong NBA player, standing 6'7" and weighing 204 pounds.
He's developing quite well, going from six points per game in his first year in the French first division to 14.4 points per game in his second year.
He should be able to transition well to the NBA. He'll build up his shooting ability to score consistently.
Some Grizzlies fans may wonder whether he'd be able to play in the NBA immediately, since he has one year left on his contract with Poitiers, his French team. Grizzlies officials rebuffed such questions, telling The Commercial Appeal that the buyout wouldn't be too big a hurdle to overcome.
Andrew Nicholson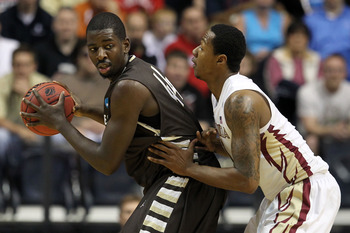 Jamie Squire/Getty Images
The Grizzlies could keep their scope narrowed on backcourt scorers. However, with uncertainty about whether Marreese Speights will re-sign with the Grizzlies and the need to give Marc Gasol a little more rest than last year, GM Chris Wallace could look at a big man to produce.
One possibility is Andrew Nicholson, who was an all-around threat for St. Bonaventure for four years. Nicholson can score both inside and out. He showed an ability to hit three-pointers, knocking down 43.4 percent from three-point range.
He excelled at hitting jump shots and did a good job scoring from inside 15 feet.
Also, Nicholson is a strong above-the-rim player, despite not being as thickly built as other big men in the draft. He runs ahead in transition and puts down electric dunks.
That transition game would make him a good fit for the Grizzlies' fast-break attack.
Keep Reading

Memphis Grizzlies: Like this team?