Euro 2012 Semifinals: Mesut Ozil and Studs Who Will Push Germany Past Italy
June 28, 2012

Michael Steele/Getty Images
With Spain waiting in the Euro 2012 finals, Germany has to be chomping at the bit to advance as well and get another shot at the defending champions.
The Germans fell short in the finals against La Roja back in 2008, but are now as dangerous as ever. In order to earn a chance at redemption, however, they must first get past a pesky Italian squad in the semifinals.
Italy has been a tough nut to crack during this tournament, as it has played superb defense and been opportunistic on offense.
Die Mannschaft is among the most talented all-round teams in the world, though, and that much has been evident throughout Euro 2012. Most believe that Germany deserves to be in the final, but it is all a matter of the team getting the job done on Thursday.
Here are three star players that will come up big against Italy in the semifinals and lead Germany back to the final of the European Championships for the second straight time.
Mesut Ozil
Germany is a team with so much firepower that it's almost unfair to single a player out as being more important than the others, but midfielder Mesut Ozil is the guy who essentially makes everything click out on the pitch.
Ozil hasn't scored during Euro 2012, but he has three assists in the tournament and was absolutely fantastic against Greece. He set up two goals during that match and was constantly a threat as he made dangerous runs into the final third and put his teammates in a position to score.
The Germans have a lot of finishers, and while Ozil may not necessarily have that label, he knows how find his teammates in scoring areas.
Much like Portugal did against Spain on Wednesday, Italy figures to attempt to slow down the pace of the game and perhaps get it to penalty kicks. If Ozil plays his usual game, maintains his pace and continues to find his teammates, though, Italy will be in trouble.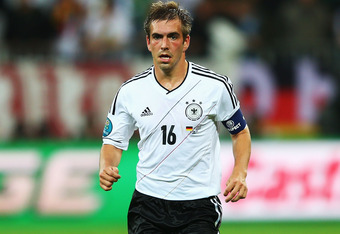 Michael Steele/Getty Images
Philipp Lahm became the first defender to score in consecutive European Championships when he netted a goal for Germany against Greece, and while he is certainly adept offensively, his defense will be of greater importance to the Germans.
Lahm has developed into one of the premier defenders in the world and that form will need to be evident on Thursday. The Italians may not show a ton of offensive push, but with players like Mario Balotelli and Andrea Pirlo up top, Germany has to be wary.
Lahm isn't a player with the same flash as Ozil, and his contributions aren't often going to be seen on the stat sheet, but there is no question that he means a ton to the team.
Germany would obviously love to be able to score, but playing sound, solid defense means even more. Lahm is as steady as they come, and I expect him to stand tall against Italy and thwart plenty of potential scoring opportunities.
Mario Gomez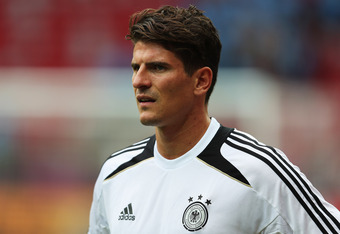 Joern Pollex/Getty Images
There is no shortage of players on the German roster capable of putting the ball in the back of the net, but striker Mario Gomez has been the player charged with doing it most often thus far.
Gomez has three goals as well as a helper during Euro 2012 and he has been the main focus of every opponent. The Bayern Munich forward hasn't scored since he grabbed the lone goal against Portugal and racked up two against the Netherlands, but he has been dangerous in every contest.
I highly doubt Germany wants to risk going to penalty kicks, especially after the way Italy beat England, so I expect the Germans to push very hard throughout the match in an effort to get on the scoreboard at least once.
Gomez doesn't necessarily have to be the guy to score, but if I had to put my money on one guy to do it, it would be him. He is extremely explosive and has great touch around the net, so if he gets into a high-percentage spot, the Italians will be in trouble.
Follow @MikeChiari on Twitter