NBA Draft 2012: 5 Prospects Who Provide the Greatest Draft Day Value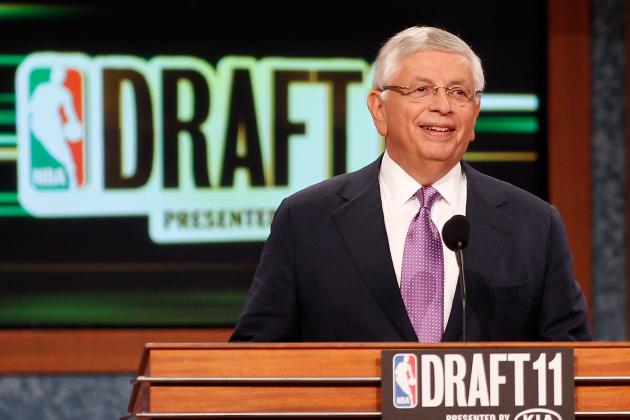 Mike Stobe/Getty Images

There's a difference between talent and value. There are plenty of the players at the top of this draft that have the potential to have very productive careers in the NBA. Every draft, however, contains hidden gems that can be had outside the top three, the lottery, or even the first round.
There will always be players that slip through the cracks in the evaluation process. It seems that injury or character concerns can disguise talent and cause top tier talent to free fall down draft boards.
GM's for teams without top picks make their living determining which player left on the board will return the greatest "value". With that said, here are five players (in order from lowest projected draft position to highest) that are a bargain at where they are being taken.
Begin Slideshow

»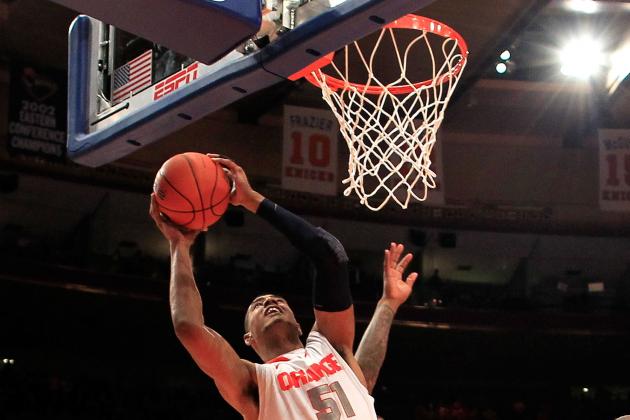 Chris Trotman/Getty Images

True centers are hard to find in the NBA and they are a very valuable commodity. Although Fab Melo is still very raw, especially offensively, he has the potential to be a solid player down the road.
Melo is a seven-footer that can protect the paint. He is excellent defensively this season at Syracuse, and was the anchor of their zone defense. He has serious skill as both a one on one post defender and as a rim protector/shot-blocker.
His skill as a defender may not be apparent right away, but over time it should translate to the pros. If Melo can establish himself as a big, bulky, and relatively athletic defensive presence in the league, he's a valuable asset right off the bat.
Melo is extremely raw offensively and has almost no moves down low. He's going to need a lot of work to develop anything substantive, but given time he might come around. Even if he doesn't, he's still an athlete, and he's still a defensive stud.
Melo's substantial improvement between his freshman and sophomore year indicates that he still has a lot of room to grow. Between his improvement, his measurements, and the way he's been able to keep his weight under control recently, he has a bright NBA future ahead of him.
Right now, Melo's stock is somewhere in the early to mid 20's, but given his gifts it seems like he deserves to be getting looks in the late lottery to mid first round.
Jonathan Daniel/Getty Images

Royce White is one of the most intriguing players in this year's draft. He is also one of the most polarizing. He has an extremely unique set of skills unlike what scouts have seen in the past years.
It's hard to say where he projects at the next level, but he does a lot of skills. He's an extremely physical player, and he's a great athlete. For his size, he's as athletic as they come. He's a good rebounder, and it looks like he can fit at either forward position.
He's strong enough to bang down low, but he's quick enough and skilled enough to play at small forward. If he develops a reliable jump shot he could be the complete package.
Not only can he play either forward position, but he can play a point forward type role as well. He can be a secondary ball-handler if necessary and he's very good at it. His quickness and excellent court vision will probably allow him to bring the ball up the floor in the NBA, situation permitting.
Obviously, White has some off the court issues. He's been in trouble in the past, and he has a well publicized anxiety disorder that makes it hard for him to fly. With that said, he impressed teams at the combine in interviews and the buzz around his off the court issues has died down some.
The concern is there, but so is the talent. White has lottery caliber skills, there's no question about it. Without these off the court issues, he is a sure fire candidate for a pick in the top half of the draft. With these issues however, it's likely he slips into the early 20's. Some team at the end of the lottery should roll the dice on White, teams will regret passing on him someday.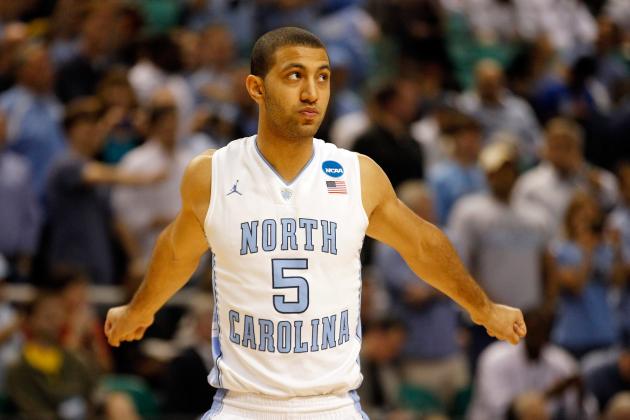 Streeter Lecka/Getty Images

Marshall's game is pretty black and white. He's one of the best passers in the game that is excellent in the full-court game. He's not extremely athletic which has hurt his stock quite a bit leading up to the draft. Scouts worry that he can't defend his position, which may ultimately be his downfall.
On the flip side, Marshall is big for his position, and may be able to overpower other players at his position. He's not a terrible shooter either, and has potential to improve.
Regardless of his lack of explosiveness, Marshall has a rare basketball IQ. He averaged a ridiculous 9.8 assists per game, good for second in the nation, and was an impressive passer all season.
If you need further convincing of Marshall's merits, look to North Carolina's performance in the NCAA tournament this season. Their offense struggled mightily throughout their run and Harrison Barnes couldn't create his own shot without Marshall.
Sometimes it's about more than foot speed. Put an elite rim protector behind Marshall and allow him to run the fast break. This is a guy that really knows how to run a basketball team, and can control the flow either as the starter or off the bench.
There have been whispers about Marshall going somewhere in the lottery, but it's more likely he slips into the late teens or even into the early 20's. Depending on who ends up with all Houston's picks, Marshall should go somewhere in the middle of the first round. He should have a long, and moderately successful NBA career.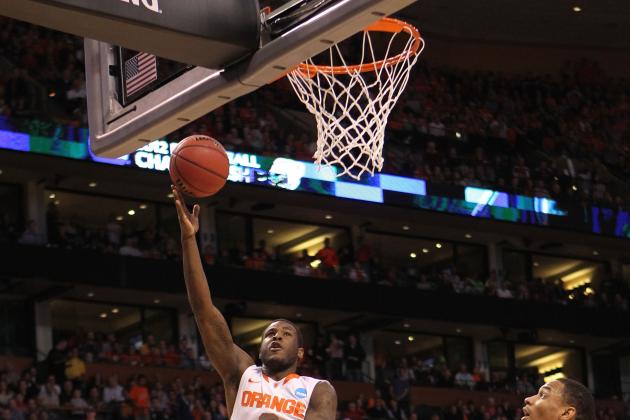 Jim Rogash/Getty Images

It's not so much as where he's being projected as much as how he's being talked about tier-wise. Most NBA personnel have come to a consensus about the top five talents in the draft—Davis, Beal, MKG, Robinson, Barnes—however, Waiters should be considered right there with them. It should be a top six.
He's an extremely quick and explosive guard that can really get to the rim and score. Some have called him a poor man's Dwayne Wade. That's pretty high praise, but his electrifying skill set is definitely intriguing.
His two-year career at Syracuse was up and down, and while he clashed with coach Jim Boeheim quite a bit during the course of his freshman year, he matured significantly last season.
Although he was only a sixth man for the Orange, he was probably the team's best scorer and perimeter defender. Waiters can get to the basket at will, and is developing a pretty solid jump shot as well. He's extremely strong for his size and can overpower other guards.
Essentially, Waiters is everything you could want in a scorer.
Not only is Waiters an elite scoring guard off the ball, but he's such a good ball handler he could play a little point guard if necessary. He's excellent offensively and defensively, he's lighting quick, and he has great isolation moves. It's hard to see how Waiters misses in the NBA.
Waiters' draft range is completely up in the air. Odds are he received a promise a few weeks ago as he shut down all workouts, but no one knows for sure who made it. This has made his value extremely hard to gauge. He'll probably go somewhere in the second half of the lottery. He should be drafted at either sixth or seventh overall based on talent.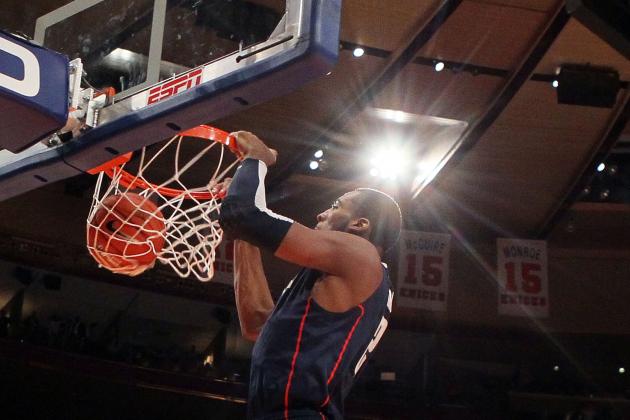 Jim McIsaac/Getty Images

The sky is the limit for Andre Drummond. Based on potential, he should be the No. 2 pick in the draft. No big man in the league except Dwight Howard can match him physically and athletically, but there are a few things holding back his stock.
Between his lack of production at the college level and his inconsistent work ethic, scouts are nervous to take Drummond in fear that he won't reach his full potential. Given the right system, Drummond could become virtually unstoppable.
Uconn was a dysfunctional team this season, and it wasn't a good environment for a big man to develop. In the NBA he'll receive much more attention and achieve at a higher level.
Drummond is a mammoth of a man with a huge wingspan and a strong body. He can run the floor very well, and get jump well for a big man. He has all the physical tools, it's just a matter of whether or not he'll use them.
Drummond has already shown potential as a rebounder and shot blocker, but his offense has taken a little longer to come through. He still struggles to maneuver in the post, and it's something he'll need to continue to work at in the NBA.
In the end, Drummond has the second highest ceiling of any player in this draft. Some teams aren't willing to take that risk with such dismal rosters, but the team that does take him could be getting a future superstar.
At this point, his range starts at No. 5 and probably ends at No. 9 in the worst case scenario. I believe it would be a huge mistake for the Blazers to pass on him at No. 6. When there's a player this talented on the table outside the top five, the team that takes advantage could end up as the winner of this draft.