6 Crazy Innovations That Would Get More People into NFL Stadiums
June 28, 2012

Christian Petersen/Getty Images
For the past five years, attendance has steadily dropped off at NFL stadiums while television ratings have skyrocketed. The falling attendance at games has become a $60 million problem for the NFL, and it only seems to be getting worse.
Consider that the average general admission price for a single person to attend an NFL game is $77 for general seating. Add in parking, food, and beverages, and the average family is looking at $400 or more to attend a single game.
For the same price, the same family can purchase a decent HD television and watch the game in the comfort of their homes. There's no travel time, no marked-up concessions, and no drunk, obnoxious strangers to worry about.
There's always something to be said about the atmosphere of the stadium on game day. Nothing can quite compare to the feeling of being in the middle of the action and cheering a team on with tens of thousands of others.
If you can afford it.                            
The average family doesn't have hundreds of dollars to spend on an afternoon or evening of entertainment. If attending the game is prohibitively costly, what's not to like better about the at-home experience?
One way that the NFL can encourage better attendance at games is by making the experience something that fans cannot easily replicate at home.
By creating an atmosphere that leaves fans feeling like they are getting something more special for their money than a somewhat uncomfortable seat in a crowded section, the NFL could build a reputation that makes fans more interested in attending games.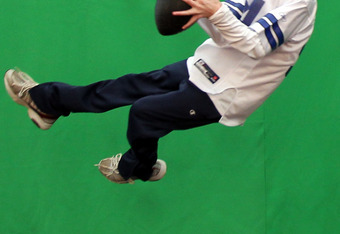 Andy Lyons/Getty Images
Some stadiums have made efforts to do just that. The new stadium in Dallas came complete with not one, but two of the world's largest LED TVs. The NFL has committed to bringing high-speed Internet to every stadium in order to encourage fans to incorporate their gadgets and gizmos into their experience at the stadium.
Token efforts such as these won't bring the fans in droves, though. A complete overhaul of the whole atmosphere is in order to bring the NFL back in touch with what fans want.
Here are some crazy ideas and innovations—some obviously more realistic and doable than others—that might be appealing enough to draw fans out to attend games.
Last-Minute Ticket Clubs
There's nothing worse than an empty seat on game day, and last-minute ticket clubs have been embraced by hockey clubs across the United States and Canada to help make sure the arenas are as full as possible.
The clubs are run through the official team websites, where fans give out their names and email addresses to be contacted. This is incredibly beneficial to both fans and the team.
Fans gain access to tickets at a discount if they're willing to wait until just before the game to buy. They are reminded of games by timely emails.
The team reaps the benefit of increased parking revenue and concession and souvenir sales. They also gain contact information that can be used to get in touch with interested customers for additional marketing and sales.
Implementing these clubs in struggling markets could draw local fans out to games that they would not otherwise attend.
Self-Serve Soda Fountains, Popcorn Flavoring Stations, and Other Innovative Concessions
There's nothing quite like stadium food. It's part of the experience, and for many sports fans it's a must-have even though there's no hiding how inferior the product is. Paying $6 for a limp hot dog in a soggy bun loses its charm quickly, though.
Spicing up concession sales and offerings could take the sting out of the gross mark-ups that are charged for everything.
Take, for example, the new soda dispensers popping up in restaurants across the country. Forget long lines at stadium vendors for something as simple as a soda—shift those patrons over to an automated system that is interesting and reduces long lines.
Imagine a setup where a machine accepts credit cards and cash, and dispenses cups with barcodes that are programmed with an exact number of optional prepaid refills.
Next to the dispenser, a bank of soda dispensers with built-in barcode readers would dole out the appropriate serving of the drink of your choice.
Drinks would still be available the traditional way, of course, but the "cool" factor would be an appealing draw, especially during intermissions when lines are long.
That shift towards making concessions interesting and more special can be applied to food, too.
Many movie theaters now feature popcorn flavoring stations featuring do-it-yourself butter and a ridiculous number of seasoning options. Why aren't football stadiums spicing things up in similar ways?
In-Seat Earphone Jacks
How many football fans bring portable radios to listen to the game so they have a more complete idea of what is going on?
Why aren't stadiums making it easier for them?
Implement in-seat earphone jacks that are automatically tuned to the local game-day broadcast so fans need only to plug in their headphones to enhance their experience.
Interactive Touch Screens
Airlines have implemented interactive touch entertainment systems into seatbacks. Why aren't football stadiums doing the same in select seats?
There's all kinds of content that could be displayed. A television broadcast of the game would be amazing, especially to fans in the upper tiers. Keep the commercials as an added bonus. Real-time weather information at the stadium could be cool, and so could updated traffic information at the end of the game.
Take it a step further and link the system into a stadium-wide system. Let customers order concessions similar to the way they can from their cell phones. Throw up a fan shop to let fans impulse-buy merchandise that they can pick up in the fan store.
For a small fee, a selection of children's shows could even be provided to keep small children entertained while their parents watch the game.
There are infinite ways to please fans from the comfort of their own seats that could be a financial windfall for the innovative stadium to implement them.
Babysitting Services
Speaking of small children, sometimes it seems that there is no right choice between leaving them at home with a babysitter or dragging them to a game that they don't have the attention span to sit through.
Dedicating part of new stadiums to children's play zones that are designed to keep kids safe and occupied during game time for a reasonable fee would be a great way to encourage parents to bring the whole family.
Enhanced Stadium Apps
If there was an interactive stadium tour available for your smart phone, would it make your game-day experience better?
How about a social networking platform available exclusively to people connected to the stadium's network?
What if you could even summon someone to help enforce the fan code of conduct with just a few clicks? Drunk fans may not be happy with the last one, but the wider audience could find it useful.
If stadiums could provide exclusive and interactive or site-specific content through smart phone apps, it would be a way to connect with fans and make the expense seem more personalized and special.
Regardless of whether these or other ideas are implemented, the NFL needs to find better ways to incentivize attendance for a wider audience than the wealthy and upper middle-class.
Without some serious thought and open-mindedness in redesigning the entire fan experience, the NFL may find that their attendance numbers continue to drop as fans decide that their money is much better spent on a nice new HD TV that they can use to watch the season in comfort at home.