Dwight Howard Has Become the Brett Favre of the NBA
June 28, 2012
Chris Trotman/Getty Images
Dwight Howard's waffling regarding his future is beginning to rival former Green Bay Packers quarterback Brett Favre's waffling regarding retirement. With another time period hot for NBA trades and rumors, Howard's name is once again dominating headlines. After re-signing with the Orlando Magic right before the 2012 trade deadline instead of being traded, Howard has gone back on his commitment to Orlando and is looking elsewhere. 
The latest rumor, according to ESPN's Marc Stein, has the Houston Rockets fueling their ships in order to make a proposal that Orlando simply can't refuse. The Rockets acquired the 12th pick in the draft and added pieces from Milwaukee, including Shaun Livingston, Jon Leuer and John Brockman. 
Whether the trade happens or not, it's time for the Magic to make a move and get rid of Dwight Howard. This constant back-and-forth has paralyzed the franchise and has seen a competitive team fall to the point where a complete overhaul of the Magic's front office personnel was inevitable.
In March, Howard declared his loyalty to the Magic and his desire to stay: 
"I'm glad this is finally over... It's not as easy as some people think. It's been very hard. We're talking a career-changing event. Most people don't see that. I'm very loyal and I've always put loyalty above anything."
Apparently, that loyalty has disappeared, as Howard is ready to return to the court following back surgery while donning a different jersey than his Magic No. 12. It might have been Howard's plan all along to avoid the suitors who pursued him before the trade deadline. Now that more time has passed, perhaps different options for Howard have to come to fruition. Or maybe Howard is a 26-year-old who simply can't make a decision on a "career-changing event."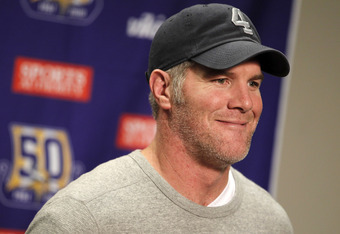 Gregory Shamus/Getty Images
The ever-frustrating Howard's indecision is similar to that of Brett Favre during the last few years of his NFL career. Whether to retire or not was the question of the hour as soon as the season ended for the last five seasons Favre spent with the Packers. Players such as these are stealing the attention from more deserving individuals by dominating headlines with their constant back-and-forth. 
Tonight, 60 players are going to watch their dreams come true when they are drafted by an NBA franchise. Each player has their own specific journey that has brought them to this point. These players should be highlighted and spotlighted because it truly is there big moment. Many of these players will be out of the league in the next few years, but they will always have the moment of being drafted.
The attention Howard has warranted for his indecisiveness regarding his future has gone on long enough, and the time has come for Orlando to pull the trigger if Howard won't commit further.
While many criticized LeBron James for "The Decision" and his attention grabbing during his free agency, what Howard is doing is much worse and destructive. Otis Smith, former Magic president of basketball operations, and Stan Van Gundy, former Magic head coach, lost their jobs due to the instability that was mostly created by Howard.
Today brings a great chance for the Magic to rid themselves of the Howard dilemma and finally move on. At the same time, it also brings another chance for Howard to change his mind yet again.