New York Jets: Why Mark Sanchez Will Be a Huge Fantasy Stud in 2012
June 28, 2012

Jeff Zelevansky/Getty Images
The 2012 season is almost here, and that means one thing for fans: fantasy football.
Every year there are fantasy studs and duds. If you want a fantasy stud, look no further than Mark Sanchez.
In the 2011 season, Mark Sanchez scored 227 total points on ESPN's fantasy leagues, not too shabby for a player considered to be in the bottom tier of starting quarterbacks going into the 2012 season.
Many reasons point to him breaking out in 2012, and with Sanchez not ranked as an early pick, this can be a great steal for many fantasy owners.
Improvement Every Year
Sanchez is the player who has been steadily improving year after year, one of the key reasons why he will breakout this upcoming season. 
While he threw a career high 18 interceptions, Sanchez also threw for career highs in touchdowns (26), completion percentage (56.7), yards (3,474) and QB rating (78.2), far better than his rookie and sophomore campaigns.
Sanchez also led his team to four fourth-quarter comebacks and four game-winning drives, showing he can get the job done. 
While his numbers in 2011 don't reflect that of an elite quarterback, they show his improvement and progression. Keep in mind that Sanchez did not have a year to sit on the bench. He was thrust into the starting job upon being drafted.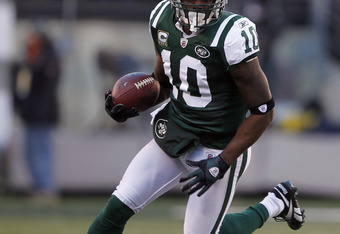 Rich Schultz/Getty Images
Strength of Schedule
What will also help Sanchez is the strength of schedule for his team. Ranking 20th in the league in strength of schedule, the Jets only play six quality opponents, something that will make Sanchez's possibility of success far greater.
Chip on his Shoulder
Sanchez will be playing with more motivation than in years past after failing to make the playoffs and having a legitimate threat to take his job. With the media calling for Tebow to start, Sanchez will produce the best numbers of his career in 2012 and make the media regret doubting him. 
This will be Mark Sanchez's year. With everyone against him, Sanchez will rise and play up to the media's expectations. Already preparing for the season, Sanchez has also taken attempts to build team chemistry, inviting competing quarterback Tim Tebow to his "Jets West" offseason camp. 
With three years under his belt and enormous pressure from the media, Sanchez will thrive in 2012 and prove everyone, including the media, wrong. He will thrive in his fourth season and dispel all talk of Tebow replacing him. 
Receivers
The team's potential hidden treasures at wide receiver also give Sanchez a better core of pass catchers.
Stephen Hill, Chaz Schilens and Jeremy Kerley are three under-the-radar receivers to keep an eye on. This group, along with No. 1 receiver Santonio Holmes, could help Sanchez take the next step. 
Hill is a second-round draft pick from Georgia Tech who didn't catch a lot of passes but made huge plays in college nearly every time he touched the football. Schilens showed explosiveness during his time with the Oakland Raiders, but he couldn't avoid injuries. Kerley came on strong in the second half of his rookie season and wants to build on that momentum.
All these reasons show why Mark Sanchez is ready to break out both on the field and in fantasy in 2012. Sanchez may very well be the best steal of the 2012 season.