NFL Predictions: Mike Vick and 6 Stars Who Will Put Up Massive Numbers in 2012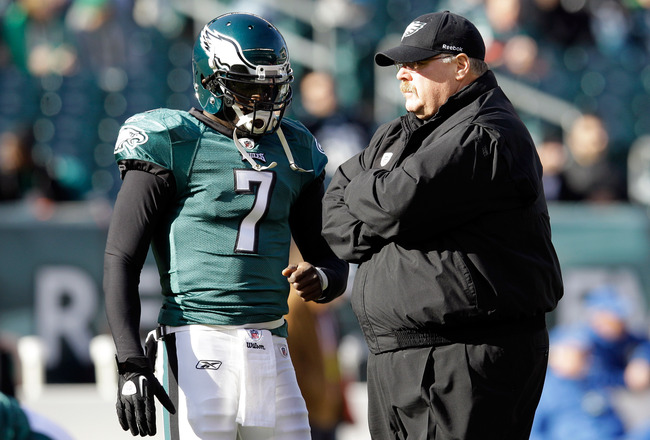 Rob Carr/Getty Images
Michael Vick came down to earth last season with a mediocre year to say the least for the disappointing Philadelphia Eagles.
However, Vick is poised for a major rebound year and will be looking to put up some insane numbers.
While Vick will certainly be one to steal headlines, he's not the only guy who will be putting up absurd stats this upcoming season.
With that, let's take a look at a few (not all) players who will put up massive numbers in 2012.
Michael Vick, QB (Philadelphia)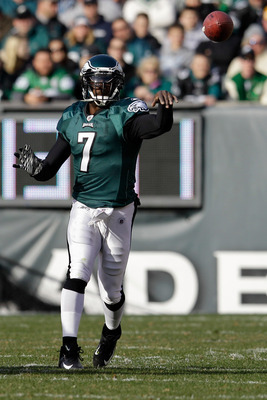 Rob Carr/Getty Images
In the Eagles' abysmal 2011 campaign, Vick threw for 3,303 yards and 18 touchdowns but tossed 14 picks, fumbled the ball three times, and saw his passer rating fall more than 15 points.
Despite this melancholy outlook, Philly fans have reason to believe that their signal-caller will have a drastically improved season—maybe one that puts him on MVP watch.
One main reason is the fact that this is Michael Vick's first full offseason in Philly as the starter. This will give him a better opportunity to spend time with Andy Reid on the field to work out any kinks in the offense and steadily improve as a quarterback—something he's shown he's capable of doing.
He will also need to learn how to avoid big hits and get out of bounds when that option is available to him. Too many times Eagles fans held their breath last season when their quarterback went barreling forward for extra yardage, only to get his clock cleaned by a bruising linebacker.
With several months to get comfortable with his teammates in a full offseason, Vick will help the Birds win more ball games by playing at a Pro Bowl level next season.
LeSean McCoy, RB (Philadelphia)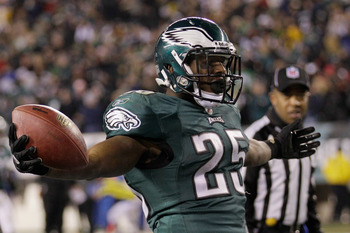 Rob Carr/Getty Images
Honestly, when I look at LeSean McCoy and how he plays, I can't find a single major flaw in his game.
Sure he's a relatively small tailback, but health has never been an issue for him considering his last major injury was in his senior year of high school.
Also, the position of running back is changing as we know it and ball carriers have to not only be skilled rushing the football, but also have the ability to make an impact in the passing game.
Other than maybe a healthy Adrian Peterson, I don't know of any back in the league who can compare to McCoy's versatility.
McCoy has proven his worth as a ball-carrier, but he has also shown his soft hands as a receiver.
Over three years of work, he's snagged 166 receptions for 1,215 yards and five touchdowns for a 7.3 yards per catch average.
Combining his rushing and receiving touchdowns last year, McCoy set a franchise record for most touchdowns in a season with 20.
Look for LeSean McCoy to build on his numbers from last year and excite Eagles fans and fantasy owners everywhere.
Tom Brady, QB (New England)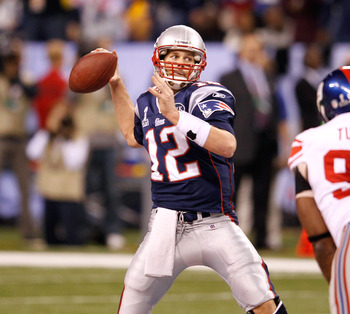 Rob Carr/Getty Images
In 2010, Tom Brady put up some seriously good numbers and everyone was taking notice of it.
Not only did he throw for 36 touchdowns and just four interceptions, but also the Michigan product completed two out of every three passes with nearly 4,000 yards.
So how did Brady follow up this monster year?
Well, in 2011 the future Hall of Famer decided to slice up defenses just as he did the previous year.
In 2011, Brady set career-highs for completions, passing yards, and attempts, while almost carrying his Patriots to a Super Bowl victory even though the virtually had no defense or running game.
After looking at not only the past two season, but his entire career, there's no indications as to why Brady shouldn't put up enormous numbers in 2012.
Even though overrated Chad Ochocinco is gone and slot wizard Wes Welker may not be back, the Patriots wasted no time getting Brady more weapons in free agency, signing three guys in the first week, including Brandon Lloyd.
If someone can tell me a reason why Brady isn't going to have a light out year, let me know. But I feel as though there's nothing holding him back in 2012.
Aaron Rodgers, QB (Green Bay)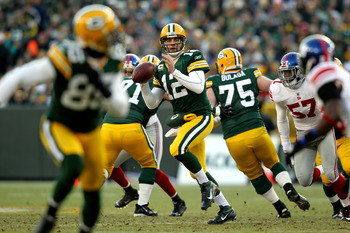 Jamie Squire/Getty Images
Released recently, NFL Network's annual Top 100 Player poll included a few surprises (Tebow of course made the list at No. 95).
However, one aspect of the players poll that can be vastly agreed upon is the top player on the list—Green Bay quarterback Aaron Rodgers.
Honestly, when you look at Rodgers you see the perfect quarterback: he's got amazing arm strength, pin-point accuracy, shifty mobility, awareness in and out of the pocket, and he limits his mistakes (a.k.a interceptions).
Also, when you're working with arguably the NFL's best wide receiver corps led by Greg Jennings and Jordy Nelson and an offensive guru of a head coach in Mike McCarthy.
At only 28 years old, Rodgers has a bunch of years left on his career and if he continue what he did last year (4,643 yards, 45 touchdowns), then he'll turn out to be one of the best quarterbacks we've seen in a while.
Larry Fitzgerald, WR (Arizona)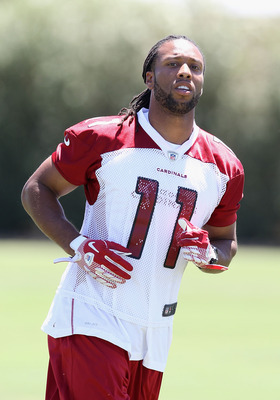 Christian Petersen/Getty Images
Even though guys like Calvin Johnson and Andre Johnson have been fantasy football gems at wide receiver the past couple of seasons, I believe that the most consistent and talented wide receiver is Arizona Cardinals wideout Larry Fitzgerald.
Even though his production in terms of receiving yards has dipped just a little bit over the past three years, the Pitt product is a lock for at least 1,300 and eight or nine touchdowns per year—and he could do even better in 2012.
Over the past three seasons, Fitzgerald has seen his receiving yard totals drop 300 yds from arguably his best year in 2008.
However, the root of that problem was that opposing secondaries have been stifling him with double teams and physicality at the line.
One major reason why Larry Fitzgerald will explode this year is former Notre Dame wide receiver Michael Floyd.
Drafted this year in the first round, Floyd is a tall, lanky, and swift ball-grabber who can do a number on opposing secondaries.
Because of his ability to stretch the field and draw over the top coverage, Fitzgerald shouldn't have to deal with as many double teams in 2012, setting him up for a fantastic campaign.
Maurice Jones-Drew, RB (Jacksonville)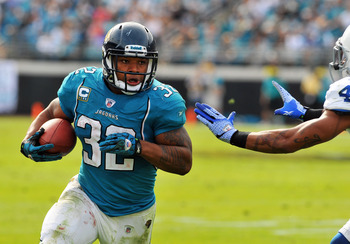 Al Messerschmidt/Getty Images
Because he plays for the lowly Jacksonville Jaguars, running back Maurice Jones-Drew usually doesn't get recognized as much as he should considering the numbers he consistently puts up.
2011 was just another year of grind-it-out production for Jones-Drew as he rushed for over 1,600 yards, eight rushing touchdowns, and caught the third-most receptions on the team with 374.
For the past six years, MJD has carried the Jacksonville offense on his back, both in the air and on the ground.
However, next season could be a little different for the UCLA-product. Not saying he's going to dip in production at all, but the Jags' draft will certainly bolster the offense.
With the fifth overall pick in this year's draft, Jacksonville selected Oklahoma State wide receiver Justin Blackmon.
An absolute beast, Blackmon will be able to provide the Jags with a massive upgrade at the wide receiver position and actually give them a deep ball threat.
Even though that means the team might be throwing a bit more, this is music to MJD's ears. By adding a guy who can stretch the field like Blackmon can, opposing defenses won't be able to stack the box and their focus won't all land on Jones-Drew.
Jay Cutler, QB (Chicago)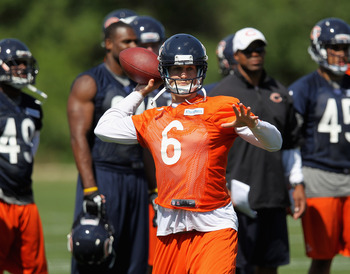 Jonathan Daniel/Getty Images
As much as I dislike Jay Cutler, I have a feeling that he's going to have a fantastic year for the Chicago Bears.
Last season Cutler missed six regular season games due to injury but still posted respectable numbers.
In 10 games of work, the Vanderbilt man tossed 2,319 yards and 13 touchdowns despite missing so much playing time.
Other than injuries, two major things that have Cutler since his arrival in Chicago has been inconsistency and lack of quality receivers.
In terms of the consistency, Cutler has thrown for over 3,000 yards on four separate occasions, but his passer rating has never been higher than 88.1. Also, Cutler's issue of throwing stupid passes and trying to make too much happen has been a trademark of his career thus far.
However, the Bears went out and tried to solve the second problem by bringing in Cutler's former teammate Brandon Marshall.
Sure, Marshall is a knucklehead and gets in all sorts of trouble, but he's a player that can obviously create a lot of offense through himself. Also, Marshall draws attention to himself when he's on the field which takes it away from others, giving the rest of the receiving corps the ability to get open.
I think that with the acquisition of Marshall and Cutler's growing maturity, this will be the year the quarterback steps it up, limits the interceptions, and puts up healthy, efficient numbers.
Keep Reading